THE LION IN WINTER by James Goldman
November 10 – 20.
Henry II – King of England………. Steven Patterson
Alais – a French Princess……………. Geneva Turner
John – the youngest son………………. Orlando Grant
Geoffrey – the middle son…………. Michael Raver*
Richard Lionheart – the eldest son Seth McNeill
Eleanor – Henry's wife…………… Leigh Strimbeck*
Phillip – King of France… Christopher Joel Onken*
Directed and Designed by John Sowle
Costumes by Michelle Rogers
Composer – N. Jennings White
Production Stage Manager – Kiara Vedovino
Setting: Henry's castle at Chinon, France
Time: Christmas, 1183
Running time is about 2 hours 20 minutes
CLICK HERE to read Facebook comments from our audience.
CLICK HERE to read an interview with Steven on playing Henry II.
"If 'home for the holidays' gives you a special seasonal anxiety and dread as we look forward to gathering our warring tribes to celebrate our various end-of-year traditions, you'll feel right at home with the royal family at the center of James Goldman's 1966 Broadway boulevard comedy 'The Lion in Winter' … Bridge Street triumphed with its modest tech and exemplary strong portrayals from its seven-member cast … The set designed and constructed by the director John Sowle is amazing with a turntable center-stage and arches on either side. The revolves (accompanied by N. Jennings White's fun music) easily reveal half a dozen different locations including the perfect farcical bedroom tapestry scene. The costumes by Michelle Rogers are even better. There's fur, leather, suede, and royal raiment for Phillip … There's more than enough conflict, fun and historical intrigue to hold your attention." Patrick White, Nippertown Read the complete review here.

"Director John Sowle and his cast have found the small wonders in James Goldman's script and shifted them from the back burners to the front of the stove. The cast has given the play heat and it is a unique flame that burns in Catskill, New York … The show ends its brief run on November 20 so, get your tickets while you can and see this great, quizzical history, worthy of Shakespeare but written by an American." – J. Peter Bergman, Berkshire Bright Focus Read the complete review here.

"This is easily the most elaborate production we've attended at Bridge Street, with a cast of seven on a set that actually rotates to depict different rooms in the Château de Chinon. … If you're looking for quality live entertainment in Greene County, I advise you to get tickets sooner rather than later, because performances seem to be selling out fast." – Andrew Andrews, Opplaud.com Read the complete review here.
"Crackles with smart, savvy, incisive wit and bite … 'The Lion in Winter' tracks a complicated, intricately structured labyrinth of transactional relationships in which love and loyalty are little more than means to an end – power and survival." Jeffrey Borak, The Berkshire Eagle Read the complete review here.

"Effectively captures the drama and intrigue of creating a dynasty that will rule indefinitely … Henry is a bigger than life character whose strong will and determination make him almost a force of nature. Steven Patterson's performance is more internal. We admire the man as a brilliant tactician who is always steps ahead of his opponents – which produces several delicious victories for Henry. We also feel his pain at not having control over his family. Patterson creates a shrewd, tormented character who gains our pity as much as he does our contempt … Leigh Strimbeck is also effective as the Queen who is Henry's equal in scheming. There are moments you fear her more than Henry … Every actor creates a morally frail individual who seems too inept to even survive in such a barbaric world." Bob Goepfert,
WAMC
Read the complete review here.
"Exciting to watch … There is much humor in this badly behaved family's wrestling match … Leigh Strimbeck as Eleanor is most effective when delivering deadpan comic lines and shrewdly manipulating her husband and children. She is convincing as a hard-hearted woman with nerves of steel … Steven Patterson's Henry is just as calculating and cruel, but his emotions are clear. We know when he's been stung by Eleanor, when he's angry, drunk, lustful, and frustrated to the breaking point by his sons' treachery … Nicholas Jennings White's original music adds enormously to the feel of the medieval period, as do Michelle Rogers lovely costumes." Barbars Waldinger,
Berkshire On Stage
Read the complete review here.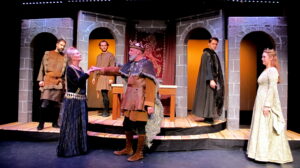 "Well, what family doesn't have its ups and downs?"
Merry Christmas, 1183! King Henry II has just released his estranged wife Eleanor from prison so that the entire back-stabbing royal family can spend the holiday together. He's getting on in years and a succession must be mapped out. But which of their three sons will end up on the throne? The knives are out, and it looks like this is one Christmas where nobody is going to get what they want. A contemporary American classic (even if it IS set in England).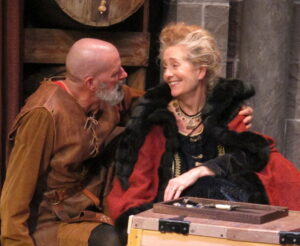 Bios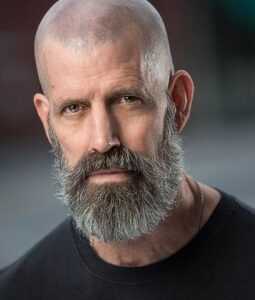 Steven Patterson (Henry) has performed in NYC both Off- and Off-Off-Broadway, as well as regionally with theaters such as South Coast Repertory, Capital Repertory Theatre, TheatreWorks/ Silicon Valley, freeFall Theatre, Kaliyuga Arts, Lexington Conservatory Theatre, Chenango River Theatre, Centenary Stage Company, and the Orlando, Oregon, Colorado, Pennsylvania, Utah, Tennessee, Richmond and Lake Tahoe Shakespeare Festivals. A few of his favorite roles have been Austin Wiggin in the Los Angeles world premiere of The Shaggs: Philosophy of the World, Jake Sturdy in Kill Me Now, Lear in King Lear, David in Poor Super Man, Judi Boswell in How to Pray, Zach in A Chorus Line, and Rob in King of the Crystal Palace. He also created, performed, and toured internationally for four years with Beauty, a solo show inspired by the life and works of Jean Genet. He currently resides in Catskill, NY, and serves as an Associate Artist at Bridge Street Theatre where he has appeared in Shylock, The Epic of Gilgamesh, The Killing & The Love Death, Grinder's Stand, A Life in a Day: Lucky Lindy, Frankenstein: The Modern Prometheus, Holiday Memories, How to Pray, Frankie & Johnny in the Clair de Lune, The Revenge of the Space Pandas, There Is A Happiness That Morning Is, The Shaggs, Long Day's Journey Into Night and Shelley's Shadow, and directed George M. Cohan's The Tavern, The Effect of Gamma Rays on Man-in-the-Moon Marigolds, and The Revenge of the Space Pandas.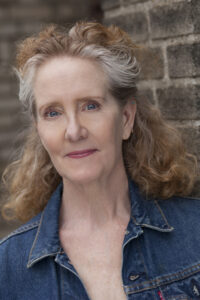 Leigh Strimbeck* (Eleanor). Recent credits include: Leonata in Much Ado About Nothing, Saratoga Shakespeare; Alice in Lewiston Bridge Street Theatre; Virginia Butley in Native Gardens Gloucester Stage Company; Madame Arcati in Blithe Spirit, Voice Theatre of Woodstock and Tippy in Breakwater at Great Barrington Public Theater. Other regional theater acting and directing includes work with Storyhorse Documentary Theater; The Bloomsburg Theatre Ensemble (BTE); WAM; The Rep in Albany, NY; Shakespeare and Co (Understudy for Tina Packer, Mother of the Maid); and Berkshire Playwrights Lab. Feature films: UnCivil Liberties, Fighting for Freedom, Little BiPeep, the short Key Transitions, and Lifetime Movie Network's Off the Rails and Sleeping with My Student. Writer and actor: The Queen of Fenway Court (the life of Isabella Stewart Gardner). Also communications coach and acting coach with Make A Wish NENY and NY State Defenders Association. Delighted to be back at Bridge Street Theatre! For reel and more info: leighstrimbeck.com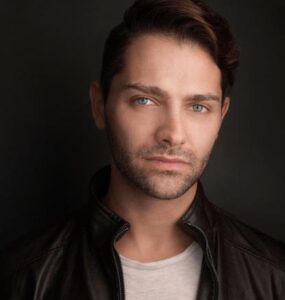 Michael Raver* (Geoffrey). As an actor, Michael Raver has performed at Lincoln Center, The Pearl Theatre Company, National Actor's Theatre, regional theaters across the country and in film and television. His work as a playwright has been presented by The Pearl Theatre Company, Sonnet Repertory Theater, Orlando Shakespeare Theatre, The Martha Graham Company, The Bridge Street Theater, Playhouse on Park and many others. His work has been honored by The Austin Film Festival, The National Playwrights Conference, The Bumbalo/Chesley Foundation, Screencraft and All Out Arts. In 2021, he was awarded The City Artist Corp Grant grant to write Control, a contemporary adaptation of Lysistrata about gun violence in Texas. He served as a judge for the Ferro-Grumley Award for LGBT Fiction for three years and has written for Hamptons Magazine, Classical TV, Ms Mojo, NYC Monthly, Hamptons Monthly, Playbill, Dance Magazine, Cool Hunting, The Huffington Post, Imagista, Art 511 Magazine and Lifestyles South Florida. He is a member of Actors Equity Association, SAG-AFTRA, and The Dramatists Guild. In 2022, he completed work on his first novel. He is from New York.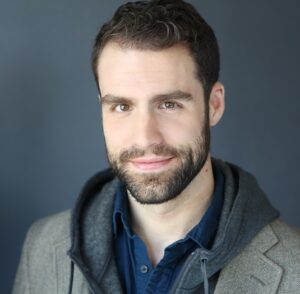 Seth McNeill (Richard) has appeared in classical and contemporary plays in NYC and regionally and is excited to return to the stage after a few years scribbling weird plays behind the scenes. Favorite credits include Twelfth Night & Love's Labours Lost (American Shakespeare Center), John Proctor in The Crucible, Sitting on Babies (web series), and The Humanitarians (web series). As a playwright, dramaturg, and educator, he has developed and presented work at the Valdez Theatre Conference, Middlebury Acting Company, Lanford Wilson Festival, Theatre for a New Audience, Gingold Theatrical Group, Barrington Stage, Fresh Ground Pepper, Dixon Place, Fault Line Theater, Amios NYC, and the Hambidge Center. He has been named a semi-finalist for the O'Neill and the Shakespeare's New Contemporaries Prize. Education: Circle in the Square, Hunter College. Most importantly, he is husband to Lori, with whom he shares a very old house in the Hudson Valley. .www.sethmcneill.com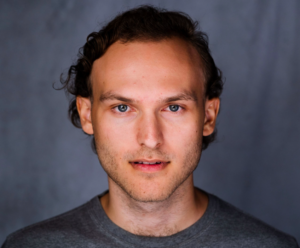 Orlando is thrilled to be a part of this fabulous play and work at Bridge Street for the first time! He is an NYC-based actor and recently graduated with a BA in Theatre Performance from Fordham Lincoln Center – favorite roles there included Astrov (Uncle Vanya), Pastor Greg (Hand to God), Orpheus (Eurydice) and Emcee (Cabaret). Select Regional: Admissions (Middlebury Acting Company), GIRLBOSS (The Tank / NYC), Twelfth Night (Wyoming Shakes), Stupid Fucking Bird (Studio 54 / Unsolic. & Uncred.), The Nether (Waterbury Festival Playhouse), Much Ado About Nothing (Interlochen Shakes). Orlando has also written and mounted original works at Vermont Shakespeare Festival and Fordham. He would like to thank his parents for their support and wisdom, his excellent castmates and John for steering the ship. Upcoming: Paying Our Dues and Bright from Our Little Adventure Productions. Instagram: landograntww Website: orlandogrant.com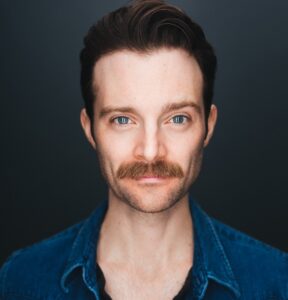 Christopher Joel Onken* (Phillip). Christopher is back for his third production with Bridge Street Theatre, previously seen in The Letters and Long Day's Journey Into Night. Most recently, he performed as "Eric Glass" in The Inheritance at ZACH Theatre, revisiting the play in which he made his Broadway debut in 2019. Christopher's work often takes him around the United States, working with theatres in New York, Colorado, Florida, South Carolina, Tennessee, and Texas. Regional titular roles include Troilus and Cressida, Henry VI Part 2 and 3, The Elephant Man, Romeo and Juliet, Shakespeare in Love, and The Rocky Horror Show, and a one-man version of A Christmas Carol. Other regional favorites include The 39 Steps, Vanya and Sonia and Masha and Spike, Julius Caesar (all three of which he's done twice), The Mystery of Irma Vep, Baskerville, Deathtrap, The Underpants, and regional premieres of Red, Clybourne Park, Northside Hollow, 4000 Miles, Silent Sky, The Explorer's Club. California born, Carolina bred, Clemson University graduate, currently residing in New York, when not on stage, you can catch Christopher teaching for CorePower Yoga in Manhattan. Thank you, Firestarter Entertainment, Nicole, and Katie, for believing in me and fighting for me.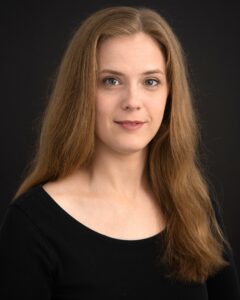 Geneva Turner (Alais) (they/she) is a queer actor, director, writer, singer-songwriter, and musician born and based in the Hudson Valley. They have over twenty years of experience acting onstage, and are now venturing into film and television. They hold one Associates in Theatre from SUNY Ulster, and two Bachelor degrees from SUNY New Paltz in Theatre Arts and Anthropology. They studied theatre in London during the fall semester of 2016, and also studied acting with Sande Shurin's Transformational Acting Studio in Woodstock, NY. Their most recent roles include Helen in The Trojan Women (directed by Lou Trapani, Centerstage Productions), Emily in The Moors (directed by Sande Shurin, Performing Arts of Woodstock), Katherine in Henry V (directed by Joe Eriole, Centerstage Productions), Emily in Our Town and Gretchen in Boeing Boeing (both directed by Michael Koegel, The Phoenicia Playhouse). For their work in Our Town, they were nominated for Best Performer in a Play (Non-Equity) in the 2021 BroadwayWorld Central New York Awards. They will next appear with Theatre On The Road's touring production of A Christmas Carol, and later in an upcoming short science fiction film, Lila (directed by Dan Torelli, story by Andrew Austin). They are thrilled to work with Bridge Street Theatre on this captivating production.
Play Three of our 2022 Fall Season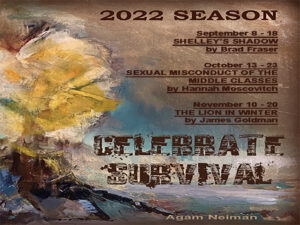 * A member of Actors' Equity Association, the union of professional actors and stage managers in the United States of America.