Welcome to Bridge Street Theatre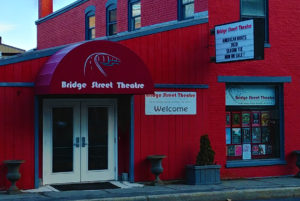 Welcome to Bridge Street Theatre, a three-space performing and visual arts complex housed in a refurbished industrial building in the Village of Catskill, NY.
Our Mission
To enhance the cultural life of Catskill and the surrounding areas by presenting, independently and in concert with other artists, unique theatrical productions and other similar events unlike those generally available to audiences at other theaters in the region. To bring to light works we feel have been unjustly neglected, returning them to the stage where they belong. To present, devise, and commission brand-new works for the stage. To forge a diverse community of like-minded artists to aid in the creation of our work. To continue to locate and bring to our patrons the finest in local, national, and international talent. And to keep our ticket prices affordable and our work readily accessible to the widest possible audience.
Our Story
Bridge Street Theatre, Inc. is a not-for-profit 501(c)(3) corporation which, in late 2013, purchased a derelict 12,000 square foot factory building at 44 West Bridge Street in Catskill, NY. Thanks in large part to grant monies from the New York State Department of Homes and Community Renewal, the building has since been completely converted in order to house an intimate 84-seat auditorium (the Charles and Priscilla Patterson Mainstage, or "The Priscilla" for short), a smaller cabaret-type performance space which also serves as the main theater's lobby (The Speakeasy), a large warehouse space utilized mainly for storage but which has also hosted large-scale sculpture and art exhibitions (The Big Room), administrative office space, dressing rooms and a lounge area for performers, public restrooms, and a four-bedroom living area on the building's second floor used to house visiting artists. The building serves mainly as a home for our own productions, but is also available to outside theater and performing groups and, because of its location adjacent to Catskill High School, is able to provide theatrical opportunities for local students.
We opened our doors to the public on April 12, 2014 with an exhibition that showcased Jason Hackenwerth's monumental balloon sculpture AVIARY (reimagined), and have gone on to produce an annual five-play Mainstage subscription series, as well as hosting a myriad of eclectic imported events – theater, music, magic, and more. As of the close of our 2019 Season, Bridge Street Theatre has presented 60 Plays, 62 Musical Performances, 5 Evenings of Dance, 12 Magic Shows, 24 Film Screenings, 4 Visual Art Exhibitions, and 21 Special Events. To view our Production History, go to the menu and click on ARCHIVES. And to find out what's currently in store for you, click on COMING UP.
Many amazing individuals, businesses, and organizations have contributed to Bridge Street Theatre's success. Please consider making a donation of time or money – your support is genuinely needed to help keep us moving forward. Click here for details.
The Founders: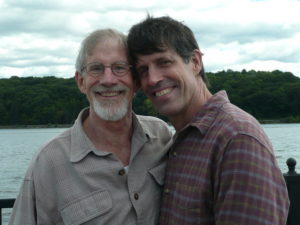 John Sowle grew up in Oklahoma, went to MIT for a BS in mathematics and then a Ph.D. in Dramatic Art at UC Berkeley. Steven Patterson grew up in southern California, studied acting in New York City, and performed all over, including two years with the Oregon Shakespeare Festival. They met in 1983 at San Francisco's Theatre Rhinoceros, where both were working on the world premiere production of C.D. Arnold's KING OF THE CRYSTAL PALACE – Steven playing the title role and John creating the lighting design. A year later, John flew east to join Steven in Minneapolis on his way to design a production in New York City, and the two commenced their life together as a couple. Following the run of John's show in Manhattan, the pair moved to the Los Angeles area and, in 1986, formed a nomadic production company called Kaliyuga Arts, presenting new, neglected, and off-beat work to great critical acclaim in L.A. for 4 years, in San Francisco for 14 years, and in New York City for 4 years.
They moved to Manhattan in 2004, but also decided to carve a space for themselves outside the city. Steven had previously spent the summer of 1977 in the Catskills as a company member of the fabled Lexington Conservatory Theatre, and John fell in love with the area, so they purchased a 10-acre site on Old Kings Road in the Town of Catskill and spent the next few years dividing their time between the city and the country. In 2008, they completed construction of a home on their property, a quirky hexagonal pole house designed by John, sold their apartment in Manhattan, and moved up to Catskill on a permanent basis.
John started working at Stageworks in Hudson as a literary manager and director, and then, as Kaliyuga Arts, they rented the Stageworks space and presented three shows there. They even tied the knot onstage in May of 2012, between the matinee and closing performance of their production of Lanford Wilson's THE MOUND BUILDERS. They had a powerful desire, however, to create theatre in Greene County itself, and in late 2013 they made a huge leap of faith and purchased the old Curtron Factory just across the creek from Catskill Village's historic downtown. They christened it Bridge Street Theatre and converted the building into a performing arts complex to serve as a permanent home for their productions.
Opening its doors to the public in April of 2014, Bridge Street Theatre was in the vanguard of Catskill's current cultural revival and has now embarked on its 8th Season, retaining Kaliyuga Arts' emphasis on new, neglected, and off-beat theatre, while adding an eclectic mix of music, magic, dance, cabaret, film, visual art, and visiting theatre in between their own productions.
Our Board
Betsy Barrett, President
Jay Lesenger, Vice President
Steven Patterson, Secretary
Jeff Barrett, Treasurer
Bruce Hoover, Member
Our Privacy Policy:
We are committed to protecting your privacy. Click here to read the BST Privacy Policy
Terms and Conditions:
Legal stuff. Click here to read the BST Terms and Conditions
Refunds:
All ticket sales and donations are final. There are no refunds available.