SEXUAL MISCONDUCT OF THE MIDDLE CLASSES
by Hannah Moscovitch (U.S. Premiere)
October 13 – 23.
Directed by Margo Whitcomb
"Some plays, you just know will be good from the first scene, grabbing your attention and refusing to let go … The play becomes more and more enticing … 'Sexual Misconduct' is an old story, yes, but with a modern conclusion that leaves you wondering." Andrew Andrews, Opplaud
"This multi-layered, ninety-minute puzzle of a play haunts its audience long after leaving the theatre … Watching the interactions between Burris and Mullen feels almost voyeuristic—their moment-to-moment portrayals are detailed and sensitive. Director Margo Whitcomb skillfully guides the actors through what she refers to as 'this gnarly and transcendent text, praising them for their courage in wrestling with this material. She must have provided a safe and healthy environment … judging from the triumphant performances … This fascinating play offers much to think about and is well worth a trip to the Bridge Street Theatre." Barbara Waldinger, Berkshire On Stage
"A triumph for all involved, compelling you to empathize with flawed characters behaving badly and blessing you with the grace of superb artistry … A perfect part for Mullen and his performance is mesmerizing with its quickness, depth and power … Burris is captivating … But the story is king at Bridge Street and once again they have chosen one with the most compelling characters desperate for connection and reaching out in the most intimate way. 'Sexual Misconduct of the Middle Classes' is a small miracle of a play that will leave you amazed." – Patrick White, Nippertown
"Tragically realistic, overwhelmingly disturbing. Or, as one might say, fascinating theatre … I found myself transfixed by what was happening every minute the actors were on stage … Even the title of this play is not what it first appears to be, so leave your first impressions in the car. For this author words have impact and you certainly feel that in every scene. Its run in Catskill is a short one so waste no time. Book your tickets today." – J. Peter Bergman, Berkshire Bright Focus
with
Christopher Patrick Mullen as Jon
Abby Burris as Annie
Individual tickets are $22 Advance (plus $2 Handling Fee), $25 at the door. $10 for students.
For Press Photos CLICK HERE.
For Production Photos CLICK HERE.
Watch Three Short Videos from our actors and director.
CLICK HERE.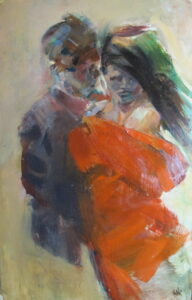 After his third marriage falls apart, Jon, an acclaimed novelist and a star professor, is racked with guilt when he finds himself becoming attracted to one of his students. Nineteen-year-old Annie is a big fan of his work and, coincidentally, just happens to live right down the street. As their mutual admiration grows and the sexual tension escalates, the archetypal student-teacher romance gets turned on its head in this compelling new play, winner of the 2021 Canadian Governor General's Literary Award for English-Language Drama.
Bios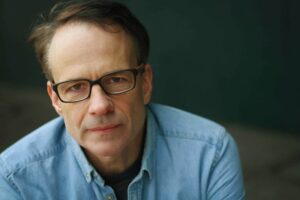 Christopher Patrick Mullen (Jon). "A first-rate actor" (New York Times) "A force of nature" (Philadelphia Inquirer), "CPM" is a People's Light artist with a BA in Theatre and Dance from his beloved alma mater DeSales University. — His 44 years in theatre have included collaborations with: The Pennsylvania Shakespeare Festival, Arden Theatre, Lantern Theatre, Orlando Shakespeare Theatre, Baltimore CenterStage, Retro Productions, Arts Center of Coastal Carolina, Florida Studio, Syracuse Stage, St Louis Repertory, Centenary Stage, Chester Theatre Company, and Proctor's Theatre among others. — Notable credits include the first national tour of West Side Story, and the Off-Broadway revival of Milan Stitt's The Runner Stumbles. — His original comedy ChipandGus (co-written and performed with John Ahlin) has played several U.S. theatres and was lauded as one New York and Edinburgh's BEST OF FRINGE in which the Mullen/Ahlin acting team won "Best Ensemble!" — Favorite roles include Jamie Tyrone (at BST!), Hamlet, Pericles, Leontes, Mercutio, Edgar, Duke Orsino, Casca, Proteus, Feste, Aguecheek, Jaques, Touchstone, Prince Hal, The Porter, Malcolm, Costard, Trinculo, and "Narrator" in Craig Wright's The Pavilion. Notorious appearances on FBI and Law & Order (multiple life sentences). — CPM teaches masterclasses and does private coaching: ChristpherPatrickMullen.com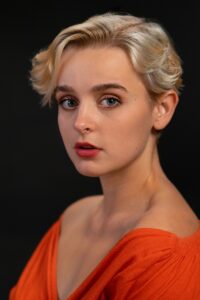 Abby Burris (Annie) is an NYC-based actor and recent graduate of the BFA Acting program at SUNY-Purchase. She is thrilled to be part of this wonderful cast and crew for her professional stage debut! Recent Purchase Repertory credits include The Last Days of Judas Iscariot, Sweat, and Life Is A Dream. Abby would like to thank her family back in NC, especially her parents and grandparents, for their endless love and support and for always encouraging her dreams and her lifelong love of theatre. She would also like to thank her amazing friends, boyfriend, and her company members for their love, for putting up with (enjoying) her terrible jokes, and for being the greatest source of joy and inspiration.
MARGO WHITCOMB (Director) is a director, actor, educator based in Burlington VT. Recent credits: The Niceties (Eleanor Burgess MACo), Whippoorwill (Ruth Kirschner CSC-NJ), documentary feature Vermont and The Bright Green Nothing (narrator), Vermont Arts Council Grants adjudicator. Films: A Juddering and Mother Earth (actor for James Lantz), Writer: Citizen (Vermont Shakespeare Festival). Previously: Founding Artistic Director: Half Moon theater, Poughkeepsie, NY, Director: (Spain, Yellow Boat, Cinderella, Santaland Diaries), Maria (Twelfth Night), Queen Isabella (Richard II-Wyoming Shakespeare Festival), Shakespeare's Will (Lost Nation Theatre). Director: Other Minds (Off Center), A Doll's House Part 2 (Vermont Stage Company), American premiere of David Harrower's Mary Stuart (Vermont Shakespeare), Mad as the Wind and the Sea (Gospel Hollow), Of the Better Kind (Theatre Kavanagh), Love Alone, The Kid Thing, Cloudbursts (VT Pride Festival), A Fleeting Animal, opera from David Budbill's award winning Judevine (Vermont State Tour), Durang Bang, Bad Dates, Midsummer Night's Dream (Lost Nation Theatre), Picasso at The Lapin Agile, The 25th Annual Putnam County Spelling Bee ,Midsummer Night's Dream, Cabaret, The Kid Thing (Dibden Center for the Arts – NVU). WPS/Centenary world premieres: Eleanor Burgess' Start Down, Michelle Carter's How To Pray, Bekah Brunstetter's You May Go Now, Neena Beeber's The Dew Point, Heather McCuthceon's Sister Week, Allison Moore's The Adventures of Patty. Regional: Hecuba (Williamstown/ACT) with Olympia Dukakis and Viola Davis, Another Side of the Island, adaptation of Shakespeare's The Tempest (Orlando Shakespeare Festival, Alpine Theatre Project, Long Wharf Theater. ACT/(Associate Director- Arcadia, (West coast premiere) Enrico IV, (Richard Nelson, adaptor), Insurrection: Holding History by Robert O'Hara, Mrs. Warren's Profession, The Misanthrope, Celebration and The Room (Peter Reigert, Diane Venora), The Tempest (David Straithairn, Michael Tucker and, Geoff Hoyle), Threepenny Opera (Bebe Neuwirth, Anika Noni Rose), A Woman of No Importance (Elizabeth Banks). Multiple award winner Glace Bay Miner's Museum (Phoenix theater,SF), Getting Out (Il Teatro Theater, SF), Hamlet (adapted), Cloud Nine (UCR), Time Lost (L.A. Playhouse), Top Girls (Warehouse Rep) Women of the Bear (Stage 3), Freudian Slip (New City Theater), Danger! Woman on Board (SF Fringe). Whitcomb has taught Shakespeare, Acting, Dramatic Literature and Theater History: Northern Vermont University, Community College of Vermont, Marymount Manhattan College, Vassar College, American Conservatory Theatre, SF College of Art and Design, University of California Riverside and Santa Barbara, University of Washington and CUNY. (BFA, MA, MFA)
Play Two of our Fall 2022 Season