Tickets are $15 at the door.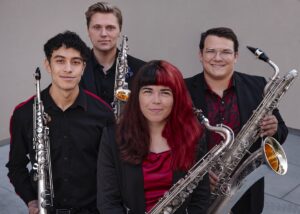 The Zelos Quartet is excited to present a festive program of American masterworks ranging from the serenity of William Grant Still to the flamboyant tango of Astor Piazzolla. Zelos plays on instruments specific to the inventor's forgotten intentions to explore the wide tonal variety of the saxophone quartet. Their program combines all aspects art, dance, and song into one musical celebration of diverse voices. We are happy to have you join us for a concert of captivating colors and sounds from an often underutilized instrument in chamber music.
David Cortez, soprano sax
Robin Lacey, tenor sax
David Baker, alto sax
Johnny Selmer, baritone sax
​The Zēlos Quartet is dedicated to performing a wide array of repertoire ranging from underrepresented contemporary works to transcriptions from the baroque, classical, and romantic eras. Committed to performing on saxophones that fit the acoustical specifications of its inventor Adolphe Sax, the Zēlos Quartet looks to connect with a variety of audiences to show the wide range of sounds and colors of the saxophone. They have been heard across the United States in live concerts such as 405 Shrader (San Francisco, CA), Bainbridge Museum of Art(WA), Bridge Street Theatre (NY), Beethoven Center (San Jose, CA), and the Herbst Theatre (San Francisco, CA). They have also participated in summer music festivals such as Festival South (Hattiesburg, MS), the Mana Saxophone Institute (San Jose, CA) and the National Music Festival (Chestertown, MD), where they have enjoyed performing for local audiences not only in the concert hall but equally comfortable in farmers markets and public spaces alike. Zēlos have been extensively coached by Dr. Michael Hernandez of San Jose State University and the critically acclaimed Mana Quartet, and have participated in masterclasses by Verona String Quartet, Shanghai Quartet and Amethyst Quartet.​
This season's highlights have included performing Philip Glass' "Concerto for Saxophone Quartet" with the Redwood Symphony, as well as performing as season openers for the sold-out Music by the Sea chamber series as a part of wining the Beverly Hills International Auditions. Zēlos can be heard on NPR's Live Sessions and has appeared twice on Northwest Focus Live! on Classical KING FM in Seattle, WA.
Recent awards include the Grand Prize at the Frances Walton Chamber Competition, winner of the Beverly Hills National Auditions, 1st prize in the 2018 California MTNA chamber music competition, and 1st prize in the 2018 South West Region MTNA chamber music competition.
Robin Lacey (Tenor Sax). Robin Lacey's "beautiful and warm sound" has been heard in venues across the U.S as a soloist and in chamber. Robin completed her Master's Degree in Music Performance at San Jose State University, under the direction of Dr. Michael Hernandez, and has performed concertos (Villa-Lobos' "Fantasia on tenor saxophone" and von Koch's "Concerto for Alto Saxophone") with several orchestras, such as the Master Sinfonia Chamber Orchestra (Palo Alto, CA), the SJSU Orchestra (San Jose, CA), and the Roberts Wesleyan College Orchestra (Rochester, NY). Robin holds the chair for tenor saxophone in the Zelos Quartet, which has placed in the MTNA competition for the last two years.
David Baker (Alto Sax). David Baker is a classical saxophonist and music educator based in New York City and originally hailing from the San Francisco Bay Area. David has been teaching saxophone privately in the Bay Area/New York since 2021. In addition to teaching his own private lesson studio, he has done weekly coaching with saxophone sections at high schools in the area. David is currently working towards his Doctorate in Saxophone Performance from the Manhattan School of Music. He completed his Master's Degree in 2022 from San José State University and is currently an active member of the Zelos Saxophone Quartet.
David Cortez (Soprano Sax). David Cortez is a native of Corona, California and recently received his BM in Saxophone Performance under the direction of Dr. Michael Hernandez at San Jose State University. Currently, David is pursuing a Master's of Music Performance with Carrie Koffman at the Hartt School of Music. He has recently appeared as soloist with the Redwood Symphony, ECHO Chamber Orchestra, Resound Ensemble, Contra Costa Orchestra, Santa Cruz Symphony and the San Jose State University Wind Ensemble. In the summer of 2022, he was invited to be a member of Quinteto Latino's Seminario Cohort, a biennial conference of Latino musicians from around the United States exploring the intersections of identity, artistry, and racial equity. In addition to his studies with Dr. Hernandez, David has worked with members of the Verona Quartet, Imani Winds, Amethyst Quartet, Rascher Saxophone Quartet, Shanghai Quartet, Decho Ensemble, and Catalyst Quartet, and is current the soprano saxophonist in the Zelos Quartet.
Johnny Selmer (Baritone Sax). Johnny Selmer is a classical saxophonist and music educator living in the San Francisco Bay Area. He has performed throughout the United States as both a soloist and chamber musician, including regular recitals at the North American Saxophone Alliance Biennial Conference and the International Saxophone Symposium. Mr. Selmer earned his MM in Music Performance from San Jose State University in 2021. Featured on NPR Live Sessions and Classical KING FM 98.1 in Seattle, Mr. Selmer currently holds the alto chair of the award-winning Zelos Saxophone Quartet.