MISS GULCH RETURNS! Online
Written by Fred Barton
Music Direction by Tom Judson
Performed by Steven Patterson
"Had me barking with laughter! … It turns out to be a great idea for Bridge Street Theatre to choose this solo cabaret to break their long pandemic stage silence with John Sowle designing and directing, Steven Patterson playing Miss Gulch, and Tom Judson serving as pianist and music director. It ticks off a lot of boxes that Bridge Street does very well; it's a literary adaptation of sorts, queer friendly, and anchored by a bravura performance … I'm thrilled to report that Bridge Street Theatre is back in business and their passionate performances are once again looking to transport you over the rainbow." – Patrick White – Nippertown
CLICK HERE FOR THE COMPLETE REVIEW
"Patterson is marvelous … Sowle's vision of this character is one of elevation … Tom Judson at the piano is the perfect partner for Patterson. Fred Barton has written and composed this piece and his talent is evident in every word spoken and sung. It's a fine entertainment that will leave you thinking. That's what I call genius!" – J. Peter Bergman – Berkshire Bright Focus
CLICK HERE FOR THE COMPLETE REVIEW
"A tour-de-force, 70-minute intermissionless performance by actor Steven Patterson (accompanied by the sublime Tom Judson on the piano), playing Almira Gulch – yes, the mean, bicycle-riding woman who intends to destroy Dorothy's precious little pooch Toto – in an original musical called MISS GULCH RETURNS! by Fred Barton … It takes a master performer like Patterson to bring us from laughter one moment, to a recognition of our own painful insecurities in the next … The actor sings full-out in his own voice, putting over the songs with panache and style, never allowing those sparkling (and sometimes raunchy) lyrics to be lost or garbled. And his obvious rapport with Judson adds to the fun. Sowle directs the actor to use different areas of the stage for each number, varying his approach as he moves from spectacle to confession, from humor to vulnerability – always holding the audience in the palm of his hand." – Barbara Waldinger, Berkshire On Stage
CLICK HERE FOR THE COMPLETE REVIEW
For Press Release and Press Photos CLICK HERE
For the program for the show CLICK HERE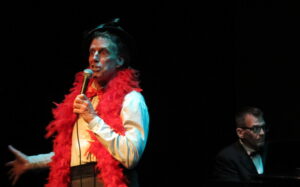 She's back! That ultimate spinster and notorious terrorizer of neighborhood children and their pets gets a post 'Wizard of Oz' lease on life with her own autobiographical lounge act! "Miss Gulch Returns!", in all the glory Hollywood denied her, to tell her side of the story in this hilarious and unexpectedly touching one-man musical revue by Fred Barton, coming to Catskill's Bridge Street Theatre for eight performances only September 9-19, 2021.
This musical valentine to the romantically disenfranchised (across all categories) stars Steven Patterson as Almira Gulch, searching for love and performing her heart out in venues where, to say the very least, she's not likely to find it. Accompanying Mr. Patterson on the piano is the irreplaceable Tom Judson. The production is staged and designed by BST Artistic Director John Sowle with costumes by Michelle Rogers.
Play One of our 2021 Season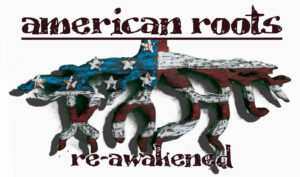 We especially want to thank the New York State Council on the Arts and the generosity of Nina Matis and Alan Gosule for their support of our Re-Awakened season.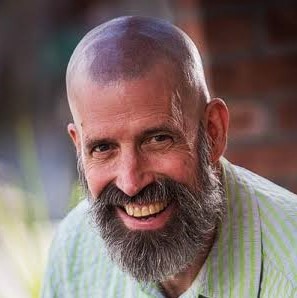 Steven Patterson (The Future Miss Gulch and Miss Gulch) has performed in NYC both Off- and Off-Off-Broadway, as well as regionally with theaters such as South Coast Repertory, Capital Repertory Theatre, TheatreWorks/ Silicon Valley, freeFall Theatre, Kaliyuga Arts, Lexington Conservatory Theatre, Chenango River Theatre, Centenary Stage Company, and the Orlando, Oregon, Colorado, Pennsylvania, Utah, Tennessee, Richmond and Lake Tahoe Shakespeare Festivals. A few of his favorite roles have been Austin Wiggin in the Los Angeles world premiere of The Shaggs: Philosophy of the World, Jake Sturdy in Kill Me Now, Lear in King Lear, David in Poor Super Man, Judi Boswell in How to Pray, Zach in A Chorus Line, and Rob in King of the Crystal Palace. He also created, performed, and toured internationally for four years with Beauty, a solo show inspired by the life and works of Jean Genet. He currently resides in Catskill, NY, and serves as an Associate Artist at Bridge Street Theatre where he has appeared in Shylock, The Epic of Gilgamesh, The Killing & The Love Death, Grinder's Stand, A Life in a Day: Lucky Lindy, Frankenstein: The Modern Prometheus, Holiday Memories, How to Pray, Frankie & Johnny in the Clair de Lune, The Revenge of the Space Pandas, There Is A Happiness That Morning Is, and The Shaggs, and directed George M. Cohan's The Tavern, The Effect of Gamma Rays on Man-in-the-Moon Marigolds, and The Revenge of the Space Pandas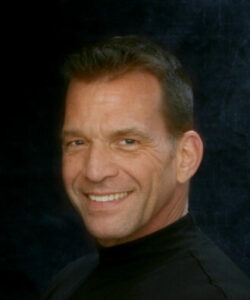 Tom Judson (Pianist and Musical Director) first appeared here at Bridge St. Theater performing his solo cabaret act out in the Lobby Speakeasy. He has also appeared here several times with Charles Busch, for whom he has served as pianist and musical director for nearly 10 years. As an actor Tom appeared in the national tours of 42nd Street and Cabaret, which he also played in on Broadway at Studio 54. He has written music for several television shows, including Sesame Street, and several independent films, including Whit Stillman's 1990 indie classic Metropolitan. In addition to Mr. Busch Tom has had the pleasure of collaborating with such luminaries as Ann Magnuson, Lisa Kron and Alan Cumming. TomsTrendyTees, his showbiz-themed T-shirt shop on Etsy, has been going strong for five years. And, of course, discerning viewers may recognize Tom as the former Gus Mattox.
Fred Barton (Writer, Composer) is an acclaimed composer, lyricist, orchestrator, conductor, and actor. His arrangements are played regularly by the New York Pops at Carnegie Hall and major symphonies nationwide. On Broadway and National Tours he has conducted Anthony Quinn in "Zorba", Hal Prince's "Cabaret", Cy Coleman's "City of Angels" and Robert Goulet in "Camelot". Learn more about Mr. Barton by visiting fredbarton.com.