MISS GULCH RETURNS!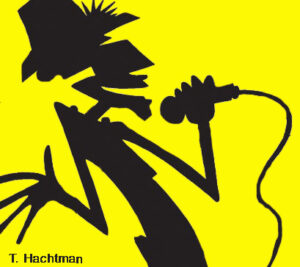 Online from September 26 through October 3, 2021

MISS GULCH RETURNS!
Written by Fred Barton
Steven Patterson as Almira Gulch
Tom Judson on Piano
Directed and Designed by John Sowle
Costumes by Michelle Rogers
Production Stage Manager: Amanda Miller
Running time is 70 minutes with no intermission.
We especially want to thank the New York State Council on the Arts and the generosity of Nina Matis and Alan Gosule for their support of our Re-Awakened season.
Events and performances at Bridge Street Theatre are made possible in part by the New York State Council on the Arts with the support of the Governor of New York and the New York State Legislature and by Public Funds from the Greene County Legislature through the Greene County Cultural Fund, administered in Greene County by the Greene County Council on the Arts dba CREATE.
Who's Who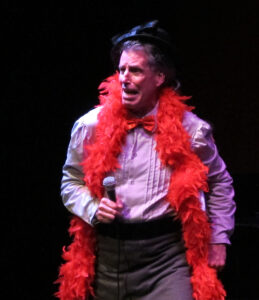 Steven Patterson (The Future Miss Gulch and Miss Gulch) has performed in NYC both Off- and Off-Off-Broadway, as well as regionally with theaters such as South Coast Repertory, Capital Repertory Theatre, TheatreWorks/ Silicon Valley, freeFall Theatre, Kaliyuga Arts, Lexington Conservatory Theatre, Chenango River Theatre, Centenary Stage Company, and the Orlando, Oregon, Colorado, Pennsylvania, Utah, Tennessee, Richmond and Lake Tahoe Shakespeare Festivals. A few of his favorite roles have been Austin Wiggin in the Los Angeles world premiere of The Shaggs: Philosophy of the World, Jake Sturdy in Kill Me Now, Lear in King Lear, David in Poor Super Man, Judi Boswell in How to Pray, Zach in A Chorus Line, and Rob in King of the Crystal Palace. He also created, performed, and toured internationally for four years with Beauty, a solo show inspired by the life and works of Jean Genet. He currently resides in Catskill, NY, and serves as an Associate Artist at Bridge Street Theatre where he has appeared in Shylock, The Epic of Gilgamesh, The Killing & The Love Death, Grinder's Stand, A Life in a Day: Lucky Lindy, Frankenstein: The Modern Prometheus, Holiday Memories, How to Pray, Frankie & Johnny in the Clair de Lune, The Revenge of the Space Pandas, There Is A Happiness That Morning Is, and The Shaggs, and directed George M. Cohan's The Tavern, The Effect of Gamma Rays on Man-in-the-Moon Marigolds, and The Revenge of the Space Pandas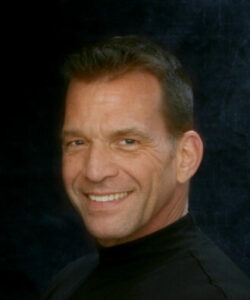 Tom Judson (Pianist and Musical Director) first appeared here at Bridge Street Theatre performing his solo cabaret act out in the Lobby Speakeasy. He has also appeared here several times with Charles Busch, for whom he has served as pianist and musical director for nearly 10 years. As an actor Tom appeared in the national tours of 42nd Street and Cabaret, which he also played in on Broadway at Studio 54. He has written music for several television shows, including Sesame Street, and several independent films, including Whit Stillman's 1990 indie classic Metropolitan. In addition to Mr. Busch Tom has had the pleasure of collaborating with such luminaries as Ann Magnuson, Lisa Kron and Alan Cumming. TomsTrendyTees, his showbiz-themed T-shirt shop on Etsy, has been going strong for five years. And, of course, discerning viewers may recognize Tom as the former Gus Mattox.
Fred Barton (Writer, Composer) is an acclaimed composer, lyricist, orchestrator, conductor, and actor. His arrangements are played regularly by the New York Pops at Carnegie Hall and major symphonies nationwide. On Broadway and National Tours, he has conducted Anthony Quinn in Zorba, Hal Prince's Cabaret, Cy Coleman's City of Angels and Robert Goulet in Camelot. Learn more about Mr. Barton by visiting fredbarton.com.
John Sowle (Director/Designer) is Artistic and Managing Director of Bridge Street Theatre. He founded Kaliyuga Arts in 1986 with his partner Steven Patterson and received multiple awards for his directing and design work on their Los Angeles, San Francisco and New York productions. He has directed and designed BST's productions of the world premieres of The Letters, Casse Noisette and The Official Adventures of Kieron and Jade, as well as productions of The Shaggs: Philosophy of the World, There Is a Happiness That Morning Is, Leni, Redwood Curtain, How to Pray, Frankenstein: The Modern Prometheus, Holiday Memories, The Epic of Gilgamesh, The Killing & The Love Death (late plays of William Inge), and Grinder's Stand by Oakley Hall III. He also designed their productions of The Tavern, Souvenir, The Effect of Gamma Rays on Man-in-the-Moon Marigolds, and Frankie & Johnny in the Clair de Lune, Better, and The Subject Was Roses. John has an undergraduate degree in mathematics from M.I.T and a PhD in Dramatic Art from UC Berkeley.
Michelle Rogers (Costumes) Michelle began costuming plays while in college and continued working on high school productions throughout her teaching career. She's designed costumes for Marat/Sade, A Midsummer Night's Dream, Oliver!, and Pride and Prejudice, among others. Now retired from education, Michelle is delighted to be working with Bridge Street Theatre. She has been the costume designer for The Tavern, Frankenstein, The Effect of Gamma Rays on Man-in-the-Moon Marigolds, How to Pray, Redwood Curtain, Frankie & Johnny in the Clair de Lune, Leni, Driving Miss Daisy, The Letters, The Shaggs, Better, The Subject was Roses, and The Addams Family Musical.
Amanda Miller (Stage Manager) is thrilled to be a part of her first production with Bridge Street Theatre! She has previously done stage management for SUNY Albany working on A Streetcar Named Desire, Hair, and A Doll's House as well as for Access Broadway, a touring dance competition. She would like to thank John and Steven for this wonderful opportunity.
Special thanks to Marge Brecht for the bike!
COMING UP AT BRIDGE STREET THEATRE
Continuing our 2021 Season
AMERICAN ROOTS RE-AWAKENED
LEWISTON. The limitless frontier once explored by Meriwether Lewis has shrunk for one of his descendants to a tiny sliver of land on which she runs a small roadside fireworks stand. 2014 MacArthur "Genius" Grant recipient Samuel D. Hunter explores the emotional frontier of a family struggling to stay afloat in the vastness of the American landscape in this affectionate, poignant, and profoundly empathetic new play. October 7 – 17
LONG DAY'S JOURNEY INTO NIGHT. The Mount Everest of American drama. Over the course of a single day, Eugene O'Neill's autobiographical Tyrone family, torn between love and hatred, blame and pity for one another, grapple with their demons in perhaps the greatest American play of the 20th Century. A deep dive into the dark soul of the American dream. November 11 – 21.
MY WITCH. And bookending the season, our friends at Fat Knight Theatre (CHIPANDGUS, BST 2017) bring us Jean Tafler as the woman behind the original Miss Gulch in John Ahlin's My Witch: The Margaret Hamilton Stories. December 3 – 12
Staff at Bridge Street Theatre
John Sowle – Artistic and Managing Director
Steven Patterson – Associate Director
Patricia Britton – Bookkeeper
Amanda Miller – Production Stage Manager
Bridge Street Theatre's Board of Directors
Jay Lesenger, President; Betsy Barrett, Vice President;
Steven Patterson, Secretary; Jeff Barrett, Treasurer,
Florence Hayle, Bruce Hoover, Lynn Kearney, Gregory Powell, Sue Ward