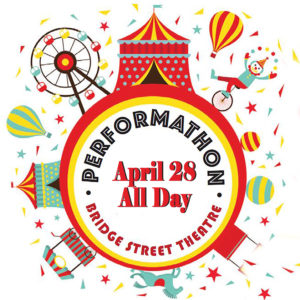 Bridge Street Theatre's 2nd Annual Performathon!
Saturday April 28 from 10am to 6pm
Followed by a Grand Variety Show from 7-10pm. Admission includes a dinner reception from 6-7pm.
Bridge Street Theatre in the charming (and ever improving) village of Catskill, NY, will host its 2nd Annual Performathon Fundraiser in our Mainstage auditorium, located at 44 West Bridge Street, on Saturday, April 28, 2018 from 10 am to 6pm, followed by a Variety Show featuring some of the most talented performers in the region from 7-10pm.
Daytime hours will feature community talent in a family-friendly county fair atmosphere. There will be refreshments, raffles, and more, all leading up to a grand Evening Variety Show on Saturday night.  Help ensure that you'll be able to keep enjoying live, local theatrical performances and keep our entire community thriving and growing. The Performathon is guaranteed to be a rip-roaring good time!
The 2018 Performathon Fundraiser will be presented on Saturday April 28 in two parts with two separate admission prices. Admission to Part One is only $2 for Adults, $1 for Kids 18 & under and is good from 10am till 6pm. Just pay at the door and stay as little or as long as you like.
Tickets for Part Two, the 6pm Dinner Reception and 7pm Variety show, are $20 for adults, $15 for Bridge Street Theatre Subscribers, and $10 for Students ages 21 & under and can be purchased in advance at performathon.brownpapertickets.com  or by calling Brown Paper Tickets at 800-838-3006. Variety Show tickets can also be purchased at the door one half hour prior to the performance subject to availability. Part Two tickets also get you in free to all the daytime events.
You're not going to want to miss either portion of this terrific community event. Come have a great time and help Bridge Street Theatre keep presenting the wonderful, eclectic work local audiences have come to expect from Catskill's "Bridge to Anywhere".