MY UNSPEAKABLE CONFESSIONS: GALA DALI DECLINES TO EXPLAIN HERSELF by Heather L. Jones.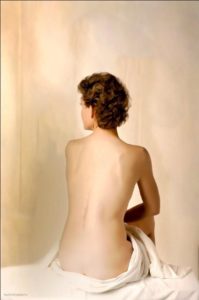 Audiences are in for a rare treat when Bridge Street Theatre favorite Roxanne Fay ("The Effect of Gamma Rays on Man-in-the-Moon Marigolds", "Dream Child", "Upon This Rock", "Home Fires Burning") returns to Catskill on Sunday May 6th at 2:00pm for a one-time-only performance of Heather L. Jones' "My Unspeakable Confessions: Gala Dali Declines to Explain Herself".
Originally commissioned by the Salvador Dali Museum in St. Petersburg, Florida, and first performed there by Ms. Fay in 2011, this dazzling one-woman show (told with some reluctance) exposes the secrets, fears, promises, and lies of the Russian-born wife and muse of the crazed Spanish surrealist painter Salvador Dali. Dali created exquisite and sensual tributes to her throughout his life, making her the central figure in much of his work. But as Dali became more and more of a public personality, Gala receded further and further into the shadows, keeping her mystery intact. This play presents 'her' version of her own story, as she might have agreed to tell it – as a reading of the Tarot.
Check out Flo Hayle's interview with Roxanne here.
"The irreverent artist, Salvador Dali, sizzled in his own right; but throw in the fire of his passionate wife and muse, Gala, and you can well understand how a clock could melt in their presence…. Roxanne Fay brilliantly played Gala, Salvador Dali's charismatic, devoted and headstrong seductress.  … Through Ms. Fay's moving performance, we got up close and personal to Gala's all consuming love for Dali (and herself) and his equally intense connection to her.  She wished to be everything to him: lover, wife, mother, collaborator and inspiration. We came to understand how this rapport completely defined each of them and allowed their creative and personal lives to flourish.  … Ms. Fay's powerful incarnation was by turns, admirable and arrogant, playing with the audience's instinct to pigeonhole Gala. This made it hard to know whether Gala was likable, a raving egomaniac, or both. And in the presence of such a force of nature, who cared?  One thing was certain; to live in "Galaland" was not for the faint of heart." — Pamala Beck, SRO Magazine