Jan Grice presents
ENCORES!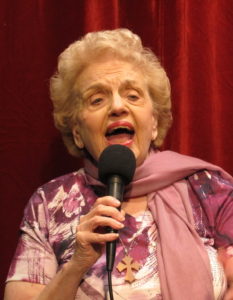 The Fabulous Flo Hayle Celebrates Her 89th Birthday with ENCORES!
Catskill's Bridge Street Theatre invites audiences to experience ENCORES!, a special one-time only performance by the legendary Flo Hayle on the BST Mainstage Saturday April 21st at 2:00pm. Producer Jan Grice and Musical Director Jay Kerr join Ms. Hayle for a potpourri of terrific tunes and fascinating tales in celebration of her 89th trip around the sun!
In this intimate afternoon soiree, the inimitable Ms. Hayle not only puts her own unique stamp on songs both old and new, but intersperses her musical performances with an array of personal anecdotes from her storied show biz past. And what stories she has! An accomplished and beloved cabaret singer, Flo has known (and performed with) many of the greats including Elaine Stritch, Liza Minnelli and Hildegarde. If indeed there's a broken heart for every light on Broadway, Flo was probably on hand either to offer a shoulder or cry her eyes out herself.
FLO HAYLE (Performer). Flo Hayle has participated in all aspects of theatre throughout her career.  She has appeared in dozens of plays and musicals including SOPHIE by Steve Allen and, more recently, SENIOR MOMENTS at the Fort Salem Theatre.  She has been seen in TV commercials for Total Cereal and Volkswagen, among others.  As a director and producer, she was producing off-Broadway long before there was anything known as "off-Broadway", was casting director for Muriel Cigars, Coppertone, and Maybelline, and director of PRISONER OF SECOND AVENUE at The Ghent Playhouse and THE PROPERTY KNOWN AS GARLAND and SOUVENIR: A FANTASIA ON THE LIFE OF FLORENCE FOSTER JENKINS right here at the Bridge Street Theatre, where she is also a member of the Board of Directors. And this autumn, look for her staging of Alfred Uhry's Pulitzer Prize-winning drama DRIVING MISS DAISY on the BST Mainstage. Flo also hosts a weekly Sunday morning radio interview show called "Arts Alive" on 98.5FM and 93.5FM.
JAY KERR (Musical Director). For most of his fifty-one years in show business, Jay Kerr operated a music studio in New York City, literally and figuratively between Broadway and Carnegie Hall, where he arranged music, worked with songwriters on new projects, instructed singers for stage, cabaret, and recording (www.jaykerr.com), and wrote songs and incidental music for cabaret and theater. As a vocal instructor and voice coach, he has shaped musical performances by, among many others, Uzo Adubo, B.J. Crosby, Sandy Dennis, Tovah Feldshuh, Sally Ann Howes, Frank Gorshin, Debbie Gravitte, Bob Gunton, Mark Jacoby, James Naughton, Charlotte Rae, Phil Silvers, Neva Small, Dee Wallace Stone, and Joanne Woodward. His students have appeared in countless Broadway musicals, including BLACK AND BLUE, A CHRISTMAS CAROL, CATS, CHICAGO, FASCINATING RHYTHM, FIDDLER ON THE ROOF, FOOTLOOSE, FORBIDDEN BROADWAY, 42ND STREET, A FUNNY THING HAPPENED ON THE WAY TO THE FORUM, HIGH FIDELITY, GOOD VIBRATIONS, JEKYLL AND HYDE, THE KING AND I, LA CAGE AUX FOLLES, LES MIZ, MISS SAIGON, MOVIN' OUT, OKLAHOMA, ROCK OF AGES, AND SUNSET BOULEVARD.
Currently Artistic Director of Fort Salem Theater in Washington County, Jay has worked with Flo Hayle for over thirty years, and brought her ought of her early retirement to sing in SENIOR MOMENTS at Fort Salem in 2011. She hasn't stopped singing since. Jay also appeared as Cosme McMoon in Bridge Street Theatre's 2017 production of SOUVENIR: A FANTASIA ON THE LIFE OF FLORENCE FOSTER JENKINS, directed by none other than Flo Hayle herself!
JAN M. GRICE (Producer) has been involved in theatre for over 60 years, appearing in more than 30 musicals in summer stock, with Agnes Moorhead, Dorothy Collins, Ann Blyth, Raul Julia, Pattie Page, Jessica Walter, Jane Morgan, Marilyn Michaels, Molly Picon, Sandy Duncan and Carol Baker. Jan worked for numerous architectural and interior design firms in New York City, and for 17 years he traveled the U.S., South America, Japan, Hawaii and Puerto Rico as the National Director of Design and Planning for what was then Price Waterhouse. He worked with HRC Showcase Theatre in Hudson for 15 years and was president of the Board of Directors for 11 years and president of the board of directors of Columbia County Council on the Arts until 2015.