Bridge Street Theatre announces the line-up for its Performathon fundraiser
Saturday, April 28 from 10AM – 10PM.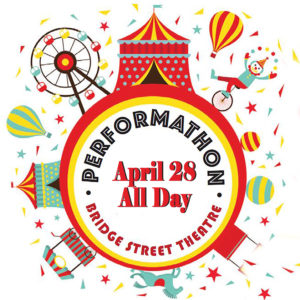 We start the day with the amazing Sean, the Prankster, Magician. Then Todd Whitely brings his Dance Class from Athens Cultural Center to our stage. You can join in or just watch the fun. Other highlights, Pete Wagula brings his guitar virtuosity to the stage at 2:15, Carmen Borgia's Ukulele Camp to the stage at 3:30. At 5 a Cabaret Spectacular with Lynn Kearney, Lisa Wood and Alison Davy. Admission to the daytime events is just $2 at the door, $1 for kids, Free if you buy or have tickets to the evening show.
Then starting at 6, the evening festivities begin with a reception in the lobby featuring vegetarian chili, cornbread, and drinks from the concession stand. Then at 7 the Variety Show starts with Francesca Avani presenting her brand of Fusion Belly Dance, includes Bridge Street Favorites Tom Andersen and the Ramblin' Jug Stompers, and many surprises. Tickets for dinner and the show are just $20, $15 for subscribers, and $10 for students. Available at performathon.brownpapertickets.com or at the door.
Here's the current Line Up. Check back for changes and additions.
And there may be a few slots left. If you're interested in performing get in touch with kelly@bridgest.org.
| | |
| --- | --- |
| 10:00am | Sean the Prankster Magician |
| 10:15am | Sean the Prankster Magician |
| 10:30am | Jean Dunn (Comedy) |
| 10:45am | Todd Whitley & The Presque Ballet |
| 11:00am | Todd Whitley & The Presque Ballet |
| 11:15am | Todd Whitley & The Presque Ballet |
| 11:30am | Todd Whitley & The Presque Ballet |
| 11:45am | Todd Whitley & The Presque Ballet |
| 12:00pm | Todd Whitley & The Presque Ballet |
| 12:15pm | MaryEllen Gallagher (Yoga) |
| 12:30pm | MaryEllen Gallagher |
| 12:45pm | Marie Greco (Storytelling) |
| 1:00pm |  Lou Watterson (Guitar) |
| 1:15pm |  Lou Watterson (Guitar) |
| 1:30pm |  Lou Watterson (Guitar |
| 1:45pm | Michael Hannon (Comedy) |
| 2:00pm | Debby Mayer (Storyteller) |
| 2:15pm | Pete Wagula (Guitar) |
| 2:30pm | Pete Wagula |
| 2:45pm | Pete Wagula |
| 3:00pm | Pete Wagula |
| 3:15pm | Megan Darling Piano |
| 3:30pm | Carmen Borgia: Ukuleles |
| 3:45pm | Carmen Borgia: Ukuleles |
| 4:00pm | Hop-O-Nose |
| 4:15pm | Harry Matthews & Matt Bua |
| 4:30pm | Harry Matthews & Matt Bua |
| 4:45pm | Harry Matthews & Matt Bua |
| 5:00pm | Lynn Kearney (Cabaret) |
| 5:15pm | Alison Davy |
| 5:30pm | Lisa Wood |
| 5:45pm | Roxanne Fay (Scene from HIR) |
| 6:00pm | Variety Show Reception & Dinner |
| 6:15pm | Variety Show Reception & Dinner |
| 6:30pm | Variety Show Reception & Dinner |
| 6:45pm | Variety Show Reception & Dinner |
| 7:00pm | Francesca Avani (Fusion Belly Dance) |
| 7:15pm | Ann Forbes Cooper (Reading) |
| 7:30pm | Tom Andersen (Cabaret) |
| 7:45pm | Zach Ferrara & Romario Ferreira Duo |
| 8:00pm | Zach Ferrara & Romario Ferreira Duo |
| 8:15pm | Ramblin Jug Stompers |
| 8:30pm | Ramblin Jug Stompers |
| 8:45pm | Ramblin Jug Stompers |
| 9:00pm | Frank Cuthbert (Singer/Songwriter) |
| 9:15pm | Frank Cuthbert |
| 9:30pm |  Abby Lapin (Guitar) |
| 9:45pm |  Abby Lapin |