Play Three of our 2023 Season
August 31 – September 10
I AM BARBIE
by Walton Beacham (Regional Premiere)
Directed by Rob Maitner
Sets & Lights by John Sowle
Costumes by Michelle Rogers
Wigs by Nellie Gamboa
Production Stage Manager – Hannarose Manning
with
Olivia Sargent, Natalie Arneson*, Amanda Ferguson*, Max Kantor
For Press Photos, CLICK HERE.
For the Berkshire Eagle Feature Article, CLICK HERE.
For Albany Times Union Feature Article, CLICK HERE.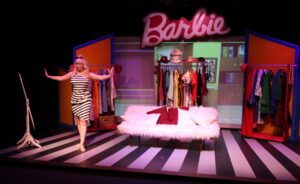 "Box office gold … A satirical comedy with social undertones … Olivia Sargent shines in the lead role. She captures the innocence of her character who struggles to understand why, despite fame and an adventurous life, she feels empty and unsatisfied … Because of this, at least on a subliminal level, the audience might recognize the plight of real people who suffered in life because they were treated as dolls instead of humans with their own inner life. And that is what the film, the Bridge Street Theatre play, and the 21st century Barbie is really about." Bob Goepfert, The Saratogian More… or listen to the review on WAMC
"In a savvy programming move that catches a cultural wave, Bridge Street Theatre is presenting the funny, unconventional 'I Am Barbie,' in only the second time the 2011 play has been produced … A nuanced, darkly comic look at the complex legacy of Barbie, who since her 1959 creation has alternately been praised and pilloried, depending on what she was being used as an example of … Perfectly cast." Steve Barnes, Times Union More…

"Nothing short of brilliant … [Olivia] Sargent's success has been singular: she IS Barbie … It entertains and amuses and at the same time it elevates the period of the sixties into a new and different reality. Less than half-way through the evening you realize that you really do care about this doll and her effect on the world." J. Peter Bergman, Berkshire Bright Focus More…
"If you're looking to reminisce about Barbie, get your picture taken in a toy box in the lobby, or even dress up in one of Barbie's 139 roles, this evening of camp theater should be on your must-see list … Director Rob Maitner has guided his stellar cast to over a dozen sharp characters." Patrick White, Nippertown More…
Looks like it's Barbie's world and all of us are just living in it! Piggybacking on the phenomenal success of Greta Gerwig's blockbuster BARBIE film, Bridge Street Theatre is proud to present the East Coast premiere of Texas playwright Walton Beacham's I AM BARBIE from August 31st through September 10th on the theatre's intimate "Priscilla" Mainstage, located at 44 West Bridge Street in Catskill, NY.
It's Barbie's 60th birthday (she still looks absolutely fabulous), and she celebrates by reminiscing with us about her innumerable careers, everyone's obsession with her chest, her on-again-off-again relationship with Ken, and with other characters from her life including GI Joe, She-Ra, Skipper, Annette Funicello, Britney Spears, and her creators Ruth Handler and Jack Ryan. Barbie's ascenscion as a cultural icon, symbol, and statement of feminine status, power, and vulnerability was probably one of the most unlikely developments of the second half of the 20th Century – and she's still goin' strong!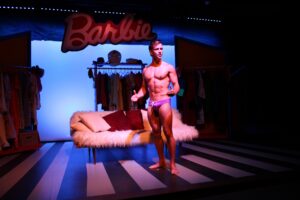 Originally premiered at Houston's Main Street Theatre back in 2011, the play was initially scheduled to be presented at BST during its 2016 Season, but the theatre was unable to find the right actors to fill the roles. Not a problem in 2023! Featured in the cast of this production are Olivia Sargent as Barbie, with Natalie Arneson, Amanda Ferguson, and Max Kantor portraying a host of other characters, both real and fictional. Rob Maitner directs, with sets and lighting design by John Sowle, costumes by Michelle Rogers, wigs and styling by Nellie Gamboa of Catskill's GOODHair W&MC, and artwork by Julie Chase. Production Stage Manager is Hannarose Manning.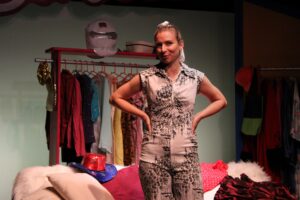 "This will be only the second time the play has ever been presented, and we've been lucky enough to assemble an absolute dream team to bring it to our stage," says John Sowle, Bridge Street's Artistic and Managing Director. "For the past several years, director Rob Maitner has be producing, assembling, and performing in a massively popular cabaret series at 54 Below in Manhattan called 'Sondheim Unplugged', and he brings an ideal comic sensibility to this fiendishly tricky material. There's an almost John Waters-like combination of campiness, raucous hilarity, social critique, and sincere emotion in Walton's writing, and Rob and this cast absolutely nail it. You should definitely leave the kiddies at home for this one, though – we're recommending it for audiences 12 and over."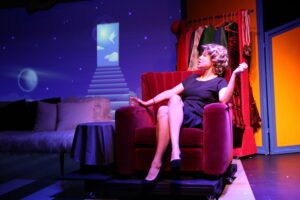 The theatre also plans some extra added attractions to go along with the play's presentation. Opening night Friday September 1st will be a Cosplay evening, with audience members encouraged to show up in costume (of course, if you want to show up in costume at ANY of the performances, no one's gonna stop you!). And throughout the run, there'll be a life-sized Barbie box in the theatre's lobby for patrons to step inside for a "Mint-in-Box" photograph of themselves. And keep your eye on the slideshow in the lobby beforehand and the projections onstage during the show. You may catch a glimpse of some of your friend's and neighbor's personal Barbie collections!
NOTE: This is not a show for kids. Because of sexual innuendo, it's probably best for 12+.
Bios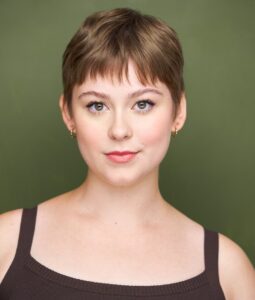 Olivia Sargent (Barbie) is thrilled to be Barbie at Bridge Street Theatre! Select regional credits include: A Gentleman's Guide to Love and Murder (Lady Eugenia, U/S Sibella, U/S Miss Shingle, Hippodrome Theatre), A Midsummer Night's Dream (Helena, Titania, 92NY), I and You (Caroline, TampaRep), The Music Man (Zaneeta, St. Pete Opera), Take My Hand and Wave Goodbye (Cassie, original cast, Orlando Shakes), Threepenny Opera (Dolly, Jobsite Theater), The Children's Hour (Mary Tilford, TampaRep). Select film credits: Law and Order: SVU, Stubbz, Stasis Supplement Commercials. Atlantic Acting School, Oklahoma City University Music Theatre, University of Florida M.Sc. Family, Youth Community Sciences. Love to my family! @oliviamaesargent.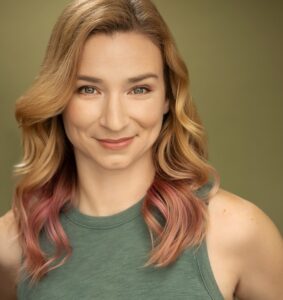 Natalie Arneson (She-Ra, Skipper, Waitress, Brittany Spears). New York – Small Town Confessions, The Nose That Didn't Fit, Page2Stage Festival, MCC New Works Festival, LMNOP. Philipstown Depot Theater: Guys and Dolls. Regional: Alley Theatre: Much Ado About Nothing, A Christmas Carol. Main Street Theater: Awake and Sing!, Nine. Bayou City Concert Musicals: Fiorello, Follies. Heinen Theater – Side Show. MAC Award winner for solo cabaret Mama Drama. UK: Aladdin, co-starring Sylvester McCoy and Britt Eklund. Anime: Venus Versus Virus, Kanon, Pichi Pichi Pitch. Natalie appears regularly at 54 Below in "Sondheim Unplugged" and is featured on the Sondheim Unplugged album that recently debuted at number one on Amazon Music. She is also a director and teaching artist, and has been cultivating the next generation of artists for over 20 years. She lives in the Hudson Valley with her husband and three children.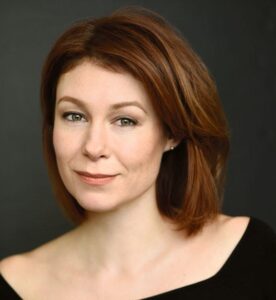 Amanda Ferguson (Ruth, Danica Patrick, Annette Funicello) is a New York City based actress and singer and a graduate of Syracuse University with a BFA in Musical Theater. She has performed in multiple theater, tv, and film productions throughout the New York and New England area, most recent projects including Anne of Green Gables at The Goodspeed Opera House and Cry It Out at The Shadowland Theater in Ellenville, NY. She is pleased to be making her Bridge Street Theater debut and delighted to be reunited with fellow SU alum director Rob Maitner for this production. Also an accomplished cabaret performer, she has appeared in such venues as Joes Pub, Cornelia Street Cafe, Pangea, Minton's Playhouse, and will be making her Green Room 42 debut this fall. She thanks her family, both biological and chosen, for the years of unending love and support. www.theamandaferguson.com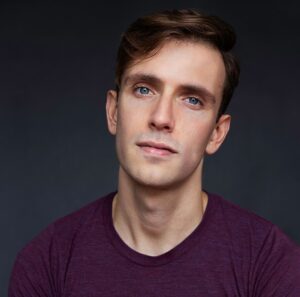 Max Kantor (Ken, Cowboy, GI Joe, Jack Ryan, they/them) is very excited to be making their Bridge Street debut! They are based out of New York City, where they work as an actor and fitness instructor. Max was seen earlier this year in Rough Trade (Hawk) at The Tank in NYC. They are a graduate of Circle in the Square Theatre School. Huge thanks to John, Steven, Rob, and the cast of I Am Barbie. Love you JD & Kippy!! Follow Max on Instagram at @tyrannomaxusmax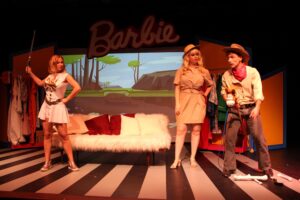 Rob Maitner (Director) has directed and/or produced for the stage Nine, Urinetown, Beyond Therapy and the world premiere of Ryan Teller's The Bad Smile at the Stras Theater in Los Angeles. As co-founder of Off Off Hollywood Productions, Rob has produced and starred in the indie television pilots FreakMe and Shut Up, Astoria. OOH's short film I Don't Believe in That was nominated for the Iris Prize in 2016. As a stage actor, Rob originated the role of Mr. McQueen in the world premiere of Urinetown at NYC Fringe and has appeared off Broadway and regionally in Fairy Tales, Picasso at the Lapin Agile, A Better Place, Private Lives, The Mousetrap, Charley's Aunt and The Big Bang. Rob currently is the writer and host of the award-winning Sondheim Unplugged, a monthly show.
Walton Beacham (Author). A former professor of creative writing at Virginia Commonwealth University, Walton
is a novelist, poet, playwright, and publisher. (He founded Beacham Publishing in 1985). His hobby is designing and building Italian villas on Casey Key in Sarasota, Florida.
* Members of Actors' Equity Association, the Union of Professional Actors and Stage Managers in the US.