In Bridge Street Theatre's 'I Am Barbie,' the iconic doll looks back on 60 years of life — the good, the bad and everything in between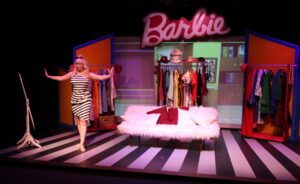 CATSKILL, N.Y. — Everything old appears to be new again these days, especially for a female doll for all seasons named Barbie.
The iconic figure is having her say in playwright Walton Beacham's "I Am Barbie" at Bridge Street Theatre where it opened over the Labor Day weekend and finishes this Sunday. This regional premiere is "I Am Barbie's" only other production since its world premiere in 2011 at Main Street Theatre in Houston.
Bridge Street Theatre's co-founding artistic director John Sowle first came across the script while he was a literary manager and director at the now-defunct StageWorks in nearby Hudson. He and his partner in business and in life, Steven Patterson, planned to produce "I Am Barbie" for Bridge Street's 2016 season — its third — but, Sowles said in an interview in Bridge Street Theatre's lobby, they weren't able to cast the show.
"Agents didn't think their clients should come to Catskill to work," Sowle said with a trace of an ironic laugh.
Times do change. Knowing Greta Gerwig's film, "Barbie," was due for release this summer, Sowle and Patterson felt the time was right for "I Am Barbie." This time, agents did, too. Bridge Street Theatre has developed a reputation in the intervening years. Sowle, Patterson and the show's director, Rob Maitner, had no difficulty casting this production.
The intermissionless 90-minute show has been a big success. While a preview performance and the opening weekend Sunday matinee were canceled, Bridge Street's 84-seat theater was at, or nearly at, capacity Friday and Saturday and is nearly sold out for its final four performances.
"I Am Barbie" comprises Barbie's reflections on the twists and returns of her life as she turns 60. She is joined by her mother, Ruth Handler, co-founder of Mattel, Inc. who, together with Mattel toy designer Jack Ryan, introduced the busty Barbie to the world at the New York Toy Fair in March 1959. Also making appearances are, among others, Ryan, She-Ra, Britney Spears, Annette Funicello, G.I. Joe and, of course, Ken.
"I Am Barbie" doesn't shy away from issues of sexuality; sexual identity; empowerment; marginalization; business; fantasy; role playing; objectification or violence against women. And yet, despite Beacham's exploration of heavier themes, "this is an audience play, wrapped in a candy-colored 'Pee-Wee's Playhouse' atmosphere," Maitner said in the interview, joining Sowle and Olivia Sargent, who is playing Barbie.
Sargent has seen the film if, for no other reason, she said, than to "understand the conversation we'd be having with this play."
Sargent characterized the experience of creating her Barbie as "illuminating." She says the play examines every aspect of Barbie's personality as she goes through a range of experiences including, in the G.I. Joe sequence, the underlying "current of threats to being a woman."
That scene, Sargent and Maitner acknowledge, may be the play's most problematic.
"We felt if we went too dark with that scene audiences would turn off," Maitner said, "so we've gone cartoonish; stylish."
Maitner sees "I Am Barbie" as the story of a hero's journey to realization; a sense of place and meaning.
"What is fantasy?" Maitner asked rhetorically. "What does that mean? I think Barbie has stood as a projection of what you can be. The fact that there have been 139 Barbies says you can be whatever you want to be."
If there is a bittersweet message here it is, Maitner said, that "you can tell people they can be anything but they can't be everything."
Jeffrey Borak is The Eagle's theater critic.