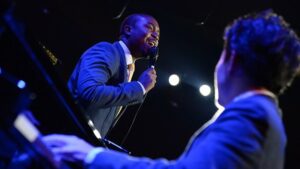 A Brand-New Musical in Concert at Catskill's Bridge Street Theatre
Wrapping up a recent Artists' Residency at the Catwalk Institute with pianist/composer Sean Mason and playwright Marcus Scott, Brooklyn-based vocalist and composer Charles Turner will present a one-night only "tasting" from the project they've all been creating together. This will be the very first airing of selections/songs from "Melanin or The In-Crowd", an exciting new musical theatre piece in its nascent stages, to be performed live at Catskill's Bridge Street Theatre on Saturday evening July 31 at 8:00pm.
Over the course of a weekend, a cadre of young, upscale, globetrotting professionals gather for one last hurrah in and around NYC's lounge scene. Celebrating the newfound success of one of their own who has received a lucrative job offer overseas, the coterie spends an unforgettable weekend, touring various nightclubs in an endless cavalcade of booze, hookups and cheap thrills.
Inspired by the classic golden age MGM Hollywood musicals, but filtered through a modern lens, this splashy new musical encompasses a variety of musical styles such as blues, jazz, swing, big band, jazz fusion, progressive soul, psychedelic soul, cinematic soul, Sophisti-pop, quiet storm, urban, doo-wop, hip-hop soul, neo-soul, alternative R&B, funk, dancehall, reggae, highlife and afro pop. "Melanin or The In-Crowd" is a postmodern coming of age rom-com that explores themes including millennials and the youth of America, materialism, consumerism, capitalism and commodification, classism, colorism, selfishness, respectability politics, depersonalization and dating in the digital age, sexism, sexual freedom, and modern love, all through the prism of black bourgeois culture.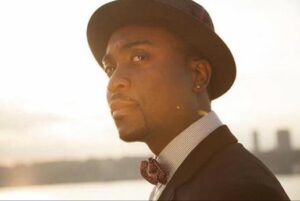 The multi-faceted Turner has performed at such venues as Dizzy's Club Coca Cola at Jazz at Lincoln Center, Birdland, Smoke Jazz club and the historic Minton's Playhouse in Harlem. International performances include PizzaExpress in London, Sunset/Sunside in Paris, Sala Clamores in Madrid, and other venues abroad from Seoul, South Korea to Wellington, New Zealand. His passion is to bring swing and jazz to listeners of all generations, carrying the Spirit of Harlem and the torch of the past into the present day for music lovers and dancers throughout the world to experience, embrace, and enjoy. This new collaboration with pianist/composer Sean Mason and playwright Marcus Scott extends Turner's range even further and promises to be an event to remember.
Charles Turner is a multi-faceted, Brooklyn-based composer and vocalist whose work transcends borders and styles from Jazz, R&B to Soul. Turner has held residencies, hosted, and performed at venues such as Dizzy's Club Coca Cola at Jazz at Lincoln Center, Birdland, Smoke Jazz club and the historic Minton's Playhouse in Harlem. International performances include, Pizza Express, in London, Sunside Sunset in Paris, Sala Claomores in Madrid, and more venues abroad from Seoul, South Korea to Wellington New Zealand.
Turner's Sophomore Album " Single & In Love" , produced by Grammy award winning drummer Ulysses Owens Jr. has received critical acclaim and continues to play all across the world. Berklee College of Music Graduate, he has extended his educational value by teaching at The American School of Modern Music in Paris, France in 2017 & 18. Then then participated in " Jazz for Young People" at JALC and conducted Masterclasses in various high schools and Universities such as N.Y.U.
Charles' passion to bring swing and jazz to listeners of all generations and backgrounds proceeds through his new band and project Charles Turner & Uptown Swing. Bringing the Swing and Spirit of Harlem to music lovers and dancers around the world. Vibrant Swing , Virtuosic Bebop & Vital Blues, The band extends music from the swing era to present under the umbrella of swing .
Vocalist, Composer, & Educator, moving forward to bring this incredible music to the people ; Turner holds the torch of the past and brings it along with him to present day for all to experience , embrace, and enjoy.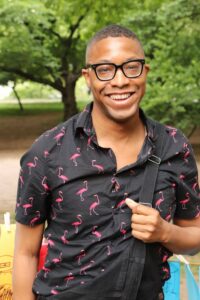 MARCUS SCOTT is a playwright, musical theater writer, librettist, journalist, critic and teaching artist. Full-length works include "Fidelio" (Libretto; Heartbeat Opera at Baruch Performing Arts Center, 2018; called "poignant" by NY Times and "vital" by The New Yorker), "Tumbleweed" (Finalist for the 2017/2018 Humanitas Play LA Workshop, the Playwrights Foundation's 2017 Bay Area Playwrights Festival, and the 2017 Festival of New American Plays at Austin Playhouse; semi-finalist for the 2017/2018 New Dramatists Princess Grace Fellowship Award), "Sibling Rivalries" (long-listed for the 2020 Theatre503 International Playwriting Award; semifinalist for 2021 Blue Ink Playwriting Award, the Landing Theatre Company's 2020 New American Voices Playwriting Festival and the 2020 Campfire Theatre Festival), and "Cherry Bomb" (recipient of the 2017 Drama League First Stage Artist-In-Residence; 2017 Finalist for the Yale Institute for Music Theatre). His work has been developed, presented and/or produced by Joe's Pub, Feinstein's/54 Below, Abingdon Theatre Company, Astoria Performing Arts Center, Out of the Box Theatrics, Weathervane Theatre, Dixon Place, National Black Theatre (KSA series), Playwright's Playground at Classical Theatre of Harlem, Space on Ryder Farm, Cherry Lane Theater (DUAF), Theater 80 St. Marks (DUAF), Across A Crowded Room – Lincoln Center Performing Arts Library (NYPL), NY Theatre Barn, CoLAB Arts, Symphony Space, NYC LGBT Center, Secret Theatre, MicroTheater Miami, among others. Residencies and retreats: The Center at West Park Virtual Performance Residency (2020-2021), Gingold Theatre Group Speaker's Corner Writer (2020-2021), Liberation Theatre Company's Playwriting Residency Fellowship (2018), Athena Theatre's Athena Writes Playwriting Fellowship (2018), the inaugural LIT Council at the Tank (2018-2019), Fresh Ground Pepper Artist-In-Residence BRB Retreat (2017), One Co. Writers' Residency at Little Farm (2017) and Goodspeed Opera House Retreat (2013). He was also the 2016-17 Musical Theatre Fellow at Playwrights Horizons and the 20172018 co-moderator of Musical Theatre Factory's POC Roundtable. Scott is a four-time top finalist for the R&D Group at The Civilians, a two-time National Black Theatre I AM SOUL Playwrights Residency finalist and a 2019 finalist for the Bushwick Starr's Starr Reading Series. His articles appeared in TimeOut New York, American Theatre Magazine, Playbill, Elle, Out, Essence, among others. BFA: State University College at Buffalo, MFA: NYU Tisch.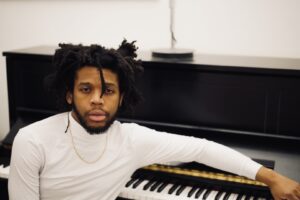 SEAN MASON. Born and raised in Charlotte, NC, Sean Mason taught himself by ear how to play the piano at the age of 13. His beginning musical roots included Gospel, Classical, Hip-Hop, and R&B music but then he discovered jazz and decided to make a career of it. To further his knowledge, Sean went to study music at The University of North Carolina at Greensboro. After two years of study, Sean decided to move to New York City and transfer his studies to The Juilliard School, studying for another two years before ultimately leaving to pursue his music interests independently. In his short but already groundbreaking career, Sean has played and toured with many jazz professionals, prominently including Branford Marsalis and Wynton Marsalis, but among many others. Sean is based in New York City and leads his own band, "The Sean Mason Trio", which performs regularly in New York City and tours across the globe. Aside from his performing career, Sean is also a composer and an orchestrator in the musical theatre space. https://www.seanmasonofficial.com