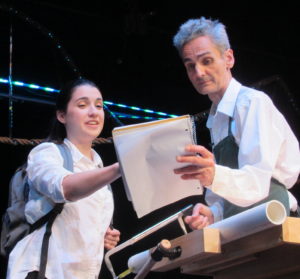 Official Reviews
"The title may be "Better," but the adjective that more closely applies to Bridge Street Theatre's world-premiere production of Michelle Carter's new play is 'best.' … Superbly acted and directed, the play is nuanced, compelling and insightful, and if the world is fair at all, it will have a long life of future productions …'Better' is a play about relationships, family, tragedy and resilience, all of which sounds like standard stuff to address. But – and, again, that word is necessary here – you've never seen it done like this before." Steve Barnes, Albany Times Union Click here for the complete review.
"Bridge Street Theatre is taking the temperature of America right now and presenting a very funny, deeply human, startlingly original examination of how we as citizens and family members reconcile with the barbarism around and within us. The World Premiere of 'Better' by Michelle Carter as presented by Bridge Street Theatre is a fascinating, deeply impressive theatrical discovery … Ms. Carter is one funny playwright. Every scene has big laughs and many of the scenes ended with applause … Director Sara Lampert Hoover has done superb work with her actors, presenting this challenging new play with humor and horror coursing thru its veins … 'Better' is a Eureka moment in the Capital Region theater lab, a discovery to be acknowledged and celebrated."  Patrick White, Nippertown  Click here for the complete review.
"In Michelle Carter's new play 'Better', having its world premiere at the Bridge Street Theatre in Catskill, NY, a myriad of questions are asked. I like a play that leaves me curious; this one engendered an unusual amount of conversation on the 75-minute trip home – unusual for an 88-minute play … Director Sara Lampert Hoover has done a remarkable job bringing this difficult play to the stage. The many questions never answered here are addressed for a moment and then let go as though they hadn't existed. Instead she presents us with an unfinished quilt where each piece can be viewed and admired as it is attached to the growing larger body of the work. The combination here of creative artists, one and all, has given us some amazing theater and a large gooey table of food for thought. I'd say 'dip in' and devour a fascinating new play."  J. Peter Bergman, Berkshire Bright Focus Click here for the complete review.
"It's an open secret that most of the truly exciting and adventurous summer theater takes place in the second stages of the major theater festivals. Places like the Williamstown Theater Festival, Barrington Stage Company and Shakespeare & Company often offer work that is more challenging in the smaller spaces than is happening on the mainstages. A better kept secret is that this type of exciting theater goes on regularly at Bridge Street Theater in Catskill. They do it 12 months a year and for about a third of the ticket price at a major festival. Validating Bridge Street's credentials is the thrilling new play 'Better,' which is currently being given a near-flawless production at its intimate Catskill venue." Bob Geopfert, WAMC Radio Click here for the complete review.
"A bold presentation … The set-up is inspired (literally): In 2010, a respected Alabama biology professor shot and killed three of her colleagues in cold blood. Defeated after a long and humiliating tenure review, the wife and mother of four opened fire in a faculty meeting with a gun her family didn't even know she carried. Michelle Carter's new play 'Better' asks not what made her do it, but how the child of such a homicidal parent copes with the knowledge her genes may be 'tainted.' It's a marvelous premise for a harrowing drama. What makes 'Better' better than expected is its surprise detour into light, if queasy, post-teen-angst comedy … Evans has a ball slathering on Medium Molly's southern-fried charm. Linden gets to act alone with a cell phone in several scenes (every actor's dream). And Carla Lewis projects maternal concern and a caustic wit as Emily's boss, Luisa – a woman who insists her own children are 'assholes.' But it's Fleising as Emily's shy, spacey lab partner-paramour who steals the show with deft underplaying. It's one of those funny, shaggy-dog performances in which it's hard to tell where the actor ends and the role begins. As Emily, Montana Lampert Hoover impresses from the get-go. This production is her play and she makes the most of it." DL Simmons, Berkshire On Stage
Some responses from our audiences on Facebook and Twitter
"Here's another show you HAVE to see!!!! "Better" is beautifully written by Michelle Carter. It is so beautifully written that you will leave completely moved, emotionally. Her writing is such, that two of the characters you will feel the most never set foot on the stage. The acting is Stellar, as always! Each actor is brilliant. I'm returning at least once. Come see this! Buy tickets today, don't put it off another minute. 🎭❤" – Betsy Barrett

"A+. Perfectly cast. VERY relevant performance. Kudos!!!"  Scott Myers
"Manny and I were in the audience last night for the outstanding performance of BETTER! You must make the time to see this play at Bridge Street Theatre. You will not regret it, I promise."  Marie Greco
"Everyone must see 'Better'." Flo Hayle