If you're on our mailing list, you should have gotten a letter from us asking you to support our mission of bringing culture to Catskill. Please give if you can, whatever you can, with a completely tax-deductible donation. You can send us a check, or just donate online HERE.
"It is a unique flame that burns in Catskill, New York." J. Peter Bergman, Berkshire Edge
Wow! Our scrappy little theatre was back with a vengeance in 2022! We presented our first full five-play season since the onset of the pandemic without a single cancelled performance or a single understudy having to go on! The collaborations we initiated in 2021 with the Solomon R. Guggenheim Museum in NYC and Catskill's Catwalk Institute continued with a series of artists' residencies in our space. We began a new partnership with Saugerties' Round the Bend Theatre for a series of new play readings from local playwrights, presented to the public for an affordable free-will donation. We hosted our second annual Summer Musical with an all-student cast – THE 25TH ANNUAL PUTNAM COUNTY SPELLING BEE – and a two-performance run of A BINTEL BRIEF from our friends over at Catskill's Temple Israel. Bridge Street Belly Dance returned with perhaps its most exciting program ever. And we hosted a number of spectacular musical evenings featuring such artists as Tom Judson, The Lost Radio Rounders, Ustad Shafaat Khan, Michael Moss, and the Zelos Saxophone Quartet.
Our five-play Mainstage Season took our audiences to some truly unexpected places: to the stockroom of a Costco in rural Washington state (Samuel D. Hunter's CLARKSTON), to a small-town mortuary in Indiana (the surprisingly funny FOURTEEN FUNERALS by Eric Pfeffinger), into the mind of an elderly woman with encroaching dementia and her equally elderly canine companion (Brad Fraser's SHELLEY'S SHADOW), into the troubling relationship between a college professor and his 19-year-old student (Hannah Moscovitch's SEXUAL MISCONDUCT OF THE MIDDLE CLASSES), and to a backstabbing royal Christmas in medieval France (James Goldman's THE LION IN WINTER). Two regional premieres, a U.S. premiere, an American classic, and our first-ever commissioned world premiere.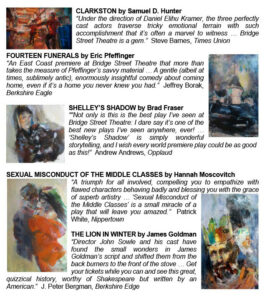 And to top the year off, Bridge Street was nominated for six 2022 Berkshire Theatre Critics Association Awards (for productions staged from October 1, 2021 to September 30, 2022) and took top honors for two of them – for "Outstanding Production of a Play" (for our November 2021 production of Eugene O'Neill's LONG DAY'S JOURNEY INTO NIGHT) and "Outstanding Lead Actress in a Play" (Roxanne Fay for her shattering performance as Mary Tyrone in LONG DAY'S JOURNEY). And considering that we were in competition with all the true heavy hitters in the region, it's a major accomplishment for our "little theatre that can".
A truly adventurous 2023 is currently in the works, a season announcement is imminent, and subscription Tickets will go on sale soon. But we can't continue to present all these thrilling live experiences without your help. If you've never given to Bridge Street Theatre before, we hope you will consider a gift this Holiday Season in whatever amount you feel you can manage. If you have given before, please know how grateful we are for your contribution and for everything it has allowed us to accomplish thus far. We hope that you'll consider renewing your commitment this year or even upping your level of support.