Special Cabaret Performance by the amazing Tom Judson.
One night only on Catskill's Pride Weekend.
Tickets are $15 advance, $20 at the door.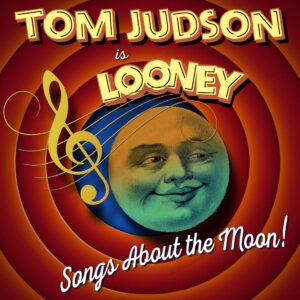 "Ooh, what a little moonlight can do!" Since he was a kid trying (and failing) to stay awake for the first moon landing in 1969, Tom Judson has been fascinated by the moon. Now he's turned his obsession into a delightfully entertaining cabaret evening called "Tom Judson is Looney: Songs About the Moon", coming to Bridge Street Theatre for one night only, Saturday August 20 at 7:30pm, in conjunction with Catskill's "Hope for Humanity Rainbow Pride" weekend.
"I've had the idea of a show about moon songs for quite a while," says Judson. "I suppose the inspiration was the same thing that has always made humans (and wolves!) fascinated by the moon: in addition to the mythic, mysterious qualities it possesses sitting up there in the sky, it has an actual physical effect on the Earth and all its inhabitants, me included."
Bridge Street Theatre audiences have had several opportunities to sample Tom's artistry before: as an original cabaret performer ("Mostly From the Movies"), as an accompanist for multiple appearances at BST by theatrical legend Charles Busch, as an actor in the theatre's concert presentation of Frank Cuthbert's musical "Coney Island", and, most recently, as the pianist and musical director for BST's award-winning production of "Miss Gulch Returns!" ­
With music from such artists as Paul Simon, Henry Mancini, Van Morrison, Jason Robert Brown, Jimmy Webb, and Gilbert & Sullivan, plus several tunes Tom wrote himself (and that's not even mentioning its handsome and supremely charming host), "Tom Judson is Looney" promises to be an unforgettable evening of scintillating and sophisticated music-making – c'mon out and howl at the moon with us!
Bio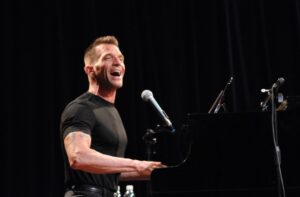 Tom Judson first appeared at Bridge Street Theatre with his solo cabaret act "Mostly From the Movies" back during the theatre's inaugural season in 2014. He's also appeared at BST several times with Charles Busch, for whom he has served as pianist and musical director for over 10 years. As an actor, Tom appeared in the national tours of "42nd Street" and "Cabaret" (which he also performed in on Broadway at Studio 54). He has written music for a number of television shows, including "Sesame Street", and several independent films, including Whit Stillman's 1990 indie classic "Metropolitan". In addition to Mr. Busch, Tom has had the pleasure of collaborating with such luminaries as Ann Magnuson, Lisa Kron, Alan Cumming, and Varla Jean Merman. Tom's Trendy Tees, his showbiz-themed T-shirt shop on Etsy, has been going strong for six years now. And, of course, discerning viewers may recognize Tom as the former Gus Mattox.