THE VILLAGE CIDIOT
written and performed by Lauren Letellier
Directed by Martha Wollner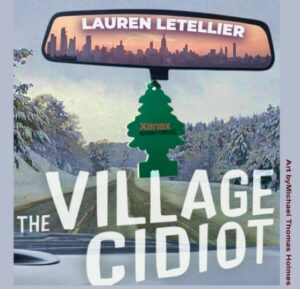 "Entrancing! … In her sweat shirt and jeans, Ms. Letellier is quirky in an endearing manner. Her delivery of comic lines is both sharp and subtle as she evaluates her new life and home. Her winning smile and laid-back manner make her easy to listen to and to appreciate the conflicts she faces as well as the solutions she reaches. It is a textured performance that draws us into her life … Uproarious and poignant." Macey Levin, Berkshire On Stage
"Laugh-out-loud funny … It only takes one human on a stage to make live theater, and there's nothing like it … Letellier takes off with an inspired, hilarious dream sequence parody of Jeopardy and veers off into the dangerous territory of loss, grief, and fear of loss and grief, navigating all possible potholes on city street or country road with grace. She plays herself with assurance, insight, and bittersweetness … Truly touching." Enid Futterman, IMBY
Everyone from long-time Hudson Valley locals to recent COVID-era transplants will find something to relate to in this fish-out-of-water story about a woman from NYC attempting to cope with re-locating upstate.
THE VILLAGE CIDIOT is Underwritten by


Local and European. co-working and coffee-sipping, fresh buys and vintage finds.
404 Main Street, Catskill, NY
Lauren Letellier is a playwright, performer, and municipal historian. "The Village Cidiot" is her fish-out-of-water story about leaving Manhattan and moving to a tiny upstate town. Her previous solo show, "The Fiery Sword of Justice", exposed the hilarious and harrowing similarities between family and corporate dysfunction. Critics called it "bold, funny, wise, and brave" and "big, provocative, and surprising." 2014 New York International Fringe Festival, 2015 Rochester Fringe Festival ("Fringe Festival Favorite," Rochester Democrat & Chronicle); Producers Club (NYC), Stage Left Studios (NYC), Stageworks Hudson, Ancram Opera House. Lauren shares the role of Hillsdale (Columbia County) Town Historian with her husband Chris Atkins. Together they investigate the nooks and crannies of Hillsdale history to bring people, places, and events to life for a 21st century audience. The Village Cidiot was developed in Melinda Buckley's OneUp Solo class, and workshopped at Emerging Artists Theatre and The Stissing Center. www.hillsdalehistorians.wordpress.com
Martha Wollner (Director/Dramaturg) is a member of NYC's LAByrinth Theatre Company and an actor, director, playwright, teacher and film documentarian. Martha developed Writing on Your Feet, a technique to assist actors in the development of solo shows. Her direction has been acclaimed at theater festivals both nationally and internationally. She has performed on the stages of The Public Theatre, The Cherry Lane Theatre, SOHO Rep, EST, LAByrinth Theatre, The Edinburgh Fringe Festival, and has worked with the Royal Shakespeare Company in developmental workshops for the company's season. Martha's plays have been featured at Southern Rep Theatre, The Cherry Lane Theatre, LAByrinth's Barn Series and the New Frontier Play Festival. As a story producer for documentary film, she worked extensively with the Maysles Brothers. Her documentary film work has won numerous Emmys, a Dupont Award, Best of Festival Awards at the Sundance, Tribeca, and Telluride Film Festivals, and been nominated for an Academy Award.