The Mountain Eagle
November 10, 2023
BETTER THAN HEARSAY "Sympathetic Magic" By Michael Ryan CATSKILL –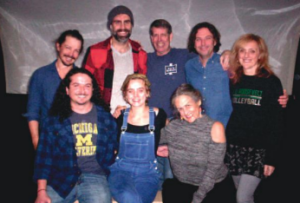 The cast of Sympathetic Magic
There is a slender but exceptionally strong thread between the former Lexington Conservatory Theater and Bridge Street Theater in Catskill where "Sympathetic Magic" is being staged. Performances are slated for November 9-12 and November 16-19, with shows at 7:30 p.m., Thursday thru Saturday, and 2 p.m. on Sunday. "The play is virtually unknown, even to theatre aficionados, so getting the word out in any way we can is pretty important," says Steven Patterson who carries out a triumvirate role.
Patterson is the co- founder of Bridge Street Theater, along with his life and business partner John Sowle, and is one of eight actors in the local production of playwright Lanford Wilson's complex creation. He is also the link between Lexington Conservatory Theater, in the little town of Lexington, and Bridge Street Theater located on (where else?) Bridge Street, down in the county seat. "There is no question in my mind we wouldn't be here except for my time on the mountain in 1977," says Patterson of his sojourn to the summer stock haven that sprouted in 1976, flourishing for five seasons. Its roots have spread to the Capital Repertory Company in Albany and now to Bridge Street Theater which opened ten years ago, regularly crossing paths with the Maude Adams Theater Hub.
Maude Adams Theater Hub is based in the town of Hunter. One of its better-known thespians is Timothy Dunn who had a starring role in the recent production of "Cabaret" and appears in "Sympathetic Magic." Dunn plays Pauly Scott, a choirmaster at the Second Episcopal Church in San Francisco, "bone- aching tired" from working to revive a choir whose membership has been decimated by disease.
The real and imagined intertwining that gave birth to Bridge Street Theater does not, however, begin or end in Greene County. It originated on the West Coast where Patterson also originated, traveling and performing here and there before meeting and meshing with Sowle who originated in Oklahoma. Sowle directs "Sympathetic Magic" and is the artistic designer, and if you have been able to follow all those connecting threads you are perfectly prepared to enter the interesting universe of Lanford Wilson.
Patterson, on the Bridge Street Theater website, explains that "Sympathetic Magic" ponders the cosmic implications of everyday actions in the story of a young astrophysicist who makes a potentially world-changing discovery just at the moment his long-time companion, a sculptor on the verge of a brilliant career, finds she is pregnant with his child. "And yet, that's not all that's going on. The sculptress, who is going blind, is the daughter of a world-renowned anthropologist, famed for her work both with tribes in Africa and gangs in U.S. inner cities. "She also has a son, half-brother of the sculptress, who is an Episcopal Rector in the diocese of San Francisco. "The son has just broken off his relationship with the church's choir master (Timothy Dunn) in order to try to live a celibate life," Patterson explains. Got it? Wait. There's much more. The cast of characters also includes "the astrophysicist's narcissistic, by-the-book department head, his perpetually lovelorn young co-worker and the anthropologist's assistant (the type of young woman every straight man seems to find himself falling in love with), who, unexpectedly, find themselves falling head over heels for one an- other. "With its 1990s setting in San Francisco, AIDS also rears its head in both expected and unexpected ways. "The intricate web of inter-relationships between these characters is limned in dialogue that crackles like a 1930s screwball comedy, albeit to far more subtle and serious ends,"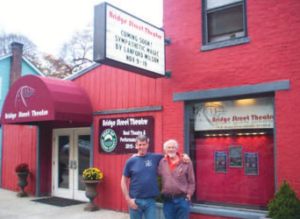 Steven Patterson and John Sowle in front of the theatre
Patterson explains. Bridget Street Theater quaintly contains a cabaret stage and an 84-seat auditorium where "Sympathetic Magic" will unfold. "A lot of the stuff we do here is oddball," Patterson says. "We love to do new work. We have had ten world premieres. "That's what is interesting to us. There are a lot of small theaters that do plays that are very familiar. The only way we distinguish ourselves is to produce stuff no- body else is doing." Keeping the playhouse vibrant is a true labor of love. "The thing about live theater is the whole souffle could fall," Patterson says, smiling. "Every performance is different. This is something you don't get to experience anywhere except here. "Theater is like church to me, people still gathering in groups to experience all the stuff and substance that makes us human."