Take 5: Bridge Street Theatre's mission is to bring forgotten 'masterpieces to life.' John Sowle believes 'Sympathetic Magic' is a perfect candidate.
"Sympathetic Magic" plays weekends through Nov. 19 at Bridge Street Theater in Catskill, N.Y.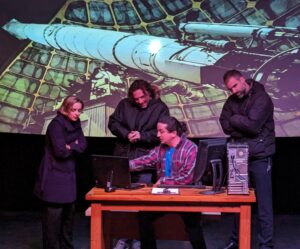 CATSKILL, N.Y. – Bridge Street Theatre's John Sowle readily acknowledges he had no idea what to make of Lanford Wilson's "Sympathetic Magic" after he and his partner, in life and at Bridge Street, Steven Patterson, saw a revival in a small Off-Broadway theater two years ago.
He remembers saying, "What the hell was that?"
Bridge Street Theatre Artistic and Managing Director John Sowle considers "Sympathetic Magic" a "forgotten masterpiece" that deserves to be brought to life.
Sowle's mind changed after reading the script. Now, Bridge Street's founding artistic and managing director is taking his own shot at the play in a production that begins performances Nov. 9 and runs weekends through Nov. 19. Tickets can be purchased at the door, by calling 518-943-3818 or online at bridgest.org.
Patterson is among a cast of eight in this play that focuses on a group of family and friends that includes: an anthropologist studying West Coast gangs; a homosexual clergyman whose flock includes the poor and AIDS sufferers; a sculptress who is about to achieve a major breakthrough in her career; her partner, a brilliant young astronomer and college professor who makes a spectacular discovery; and a controlling college administrator who gets in the way of the astronomer's research and findings.
Born in Lebanon, Mo., on April 13, 1936, Wilson was a small-town guy from the Midwest who became a seminal figure in the Off-Off and Off-Broadway scene. His first plays were produced in the early '60s at Caffe Cino and at the legendary La MaMa Experimental Theatre Lab in New York's Greenwich Village. In 1969, together with friend and director-collaborator Marshall Mason, and a few others, Wilson founded the celebrated Circle Theatre — later renamed Circle Repertory Company — which produced many of his plays, including "The Hot l Baltimore" in 1973, the theater's first commercial hit. The play also was honored by the New York Drama Critics' Circle as the year's best American play.
Wilson — who died on March 24, 2011 in Wayne, N.J. — left behind a substantial body of frequently produced short and long plays, among them his 1980 Pulitzer Prize-winning "Talley's Folly" and among others, "Fifth of July," "Burn This," "Balm in Gilead" (Wilson's first full-length play, written in 1965), "The Mound Builders," "The Rimers of Eldritch," "Serenading Louie," and "Talley and Son." He was a three-time Tony Award nominee and five-time Obie Award winner.
"Sympathetic Magic" is among Wilson's last plays. It premiered at Off-Broadway's Second Stage in 1997 where it had a brief run — 34 previews and 38 regular performances. It was generally dismissed by the critics and has had few performances since.
Sowle considers "Sympathetic Magic" a "forgotten masterpiece" that deserves to be brought to life.
Editor's note: Sowle recently took the time to answer our questions about the challenges of bringing the play to the stage — and the rewards. His answers have been lightly edited for length and clarity.
1 How did you find this play?
I didn't know it at all, even though we had done "The Mound Builders" to great acclaim in 2012, the year before we bought the building that became Bridge Street Theatre. We saw a production (of "Sympathetic Magic") on Theater Row in Manhattan a couple of years ago and my reaction was, basically, 'What the hell was that?' I had no idea what was going on. Steven, who knew the play from reading it, said, 'Here's the script.' I read it and was completely blown away. Nothing in the production we saw revealed what the play was about. Just reading it connected with me so deeply that I said to Steven, 'I think we may have to do this one.' So, here we are, doing it.
2 What appealed to you about the play? What made you decide you wanted to direct it?
First off, the central character is an astrophysicist. I went to MIT thinking I wanted to be an astrophysicist, and then, as I'm prone to say, I met one, so it didn't turn out to be. Actually, if I had met the charismatic Andy, the astrophysicist in "Sympathetic Magic," I might have changed my mind. And if I had had a crystal ball to tell me how significant astrophysics would become in the universal consciousness just now with the Hubble and James Webb telescopes opening us up to so many mysteries of the universe, then my life might have been very different. And then, there is the fact that the play takes place in San Francisco and Berkeley, where I have lived more of my life than anywhere else. AIDS rears its head in the play as it did for me. Another central event in the play is an abortion. When I was married, my ex-wife decided to have an abortion in order not to interrupt her career as a dancer. This was very painful for me in so many ways. I certainly did not react in the way that Andy reacts in this play, but I understand what he feels.
3 What have been the challenges in bringing "Sympathetic Magic" to the stage?
Well, we need to make it work better than the production that we saw in New York. We need to tell the story and make sure the audience understands what is at stake with the characters. Then, it requires eight actors. This is way more than we can usually manage. So doing it was a huge leap of faith. We knew we needed amazing actors to bring it off, it's Lanford Wilson after all. Who could we find?
We conducted local auditions and fortunately found local actors that we thought were perfect for this one. The lead character of Andy was certainly a challenge. Lanford's description of him is "good looking, brilliant, charming and knows it." We needed an actor who was so charismatic that the audience would like him in spite of what he does. Steven had worked with Brian Sheppard in Memphis, playing Claudius to his Hamlet. We've been trying to get him here since we opened our doors. Finally, it happened.
Another challenge was the character of Sue, who is probably underwritten but very important. We were able to convince Abby Burris, who was so amazing in our production of "Sexual Misconduct of the Middle Classes," to come on board. Then we grabbed Molly Parker Myers, with whom we have worked many times before, to play Barbara; Seth McNeill, our Richard in "The Lion in Winter" for the father, Don; Tim Dunn to play the outrageous Pauly; and Nico Ager, who lives a block from the theater, to play Mickey. And then there was Liz, the mother of Barbara and Don. Steven performed in high school with Terry Sidell, and she's always been on our radar. She has a place in Columbia County and she agreed to come onboard to join the cast. So, it's quite an ensemble!
I suppose the other challenge is with the production. Lanford specifies that every scene flows from one to the next with no blackouts. And I think we've managed to do that. I've come up with a very weird set with a curved projection wall behind and Mylar panels on each side which open up, footlights and a mirror ball. We'll see if it hangs together.
4 How does the play fit in with Bridge Street's mission?
We are committed to bringing forgotten "masterpieces" to life. I think this is one of those. It moves me; it makes me laugh; it challenges me intellectually; it causes me to think about where I fit in the universe. It could certainly be a bust, but for me it's an amazing work that should not have disappeared.
5 What do you hope audiences will take away from your production?
I have no idea what people are going to take away from this one. I hope they will be surprised, exhilarated, shocked, moved, challenged. I think it's a play that inspires a lot of talk, even arguments, on the way home from the theater.