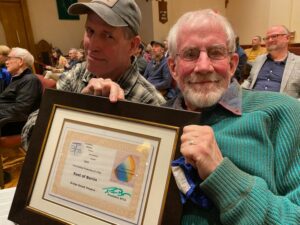 For the second year in a row, Catskill's Bridge Street Theatre has shared the award for "Outstanding Production of a Play" at the annual Berkshire Theatre Critics Association (BTCA) "Berkie" Awards. BST was honored for its production of Hannah Moscovitch's "East of Berlin", tying for the award with Shakespeare & Company's production of August Wilson's "Fences". At last year's ceremony, BST's production of Eugene O'Neill's "Long Day's Journey Into Night" also tied for "Outstanding Production of a Play" with Barrington Stage Company's "Waiting for Godot"!
"This feels like it's becoming a weird sort of pattern," says BST Artistic Director John Sowle. "During the first year we became eligible to be considered for the Award, Steven Patterson (for 'Miss Gulch Returns!') and Harriet Harris (for 'Eleanor') wound up in a tie in the 'Outstanding Solo Performance' category. The only time so far we've taken a category without a tie was when Roxanne Fay won for her performance as Mary Tyrone in our 'Long Day's Journey'. To say we were pleasantly surprised by this win is a vast understatement. 'Outstanding Production of a Play' two years in a row, especially when our scrappy little space is in competition with some of the region's real heavy hitters? Unbelievable."
'East of Berlin' was a Nazi euphemism for the deportation of Jews to the death camps. In Moscovitch's play, the son of an escaped Nazi war criminal (still alive and living in Paraguay) and the American-born daughter of an Auschwitz survivor meet and fall in love in Berlin, and what they choose to reveal to and conceal from one another brings the past crashing down on them.
Congratulations to all involved in the production, including the director Margo Whitcomb, actors Kara Arena, Orlando Grand and JD Scalzo, designers John Sowle, Michelle Rogers and Zak Kline, stage manager Kiara Vedovino, Yvonne Perry, Tepper Saffran, Suzanne Bernstein, Gregor Clark and (in memoriam) Dina Bursztyn.
The Berkshire Theatre Critics Association was founded in August 2016 by theater critic Larry Murray of berkshireonstage.com. The purpose of the BTCA and the Berkshire Theatre Awards is to promote and celebrate the quality and diversity of theater in the region. For a complete list of this year's winners visit berkshireonstage.blog.
And congratulations to all the other honorees.
The complete list is HERE.