… AND EVERY TALE CONDEMNS ME FOR A VILLAIN – Play Two
SHYLOCK by Gareth Armstrong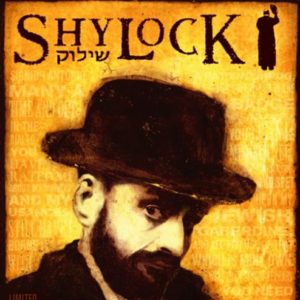 Steven Patterson stars in Gareth Armstrong's SHYLOCK, a consideration of Shakespeare's infamous Jewish money-lender from THE MERCHANT OF VENICE, as well as a deep dive into the history of anti-Semitism and an examination of how the role has been interpreted in vastly different ways since the play was originally written. 
Neither apologia nor indictment, Gareth Armstrong's "Shylock" is, instead, a celebration of the infinite possibilities inherent in Shakespeare's problematic play "The Merchant of Venice". Through its main character, Tubal (the only other Jewish man apart from Shylock in the whole of Shakespeare), the play takes a tummler's-eye view of the entire history of anti-Semitism (right up to the present), of the character of Shylock himself, and of the wildly varying ways in which the role has been interpreted through the years.
Check out this interview with Steven and Gareth Armstrong about the production of SHYLOCK at Orlando Shakespeare Theatre.
… AND EVERY TALE CONDEMNS ME FOR A FOOL — Rotating Repertory Calendar
Thursday Aug 15
Friday Aug 16
Saturday Aug 17
Sunday Aug 18
7:30 Thrice

Preview

Pay What You Will

7:30 Shylock

Preview

Pay What You Will

3:00 Shylock

7:00 Thrice

Opening Reception

3:00 Thrice

7:00 Shylock

Pay What You Will

Thursday Aug 22
Friday Aug 23
Saturday Aug 24
Sunday Aug 25
7:30 Shylock
7:30 Thrice
3:00 Thrice

7:00 Shylock

3:00 Shylock

7:00 Thrice
Tickets:
Advance tickets available at thrice.brownpapertickets.com and shylock.brownpapertickets.com, or by calling 800-838-3006.
Make a day of it on the weekend.
See both shows and check out our Catskill Business Partners in between.
bridgest.org/businesspartners/
Note for 2019 Season Subscribers. This event is not part of the regular Season Subscription. However you do get a special discount. On the Brown Paper Tickets site select the Subscriber option for each pass you have purchased.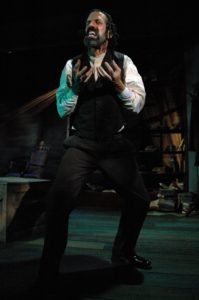 Steven says, "It was an inestimable privilege to get to work on this at Orlando Shakes in 2009 with Gareth Armstrong, who originally created the piece and performed it for almost a decade before directing me here – the first English language production he'd allowed by someone other than himself. A humane and meticulous artist, he was determined that our production should grow organically out of my own experience rather than merely being a carbon copy of his original version (he even tweaked substantial portions of the the play to make it less 'British' and more friendly to American ears) and held firm even on days when I begged and pleaded with him to "just give me a hint as to how you solved this!" He was also acutely aware of when I was hitting the wall each day during rehearsals and we frequently ended a bit early and went out to dinner together before I headed back to housing with a bit of additional time to assimilate what we'd done that day and to work things out on my own. His trust meant a lot & I hope the finished product did justice to his play."