A World Premiere Commission
September 8 – 18
Thursdays thru Saturdays @ 7:30, Sundays @ 2:00
Tickets $22 Advance, $25 At the Door, $10 Students
The first Thursday and Sunday are Pay-What-You-Will (Available at the door only)


With Steven Patterson, Janet Keller and Daniel Hall Kuhn
Directed and Designed by John Sowle
Costumes by Michelle Rogers
Shadow's Costume and Makeup by Daniel Hall Kuhn
Production Stage Manager – Kiara Vedovino
For Publicity Photos, CLICK HERE.
For Production Photos, CLICK HERE.
To read the Feature Article in the Albany Times Union, CLICK HERE. Or read the text HERE.
To read the Feature Article in the Berkshire Eagle, CLICK HERE. Or read the text HERE.
Read Brad Fraser's Facebook post on seeing the first two performances HERE
"Touching, insightful, funny, sad and immediately relevant … You could go to the mall and pay about $15 to see "Top Gun: Maverick" or "Thor: Love and Thunder" or some other action movie with a colon in the title. Or you could pay $7 more to go to Catskill for the world premiere of a commissioned play that rewards both mind and heart. I don't see much of a choice." " – Steve Barnes, Albany Times Union Read the full review HERE.
"This is one of those plays that will stay with me for a very long time. It deserves to be seen in this excellent production. So, see it. See it now!" –
J. Peter Bergman, Berkshire Edge Read the full review HERE.

"You may find yourself tearing up as you laugh in recognition … It is the isolation, fear, and despair of its characters requiring the courage and warmth of fellow humans reaching out with ministration, service and selflessness which raise this play to greatness … What an extraordinary gift Bridge Street has bestowed on us, the Capital Region theater loving audience, by commissioning this curative work of simple human decency in the face of life's horrifying ravages. It is well worth attending and expressing your deep appreciation for the things that bind us together." –
Patrick White,
Nippertown
Read the full review HERE.
"Not only is this is the best play I've seen at Bridge Street Theatre: I dare say it's one of the best new plays I've seen anywhere, ever! … This isn't an all-out comedy, but I can't remember the last time I laughed so much. It's not a depressing story, either, yet a couple of scenes actually brought tears to my eyes. 'Shelley's Shadow' is simply wonderful storytelling, and I wish every world premiere play could be as good as this!" –
Andrew Andrews, Opplaud Read the full review HERE.
"An astonishing performance … Fraser pushes the right emotional buttons at precisely the right times, but in meaningful and authentic ways … A thoughtful piece of writing that compassionately surveys the rewards, and pain, we reap in life from the choices we make; what it means to live, as one of the characters suggests, not in the future, not in the past, but in the now." Jeffrey Borak, Berkshire Eagle Read the full review HERE.

""First rate … Bridge Street has the reputation of offering audiences an opportunity to experience adventurous theatre. It is worth a trip to Catskill, New York, to see intelligent acting and a story that delves into the minds of people whose lives careen through monumental strife and change." Macey Levin, BerkshireOnStage Read the full review HERE.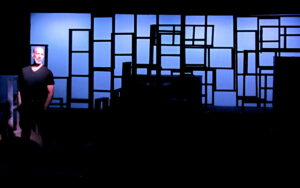 Over at Bridge Street Theatre in Catskill, we've just launched into rehearsals for the first play in our 2022 Fall Mainstage Season. For the first time ever, we've commissioned a playwright to create a totally new work to be presented on our "Priscilla" Mainstage. Based on actual events, Brad Fraser's hilarious and touching "Shelley's Shadow" is set to open for a two-weekend run on September 8.
"Coming out of COVID, we made a conscious decision to renew our theatre's commitment to new works," says Sowle. "My partner Steven and I had previously produced three of Brad Fraser's plays ("Poor Super Man" in San Francisco, and "True Love Lies" and "Kill Me Now" over in Hudson) in the days before we purchased the building that's become Bridge Street Theatre. And since they were among the most artistically and financially successful shows we've ever presented, approaching Brad about writing our first-ever commission seemed like a slam dunk."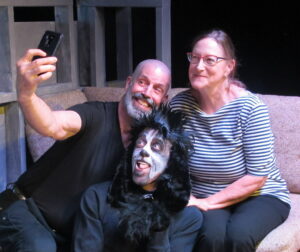 As it turned out, Brad had been posting about his adventures with an upstairs neighbor in Toronto and was mulling the possibility of turning his experiences with her into a play. This was a story we knew would resonate deeply with our audiences here in Catskill – we gave him the go-ahead and sent him a check. When Brad announced that this play was in the works, his Facebook page exploded! So many people had already been following the ongoing saga of Shirley and her dog online, had become personally invested in her story, and were delighted to see that it would be getting a whole new life onstage.
Virtually unique in its presentation of the lives of older gay and lesbian characters, the play tells the only slightly fictionalized story of David, an out of work writer nearing 60, who finds himself becoming the reluctant caretaker for his upstairs neighbors – Shelley, a gregarious lesbian in her 80s with encroaching Alzheimer's-related dementia, and her long-time canine companion Shadow. The three attempt to navigate the ups and downs of Shelley's disease with wildly varying results – some funny, some infuriating, some absolutely heartbreaking.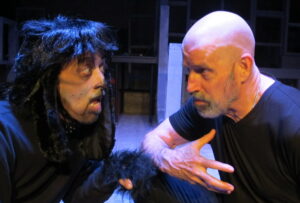 Steven Patterson, who'll be playing David (Fraser's alter ego) in the production, says, "This show not only re-unites us with a playwright whose work we love, but has also allowed us to re-connect with actor Janet Keller, who was in the very first Brad Fraser play we produced back in 1997. Janet brings a truly personal connection to the material, having cared for her mother through an 18-year journey with Alzheimer's. And we're thrilled to have Daniel Hall Kuhn, who played Connor in our 2021 production of Samuel D. Hunter's "Lewiston", returning to our theatre to play Shadow, the dog. There are few things in the world more exciting and terrifying than working on a play that's never been done before. It's totally uncharted territory – no one else has ever had to solve this particular set of challenges. 'Shelley' promises to be a genuine adventure for those of us working on it but also, and perhaps especially, for our audiences. And we're so excited to announce that Brad himself will be here in Catskill during the final days of rehearsal and for opening night!"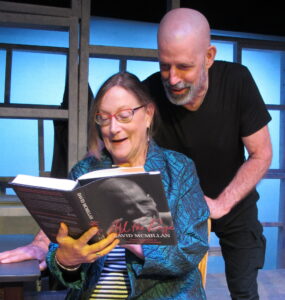 Bios
Steven Patterson (David) has performed in NYC both Off- and Off-Off-Broadway, as well as regionally with theaters such as South Coast Repertory, Capital Repertory Theatre, TheatreWorks/ Silicon Valley, freeFall Theatre, Kaliyuga Arts, Lexington Conservatory Theatre, Chenango River Theatre, Centenary Stage Company, and the Orlando, Oregon, Colorado, Pennsylvania, Utah, Tennessee, Richmond and Lake Tahoe Shakespeare Festivals. A few of his favorite roles have been Austin Wiggin in the Los Angeles world premiere of The Shaggs: Philosophy of the World, Jake Sturdy in Kill Me Now, Lear in King Lear, David in Poor Super Man, Judi Boswell in How to Pray, Zach in A Chorus Line, and Rob in King of the Crystal Palace. He also created, performed, and toured internationally for four years with Beauty, a solo show inspired by the life and works of Jean Genet. He currently resides in Catskill, NY, and serves as an Associate Artist at Bridge Street Theatre where he has appeared in Shylock, The Epic of Gilgamesh, The Killing & The Love Death, Grinder's Stand, A Life in a Day: Lucky Lindy, Frankenstein: The Modern Prometheus, Holiday Memories, How to Pray, Frankie & Johnny in the Clair de Lune, The Revenge of the Space Pandas, There Is A Happiness That Morning Is, The Shaggs, and Long Day's Journey Into Night, and directed George M. Cohan's The Tavern, The Effect of Gamma Rays on Man-in-the-Moon Marigolds, and The Revenge of the Space Pandas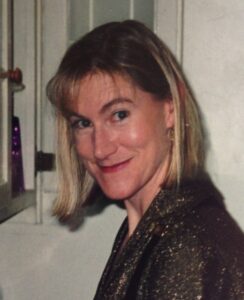 Janet Keller (Shelley) performed with San Francisco's Rough and Tumble in Candide, The Misanthrope, My Uncle Sam, and Tom Jones (Bay Area Theatre Critics' Circle Award for Best Ensemble). Other S.F. Bay Area credits include work with ACT, Berkeley Rep, and Marin Theatre Company, and she received a BATCC nomination for Best Supporting Role as Kryla in Brad Fraser's Poor Superman with Kaliyuga Arts. Film credits include Breath (Best Actress Award, Thessalonika [Greece] Film Festival), and Vanilla. Janet would like to dedicate this performance to her mother, Marjorie Keller, whom she cared for over the course of an 18-year Alzheimer's journey. She lives with her partner in Port Townsend, Washington.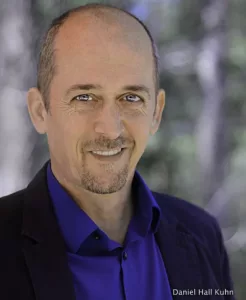 Daniel Hall Kuhn (Shadow) More than a few years ago I had the privilege of working with John and Steven in Kaliyuga Arts production of All That Fall at Cherry Lane Theatre in NYC. Since then, I have had the good fortune to perform in multiple national tours, summer stock, film and voice over projects. During the pandemic I worked on a one man show featuring the writings of Edgar Allan Poe, including an educational, interactive version available for classroom streaming. In 2021 I appeared in the Bridge Street production of Samuel D. Hunter's Lewiston. To learn more about me and my "Poe Show," please visit my website: www.DanielHallKuhn.com.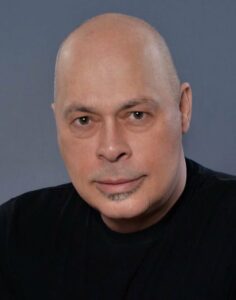 Brad Fraser (Playwright) is one of Canada's best known playwrights. Born in Edmonton, Alberta, in 1959, Brad won his first playwriting competition at the age of seventeen, and has been writing ever since. Brad's international hit play Unidentified Human Remains and the True Nature of Love premiered at the Alberta Theatre Projects' PlayRites Festival in 1989. It has since been produced worldwide, in many languages, with highly successful runs in Toronto, New York, Chicago, Milan, Sydney and London. Poor Super Man, developed by Canadian Stage, was first produced by the Ensemble Theatre of Cincinnati in 1994 and has enjoyed successful runs in many cities, including Toronto, London, Sydney, Edinburgh, Denver and was produced by Kaliyuga Arts, directed by John Sowle and starring Steven Patterson, in San Francisco in 1997. It was nominated for a Governor General's Literary Award for Drama and adapted into a feature film, Leaving Metropolis, written and directed by Brad. Poor Super Man, like Unidentified Human Remains, was listed by Time magazine as one of the top ten plays of its year. Many other plays have followed in successful productions. His True Love Lies and Kill Me Now were presented by Kaliyuga Arts at Stageworks in Hudson in 2013. Brad has also written extensively for magazines and newspapers, including The Globe and Mail and the National Post, and for three seasons was a writer and producer on Showtime's Queer As Folk. His memoir All the Rage was recently published by Doubleday Canada.
Play One of our 2022 Fall Season

Funding assistance for this production was provided by The Bank of Greene County.