Here were the Events Presented in September, 2014 in the Speakeasy
Sat, Sept 13 at 3:00 pm
A film about Americans Living in Long-Term Recovery
presented by the
Greene County P.A.S. It On Committee
Free and Open to the Public
Sat, Sept 13 at 7:30 pm
A Reading of
Quiet Electricity
A New Play by Michael Raver
$10
Sat, Sept. 20 at 7:00 pm
Psychic Sideshow
$15, $10 Seniors/Students
Colleen the Sideshow Queen and Evil Dan
presented their unique blend of
MAGIC
MIND-READING
CARNIVAL CONS
SIDESHOW STUNTS
and More!!!
Fun for the Whole Family
Sat, Sept 27 at 7:30 pm
Ramblin Jug Stompers
$15, $10 Students/Seniors
"Funky American String Band Music" Ramblin Jug Stompers play 78 rpm music for the 21st century: they are the premier jug band of New York's Capital Region!
DETAILS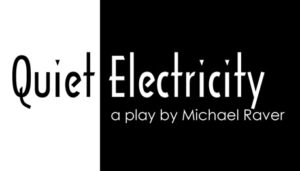 Saturday, September 13 at 7:30 pm
A reading of the play
QUIET ELECTRICITY
by Michael Raver
with Roger Clark, Eleanor Handley and Steven Patterson
directed by Michael Raver
Six months after tragedy has struck them, once happily married husband and wife Ben and Dana Silver now have little to say to one another. When they are notified that the electricity in their Newark apartment will be shut off in the evenings for a few days for rewiring in the building, they end up spending their nights together in the dark. A simple game of confessions unearths truths and hidden feelings, leading Ben and Dana to epiphanies about love, sex and marriage. Inspired by Pulitzer Prize winner Jhumpa Lahiri's short story, "A Temporary Matter."
MICHAEL RAVER is an actor and playwright. He's performed classical theatrical roles at Lincoln Center, The Pearl Theatre Company and Tony Randall's National Actor's Theatre, as well as regional theaters across the country. His plays have been presented and workshopped by Pace University, New Company Theatre, Sonnet Repertory Theatre, Orlando Shakespeare Theatre, The Pearl Theatre Company and TheatreLab He was also a judge for this year's Ferro-Grumley Award for LGBT Fiction. He regularly contributes cultural arts journalism for Classical TV, as well as having contributed pieces for Nature's Post and Coolhunting.com. His latest play is called Vespertine. More on Michael at michaelraver.blogspot.com.
ROGER CLARK is a professional actor and voice over artist. Born in New Jersey, he grew up on the west coast of Ireland and trained in the United Kingdom. He has worked as an actor in 45 different countries.Theatre credits include Midsummer Night's Dream (Theatre for a New Audience) South Beach Babylon (Florida Studio Theatre) The Picture of Dorian Gray by Michael Raver (Sonnet Repertory Theatre) The Unexpected Guest (Mount Gretna Theatre Company) world tours with The American Drama Group: Europe of Macbeth, where he received an accolade from the Singapore Arts Council for his performance of Macduff, Death of a Salesman, A Christmas Carol and Frankenstein. TV: Zero Hour (ABC), The Wild West (BBC), I Shouldn't Be Alive (Discovery) Roger now lives in New York City with his beautiful family. Roger has narrated several books in audiobook form including 'The Irish Duchess' and 'The English Heiress' by Patricia Rice available on Audible.com. Follow Roger on twitter-@rclark98.
ELEANOR HANDLEY. Since graduating with an MFA from The New School for Drama, Eleanor has performed extensively with both the Hudson Valley and Pennsylvania Shakespeare Festivals. Favorite roles include Maggie in 'Cat on a Hot Tin Roof', Beatrice in 'Much Ado About Nothing', Cressida in 'Troilus and Cressida', and Regan in 'King Lear'. Last fall she performed off-Broadway in the NYC premiere of 'Jericho' (NY Times Critic's Pick). She has also appeared on the New York Stage opposite Austin Pendleton in 'Limonde Tous les Jours' and Dominic Chianese in 'A Christmas Carol'. Television appearances include As The World Turns (CBS), Royal Pains (USA) and an upcoming appearance on Unforgettable (CBS).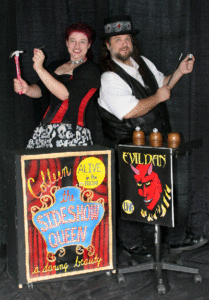 Saturday, September 20 at 7:00 pm
Psychic Sideshow
WHAT IS PSYCHIC SIDESHOW?
Psychic Sideshow is a live experience that brings to you the thrill and excitement of the carnival midway.
You will experience Sideshow Stunts, Carnival Cons, Magic of the Midway,
Miracles of the Human Mind and so much more.
Colleen the Sideshow Queen began her entertaining career at the age of fifteen when she landed her first gig as "Bingo the Clown" at a local Ground Round restaurant. There she performed magic,
juggled and delighted the guests with her face painting skills.
EvilDan began his career at the age of thirteen when his grandmother began teaching him how to read palms. Later that year, he found that a magic shop had opened in a nearby town. The bug was bit and his destiny cast in stone. Through the years, Colleen and EvilDan advanced their studies. Colleen quickly became known in the Albany NY area as the one to hire when they wanted a clown, juggler, stilt-walker, magician, face painter, or balloon animal twister. EvilDan formed the group Trinity with two fellow performers and performed seances and their special brand of "bizarre" magic up and down the East Coast.
Colleen and EvilDan met at a magic convention in 2004. They both took a workshop on sideshow skills given by world famous sideshow performer, Todd Robbins. They immediately formed a friendship and soon thereafter began performing together. Their first gig was on the Spooky World stage
at The Ultimate Terrors haunt in Altamont NY.
The friendship grew and in 2008 EvilDan uprooted himself from New Jersey and moved to upstate NY. The first week in NY Colleen and EvilDan got a call to appear on The Tonight Show with Jay Leno. Since then they've performed together and separately all over the upstate NY area.
Psychic Sideshow is the creative result of both Colleen's and EvilDan's performing interests and their desire to give their audiences an interactive experience that they will long remember.
More at psychicsideshow.com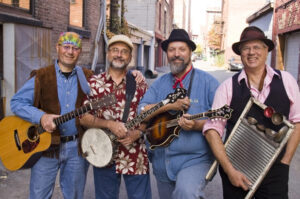 Saturday, September 27 at 7:30 pm
Ramblin Jug Stompers
"…a euphoric offering from some of Albany's most venerable musical veterans." —Glenn Weiser, Metroland 2010
Ramblin Jug Stompers' ramblin style nods to the great tradition of American string band music while winking directly at the classic jug bands of the 60s folk scene, including The Jim Kweskin Jug Band, The Even Dozen Jug Band, Dave Van Ronk, and The Lovin' Spoonful.
The Jug Stompers have become an established act, appearing at nightclubs, festivals, colleges, and concert venues, including: The Troy Savings Bank Music Hall, Caffè Lena, WAMC's Performing Arts Studio, Berkshire Harvest Festival, First Night Saratoga, Albany Tulip Festival, Union College, Rensselaer Polytechnic University, Club Helsinki, Albany WinterFest, The Kirkland Arts Center, The Howland Cultural Center, and The Massachusetts Museum of Contemporary Art ("MASS MoCA").
Ramblin Jug Stompers consists of luminaries from New York's Capital District music scene, including former and current members of notable Albany bands past and present -like Blotto, The Star Spangled Washboard Band, Rumdummies, Stomplistics, Johnny Rabb's Rockhouse, The Lustre Kings, The Plague, The Neanderthals, Chefs of the Future, and the list goes on…
"Next time you're stuck in a traffic jam or suffering a hard-drive meltdown, consider soothing yourself via "Hobo Nickel," the sophomore release from the Capital District's own brazenly low-tech string band, the Ramblin Jug Stompers. AutoTune? They don't need no stinkin' AutoTune! The quartet's exuberantly soulful, all-acoustic throwdown features odes both classic and obscure, each bristling with low-down energy that could be mustered only by the gleefully grizzled. "Hobo Nickel" is a bold throwback, conjuring a yester-world of hobo jungles, cakewalks, and grimy pals meetin' round the burn barrel. Regardless of how difficult times may actually have been for the protagonists of these tunes, the Stompers make it all sound really fun. "Band members Cousin Clyde, Mister Eck (aka Chronogram's Michael Eck), Bowtie, and Wild Bill come to the table from varying worlds of punk, jazz, folk, and theater, and the broad range of experience makes for string band music with a few curveballs. In addition to acoustic guitar, banjo, jug, washboard, kazoo, and mandolin, these mischievous geezers are apt to throw in a manual typewriter and a resonator ukulele, as on the hilarious 'My Eggs Don't Taste the Same without You.' While the Stompers do love to incite folks to pound the floorboards, the foursome also possess impressive restraint and delicacy, as evidenced on 'Blue Diamond Mines' and the lovely hobo requiem 'Frypan Jack Enters Heaven.' The romance of riding the rails may only be fantasy, but with the Ramblin Jug Stompers leading the way, few could resist a stroll to the train yard. — Robert Burke Warren, Chronogram
More at JugStompers.com
Save
Save