Saturday, October 25, 7-10 pm
Nightmare on Bridge Street
What a night! Bridge Street Theatre was transformed into a Haunted House! Students from Catskill High presented Nightmare on Bridge Street, an immersive theatrical experience. Dancing in the Speakeasy, Kid Zone in the Big Room with Storey Farm pumpkins. face painting by Lisa Wood and photos by Jim Diperna and thenthe Chamber of Horrors in the future theatre! For Photos on Facebook, click HERE.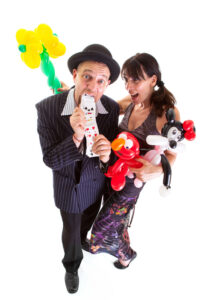 Sunday, October 12 at 3:00 pm
The Magic of Mario Morris – Comedy Family Magic Show
Magician Mario Morris with Lady Vee and Sean Dolan
Mario Morris is an international comedy magician, storyteller and street performer from Wales, UK and has performed his Family Magic Show in over 20 countries throughout the world, as well as teaching the art of showmanship and street theatre. His love is to create magical moments in people's lives. Mario says "if I can help people forget their worries of their day to day whilst they are watching my magic show, and make them laugh and smile – then my magic has just begun."
Mario first started performing over 20 years ago. He is the founder of the School of Busking in Wales and is part of the teaching faculty of the Magic and Mystery School in Las Vegas where he teaches and trains each year. He has taught and trained students both locally and from around the world and lectured all over the UK, Italy and Switzerland.
The Magic of Mario Morris is an art and craft that has being developed from years of street performing into an outstanding international indoor performer drawing the audience into a magical world of endless possibilities. Time stands still as Mario weaves his magic, outstanding sleight of hand together with high impact effects.
Mario works and travels with his wife and magic partner Veronica – also know as Lady Vee. Veronica is a balloon artist, storyteller and magicians assistant as well as Mario's manager. Veronica is from Edinburgh, Scotland and has being performing for over 7 years and has travelled all over the world with Mario bringing color and fun through her balloon modeling and transports both adults and children into another world with her stories.
Local performer Sean Doolan will be opening the show for Mario. Sean says – 'I was born to perform I just didn't realize it until age 47!" For some men their midlife crisis comes in the form of fast cars and loose women. For Sean it was magic! Come see Sean open for Mario & Veronica as he amazes amuses and confuses you.

Saturday, October 18 at 7:30 pm
COMEBACK! A Tragicomic Cabaret
Molly Parker Myers with Joel Flowers at the keyboard
Lillie St. Clair-Myasnikov – former child star of the 1980 Broadway flop "Baby!Jane!" – makes a 'triumphant' return to the stage in a slightly gin-fueled evening of popular songs in the public domain, circa 1920-22! A tragicomic cabaret created and performed by Molly Parker Myers – with the piano stylings of Joel Flowers.
MOLLY PARKER MYERS is a performer based in the Hudson Valley. Molly most recently appeared at The Winnipesaukee Playhouse in New Hampshire as Sally Talley in Lanford Wilson's TALLEY'S FOLLY. She has performed at Stageworks/Hudson in FORBIDDEN BROADAY and THE DIVINE SISTER and with Kaliyuga Arts in KILL ME NOW (US Premiere), TRUE LOVE LIES, and THE MOUND BUILDERS. Other favorites include THE SOUND OF MUSIC (Elsa), HAIRSPRAY (Velma), FALSETTOS (Dr. Charlotte) and THE DROWSY CHAPERONE (The Drowsy Chaperone). COMEBACK! will also be performed later this month as part of the United Solo festival in NYC. www.mollyparkermyers.com
JOEL FLOWERS served for many years as the entertainment director for the U.S. Army in Germany, where he also performed and accompanied vocalists at the Theatre Des Westerns and The Deutches Oper in Berlin. A Hudson Valley resident since 1994, Mr. Flowers has served as musical director for many local theatre productions and is the community recreation coordinator at the U.S. Military Academy at West Point. Joel also served as accompanist for Mary Ellen Nelligar in her cabaret tribute to Judy Garland, "From Oz to Nuremberg" here at the Bridge Street Theatre Speakeasy.