How to Pray
Riot with Three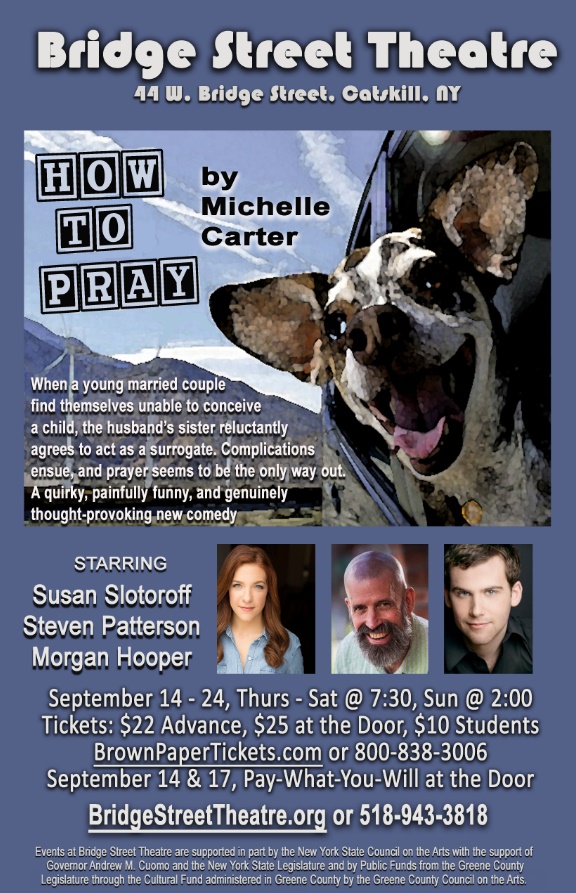 Read the Times Union Review Here
Read the Berkshire Bright Focus Review Here
Read The Alt Review Here
Read the Berkshire On Stage Review Here
How to Pray by Michelle Carter
When a young married couple find themselves unable to conceive a child, the husband's sister reluctantly agrees to act as a surrogate. Complications ensue in Michelle Carter's quirky comedy "How to Pray", coming to Catskill's Bridge Street Theatre for eight performances only September 14 – 24. Winner of the Susan Glaspell Contest for "Best New Play" and a PEN USA Award for Drama, this hilarious and wildly theatrical play received its world premiere at the Centenary Stage Company in Hackettstown, NJ in a production which featured actor Steven Patterson as a cat, a dog, a ninety-year-old cancer patient, and a Karaoke-singing pre-op transsexual soup kitchen worker. Mr. Patterson will be re-creating these roles in this new production, only the second the play has ever received.
Faith, a young single woman who works as a volunteer coordinator for a "Meals On Wheels" type program and who has never wanted children of her own, finds herself in an ethical and moral quandary for which prayer seems to be the only way out. But she finds she has no idea how to pray. Or to whom. Plenty of others seem to have their own answers to the question of how she should live her life. But in the end, could it be that the relentlessly optimistic dog she's rescued from a shelter is the only one that can truly teach her what really matters?
Appearing with Mr. Patterson in the cast are NYC actors Susan Slotoroff as Faith and Morgan Hooper as Brother, Lover, Kid, NewMommy.com, Man at a Dog Park, and Clergyman, with a cameo appearance (on video) as Alexis by Bridge Street Theatre favorite Roxanne Fay. The production is directed and designed by John Sowle, with costumes by Michelle Rogers, and sound by Carmen Borgia. The Production Stage Manager is Caedmon Holland.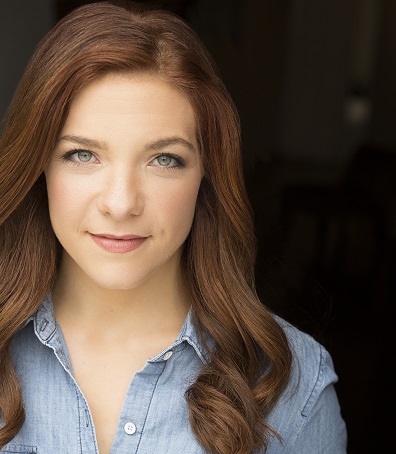 Susan Slotoroff (Faith). Credits include: UNNECESSARY FARCE (Billie), I HATE HAMLET (Deirdre), and THE DINING ROOM (Actor 6) at Playhouse on Park; MIRACLE ON SOUTH DIVISION STREET (Ruth), MOON OVER BUFFALO (Roz), and UNNECESSARY FARCE (Billie) at Shadowland Stages; LEND ME A TENOR (Maggie) at Arts Center of Coastal Carolina; THE MEMORY OF WATER (Catherine) at J. City Theatre; and THE FOX ON THE FAIRWAY (Louise) at White Plains Performing Arts Center. Susan played Glinda in WICKED: FOR GOOD at Broadway's Gershwin Theatre in NYC. She can also be seen as Abby on the series "In Between Men". Susan is the co-founder of the Broadway Cares/Equity Fights AIDS Broadway Run, Run with us! Runwithus@broadwaycares.org. www.susan-slotoroff.com.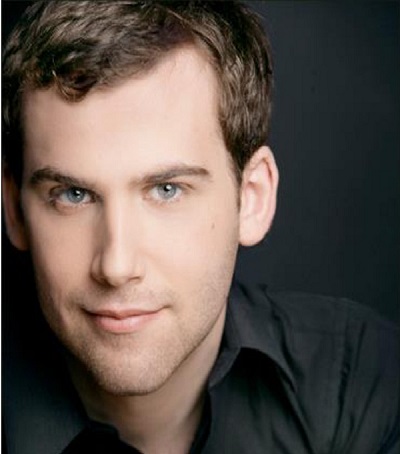 Morgan Hooper (Man 1) is grateful to be joining Bridge Street Theatre in this, his first season. Off-Broadway: VANITY FAIR (The Pearl Theatre Company). Regional: The Shakespeare Theatre of New Jersey, the Pennsylvania, South Dakota, Camden, Maine, and Long Island Shakespeare Festivals. NY Theatre: Resident Actor of "Hamlet Isn't Dead", the self-proclaimed 482nd best Shakespearean troupe in New York (possibly even better!). www.morganhooper.com.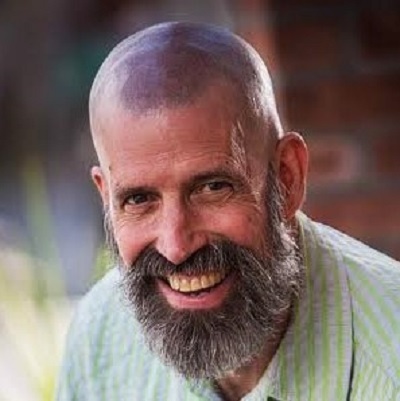 Steven Patterson* (Man 2) Steven has performed regionally and in New York City with theaters such as South Coast Repertory, freeFall Theatre, TheatreWorks, Capital Repertory, Centenary Stage Company, Kaliyga Arts, and the Oregon, Orlando, Tennessee, Colorado, Pennsylvania, Richmond, Utah, and Lake Tahoe Shakespeare Festivals. Favorite roles have included Lear in KING LEAR, Jean Genet in BEAUTY, Austin Wiggin in THE SHAGGS: PHILOSOPHY OF THE WORLD, David in POOR SUPER MAN, Judi Boswell in HOW TO PRAY and Jake Sturdy in KILL ME NOW. He currently resides in Catskill, NY where he serves as Associate Director of the Bridge Street Theatre.
Michelle Carter (Playwright) is a two-time recipient of the PEN USA Award in Drama. She has also received the Susan Glaspell Award, the Ebell Playwright Prize, the PEN West Award, Backstage West's Garland Award, and a Susan Smith Blackburn Prize nomination. She's held residencies at the Berkeley Repertory Theater, the Donmar Warehouse in London, the Cite Internationale des Arts in Paris, and the Fine Arts Work Center, Provincetown. Her plays have been produced and developed at the Moscow Art Theater, the Donmar Warehouse, the Playwrights Horizons / Clubbed Thumb SuperLab, Arcola Theatre, Centenary Stage Company, Kirk Douglas Theatre, Asolo Repertory Theatre, Abingdon Theatre, Shotgun Players, Aurora Theatre, Magic Theatre, Symmetry Theatre, Just Theater, AlterTheater, the New York Summer Play Festival, and the Grimeborn Opera Festival in London. Music theater and dance theater projects include: DREAMSPIEL, a Ukulele Opera (libretto, lyrics) with the Ukulele Orchestra of Great Britain, Arcola Theatre, London; AFTER ALL, Part I, Yerba Buena Center for the Arts; THE LUCKY ONE, developed at Shotgun Players; and IRON SHOES, with Kitka, to be produced at Shotgun Players in Spring of 2018. She has published plays with Dramatic Publishing, many short stories and essays, and a novel with Penguin Books.
John Sowle (Director and Designer) is Artistic and Managing Director of Bridge Street Theatre. He founded Kaliyuga Arts in 1986 with his partner Steven Patterson and has received multiple awards for his directing and design work on their Los Angeles, San Francisco and New York productions. Most recently he designed Bridge Street Theatre's productions of THE TAVERN, SOUVENIR, and THE EFFECT OF GAMMA RAYS ON MAN-IN-THE-MOON MARIGOLDS, and directed and designed their productions of THE OFFICIAL ADVENTURES OF KIERON AND JADE, HOLIDAY MEMORIES, FRANKENSTEIN, THE EPIC OF GILGAMESH, THE KILLING & THE LOVE DEATH (late plays of William Inge), and GRINDER'S STAND by Oakley Hall III. John has an undergraduate degree in mathematics from M.I.T and a PhD in Dramatic Art from UC Berkeley.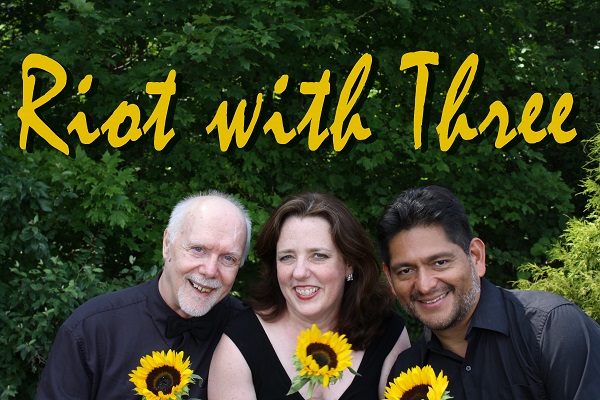 Riot with Three – The Nature of Music
Dynamic classical trio Riot With Three (Alison Davy, soprano/Javier Oviedo, classical saxophone/Gene Rohrer, piano) presents an eclectic chamber music program entitled "The Nature of Music" at Bridge Street Theatre on September 30, 2017 at 7:30 p.m. Come enjoy a range of composers including Assad, Handel, Laitman, Arnold and Borgia in music celebrating everything from the grandeur of nature to sugar addiction. These top-notch performers, who between them have performed at the White House, Kennedy Center, Lincoln Center, the Dimenna Center and throughout Europe and the U.S., bring a combination of great skill and joy to all their programs. Advance tickets available at riotwiththree.brownpapertickets.com or at the door one half hour before the concert subject to availability.