I Won't Dance – Steve Ross Sings and Plays Fred Astaire
Jungle Jim Jam
The Hudson Dusters
Wilde about Whitman
South, A Nautical Musical
I WON'T DANCE – STEVE ROSS SINGS AND PLAYS FRED ASTAIRE
One Night Only!
Saturday August 5, 2017 at 8:00pm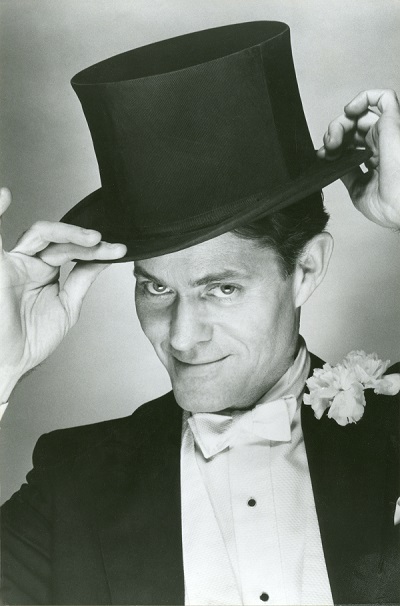 CABARET LEGEND STEVE ROSS COMES TO CATSKILL
Hot on the heels of his recent standing-room-only engagement at New York City's legendary Birdland nightclub, the likewise legendary Steve Ross hits the stage of Catskill's Bridge Street Theatre on Saturday August 5 for a one-night-only tribute to the immortal Fred Astaire called "I Won't Dance". And who better to embody Astaire's suave, smooth, sophisticated style than the man the New York Times has dubbed "The Crown Prince of New York Cabaret?"
Steve Ross rose to fame as a cabaret entertainer during his lengthy sojourns at New York's Ted Hook's Backstage in the late 1970s followed by years of residency at the celebrated Oak Room at the Hotel Algonquin. Steve has long delighted audiences on six continents with his shows celebrating the American Songbook and saluting figures like Noël Coward, Cole Porter, Stephen Sondheim, Johnny Mercer and Alan Jay Lerner. He was on the Concerts and Lecture roster at the Metropolitan Museum of Art for eight years, and has also hosted radio series on the BBC and NPR. In 1992, he starred off-Broadway in "I Won't Dance – Steve Ross Sings and Plays Fred Astaire." He made his Broadway debut in the revival of Noël Coward's "Present Laughter," playing the cockney valet and performing at the keyboard. In 2000, following Steve's debut at The Plush Room, the San Francisco Chronicle wrote: "Attending a Ross performance is like opening a treasure chest of great, often rare, songs. No one performing today is his equal. They just don't make 'em like this anymore." He was hailed by the New York Times as "the suavest of all male cabaret performers," and by the Times of London "the smoothest cabaret act in the world."
Indeed, it would be difficult to identify a major composer in the American Popular Songbook canon whose works have eluded Mr. Ross' delightful performance attentions. In light of this reality, in March, 2015, Steve was presented with a MAC Lifetime Achievement Award, a singular honor reflecting his extraordinarily diverse and longstanding contributions to the cabaret genre worldwide. Steve's current projects include preparing a theatre piece about Cole Porter and touring with the newly formed Steve Ross Orchestra. Visit www.steveross.net to learn more.
JUNGLE GYM JAM
Saturday August 12 at 2:00pm

The acoustic duo of 'Jersey' Jason and 'Awesome' Amy present "Jungle Gym Jam!", their own special brand of 'kindie' rock with plenty of interactivity for little people and their grown-ups to enjoy together. Singin', dancin', puppets, and all kindsa fun for EVERYBODY in the entire family! General Admission is $10, tickets for kids ages 2-12 are $5, and kids age 1 and under are absolutely FREE! To pre-purchase, visit junglegymjam.brownpapertickets.com or call 800-838-3006. Tickets can also be purchased on the day of the performance when the doors open at 1:30 (subject to availability).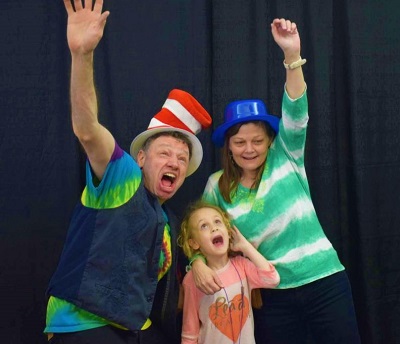 THE HUDSON DUSTERS
Saturday August 12 at 7:30pm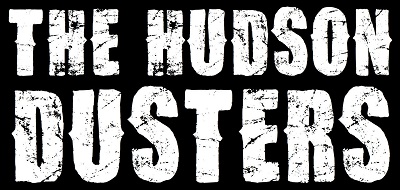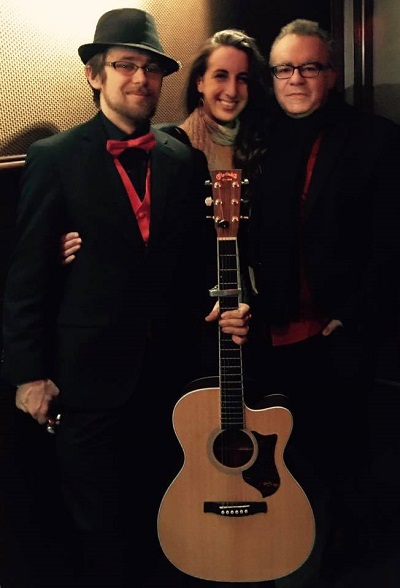 Meet The Hudson Dusters: Foggy Otis, Jon Byron-Woodin, and Raema Rotindo, a trio with a totally unique and original sound, driven primarily by ukulele, guitar, and vocals. You've heard 'em at Helskinki, you've heard 'em at the Greenville Drive-In, you've heard 'em at the Bridge Street Theatre "Performathon!" – now enjoy a full evening of their good-time music-making. General Admission $15, Students 21 and under $10. Advance tickets are available at hudsondusters.brownpapertickets.com or by calling 800-838-3006. Tickets can also be purchased on the evening of the performance when the doors open at 7:00pm (subject to availability).
HEARTS CONTENT ENSEMBLE
Sunday August 13 at 2:00pm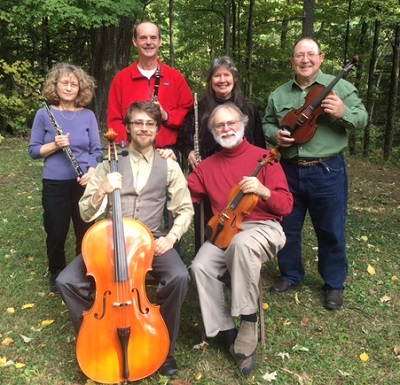 The Hearts Content Ensemble – Caitlin Ippolit (flute), Jonathan Byron-Woodin (cello), Lory Frankel (oboe, Thomas Konow (violin), Ed Coughtry (clarinet and flute), and David Woodin (violin and viola) – returns to Bridge Street for the third time for an intimate afternoon of chamber classics to be performed in memory of former ensemble member Margo Byron. The sextet – all members of the Catskill Chamber Orchestra – will perform works by Albinoni, Leroy Anderson, Bach, Bizet, Debussy, Delibes, and Handel.
A Reading of WILDE ABOUT WHITMAN
Saturday, August 19 @ 7:30pm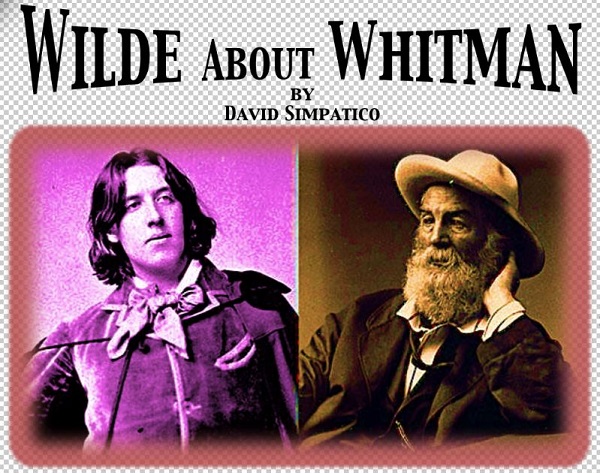 A Howl of Playwrights presents a reading of
"Wilde about Whitman" by David Simpatico
Go behind close doors as a young Oscar Wilde gets more than he bargained for when he meets his idol, the older, legendary Walt Whitman! Based on the little-known, historic meeting between two literary giants.
CAST
Kevin Archambault
Darrah Cloud
James Occhino
DAVID SIMPATICO is a playwright, librettist and performance artist. Career highlights include: the stage adaptation of High School Musical (Disney Theatricals); the full length opera, The Life and Death(s) of Alan Turing (American Lyric Theatre); and the sung-thru music drama, The Screams of Kitty Genovese (Edinburgh Fringe Festival); and the libretto for Pulitzer Prize-winner Aaron J. Kernis' Garden Of Light (NY Philharmonic at Avery Fisher Hall, conducted by Kurt Masur). David just received his MFA in Creative Writing from Southern New Hampshire University. David has been presented at major theatres around the globe, including London's Hammersmith Apollo, Williamstown Theatre Festival and the New York Shakespeare Festival. An alumnus of the Composer Librettist Development Program at American Lyric Theater, the Writers' Bootcamp, and a graduate of Northwestern University, David lives in Rhinebeck, NY with his husband, Robert Strickstein, and wonder-dog, Elmo.
SOUTH: A NAUTICAL MUSICAL
Sunday August 27 at 2:00pm
A concert reading of Carmen Borgia's nautical yarn for grown-ups set in the 1860s. Pirates, well-adjusted lesbian cannibals, an over-caffeinated monk, a dealer in curious religious artifacts, and … well, we wouldn't want to spoil it. Ride the Worthy Vessel!