Sing Me a Story
The Hambones. A Bob Dylan Celebration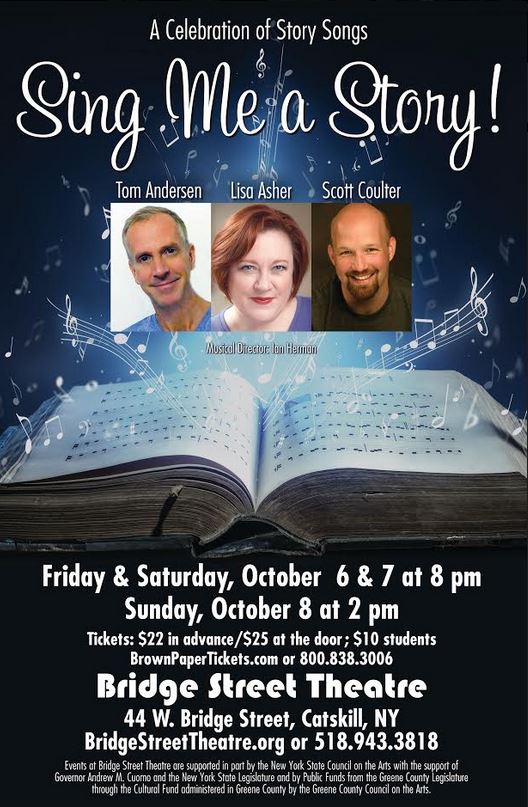 Sing Me a Story – A World Permiere Musical Revue
"Sing Me a Story!", a celebration of the art of the 'story song', makes its world premiere from October 6-8 at the Bridge Street Theatre in Catskill as the final installment in its 2017 Cabaret Series. With a cast that features concert, recording, and stage stars Lisa Asher, Scott Coulter, and Tom Andersen, plus musical director Ian Herman, this new revue trains a spotlight on a very specific type of song – one that tells a story. Think of sixteen little one-act plays in one 80-minute show! Utilizing songs from the worlds of country, theatre, pop, and the Great American Songbook and featuring the work of such artists as The Beatles, Harry Chapin, Cole Porter, and the legendary Broadway songwriting team of John Kander and Fred Ebb, this show is guaranteed sweep you away – song by song, story by story.

Lisa Asher is an award-winning singer and actress most notable for her roles in "Almost Heaven – The Songs of John Denver" and "Woody Guthrie's American Song" which she's performed across the country. She has also performed in cabarets and concert halls around the world. When not touring with her acclaimed one-woman show "I Am a Town", Ms. Asher resides in New York City.
Scott Coulter, winner of the MAC Award for Male Vocalist, has been a stalwart in Manhattan's cabarets and clubs for the last two decades. Equally at home on the concert stage, he has toured with Stephen Schwartz ("Wicked", "Pippin") in a revue of the popular composer's songs. He has also toured in tributes to Jerry Herman ("Hello, Dolly!") as well as his own cabaret act which includes a tribute to the legendary Brill Building Music. He resides in New York City.
Tom Andersen, curator of Bridge Street Theatre's popular Cabaret Series, appeared in the long-running San Francisco hit "Beach Blanket Babylon" before moving to New York where he has enjoyed a varied musical career performing in all kinds of venues from cabarets to Town Hall to Carnegie Hall. A songwriter as well, his songs have been performed and recorded by artists around the globe, including John Davidson and Australian TV star David Campbell. He resides in New York City.
Ian Herman has served as musical director for such luminaries as Jane Olivor, Donna McKechnie, Judy Kaye, Anita Morris, and Karen Mason. His Broadway credits include "Grease", "Jelly's Last Jam", "Swing", and "The Who's Tommy".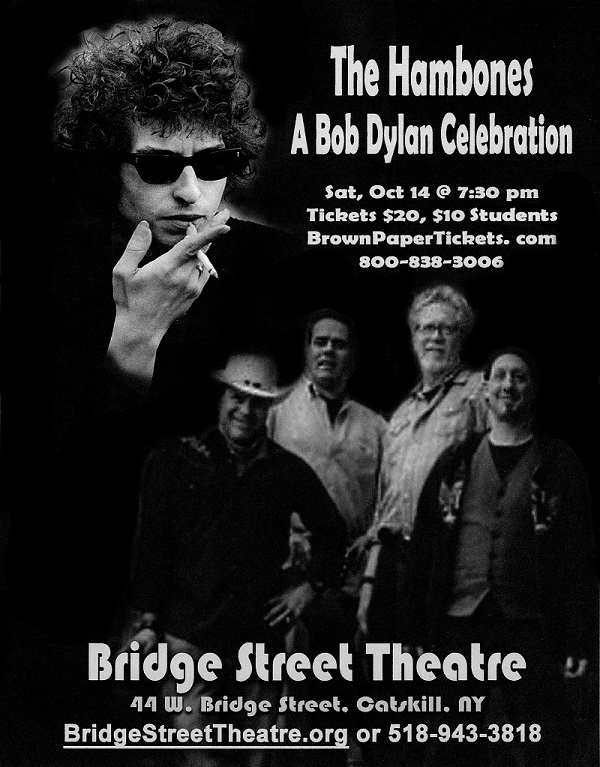 The Hambones Celebrate Bob Dylan
The Hambones Celebrate the Genius of Bob Dylan October 14th
Their retrospective journey through Bob Dylan's seminal album "Blood on the Tracks" was a monster hit at Bridge Street Theatre in 2016. Now, The Hambones – John Kouri (Ringmaster General, lead vocalist & harmonica), Scott Milch (drums, vocals), John Pizzacarola (guitar, vocals), and Steve Soltow (bass, vocals) – return Catskill with a sweeping celebration of the work of the recent Nobel Prize winner, with a special concentration on Dylan songs that have been hits for other major artists like Stevie Wonder, Joe Cocker, The Byrds, The Band, and The Grateful Dead. This is an evening guaranteed to get your blood pumpin'!
With a cumulative 130 years in the music business, The Hambones continue to evolve and refine a truly unique musical palette, drawing on influences both urban and rural, to deliver a sound which, for lack of a better term, can be called "Roots-Plus-Rockin". The band is nothing if not versatile – their songlist of over 80 tunes includes:
Classic Rock – the Beatles, Stones, Who, Chuck Berry, Grateful Dead, Elvis, Wilburys
New Country – Luke Bryan, Joe Nichols, Frankie Ballard, Brooks & Dunn, Kenny Chesney
Traditional Country – Johnny Cash, Marty Robbins, Jerry Lee Lewis
Rhythm & Blues – Fats Domino, Delbert McClinton, Taj Mahal
Blues – Stevie Ray Vaughn, Muddy Waters, John Mayall, Robert Cray
Folk/Rock/Roots – Bob Dylan, John Hiatt, the Band.