September 4-6. Dirty Paki Lingerie
September 19. Third Ear with Michael Moss
September 21. Quiles & Cloud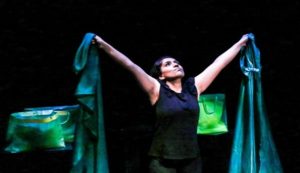 After sold out shows in NYC, London, Toronto, Pakistan, Turkmenistan, and at the Edinburgh Fringe Festival Dirty Paki Lingerie, written and performed by Aizzah Fatima, directed by Erica Gould, comes to Bridge Street Theatre in Catskill, NY September 4 through 6.
Dirty Paki Lingerie premiered in NYC in 2011 at The Midtown International Theater Festival and has toured the world since then. In Dirty Paki Lingerie Aizzah Fatima plays six Pakistani-American Muslim women ranging in age from a six to sixty-five and a dozen other minor characters. Cross-cultural sparks fly and preconceptions about Muslim women, sex, and politics are hilariously shattered in the show that The Wall Street Journal says "breaks down stereotypes of Muslim women in America" and that reviewers call a "must-see" production. Dirty Paki Lingerie transcends boundaries of culture, religion, and gender, moving and entertaining audiences with its unique and universal appeal. A rich, sexy, and infectiously entertaining mosaic of the sublime, the comic, the poetic, and the political.
"One of our goals when we opened Bridge Street Theatre was to provide a platform for voices that we feel are currently under-represented on U.S. stages and to expose our audiences to perspectives they may never have encountered or considered before. Aizzah's show definitely fills that bill in an amusing and highly entertaining way" says John Sowle, Bridge Street Theatre's Managing Director. "We're both thrilled and proud to be presenting it here in Catskill."
Aizzah Fatima (writer and actor) is a member of The Bats, the resident acting company at The Flea Theater. Some of her theatre credits include: Romeo & Juliet (Access Theater), #serials@theflea (The Flea Theater), Circumcaedere (LABrynth Ensemble), Play by Play: Rendezvous (Stageworks Hudson), Eve Ensler's The Vagina Monologues (Abingdon Theatre, NYC), Seven (Hostos Cultural Arts Center, NYC), the interactive musical Bollywood Wedding, and Ripe for the Picking. TV credits include: The Good Wife (CBS), Patrice O'Neal's Guide to White People (Comedy Central), Food Detectives with Ted Allen (Food Network), Mata-e-jaan (HUM TV), and Cinematherapy with comedian Chuck Nice (WEtv). She also co-stars in the webseries Mumbai Chopra:Misadventures of an IT girl.
Aizzah has performed at Upright Citizen's Brigade, and appeared in sketches for collegehumor.com. Her short film Stuff which she wrote and starred in with Annette O'Toole (Smallville, Superman III) has played at festivals from NYC to Italy, and won the Best Comedy award at Asians on Film. Aizzah is currently developing a feature film based on characters from Dirty Paki Lingerie with Emmy award winning filmmaker Iman Zawahry.
Reviews and Features:
Breaks down stereotypes of Muslim women in America – The Wall Street Journal
Fatima transforms effortlessly from character to character – The Huffington Post
Shatters stereotypes and forges new cross cultural understanding – Backstage
Fatima Fills the stage with her remarkable performance – Mooney on Theatre (Canada)
IMDb: http://www.imdb.com/name/nm3395194/
Website: http://aizzah.wix.com/aizzahfatima
Reel: https://youtu.be/Rg72zZdh6_w
Cell: 646-729-9580
Video Blogs
From Amreeka to Pakistan
Aizzah Like Liza
Third Ear with Michael Moss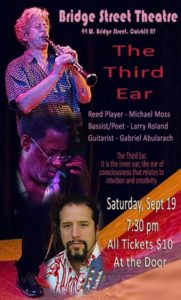 What is Third Ear?  It is the inner ear, the one that hears what hasn't been played yet and lets us add to the inner, third thing that connects us all–the music.  Third Ear.  It is the inner ear, the ear of consciousness that relates to intuition and creativity.
Third Ear is reed player Michael Moss, bassist and poet Larry Roland, and multi-guitarist Gabriel Abularach.  Michael Moss has appeared twice at the Speakeasy in two different configurations:  a duo with guitarist Billy Stein, and with the New York Free Quartet.  With Third Ear a world music perspective emerges, an exploration ranging from the passion of Spanish flamenco to the grit of the downtown scene.  Moss finds an avenue of expression of folk traditions using instruments from around the world like the Jewish shofar, Thai khean, Tibetan temple bells, Indian karnatic cane flutes and Ekthara.  Abularach speaks through a classic flamenco gut-stringed guitar made by the most famous luthier in Spain, dives into delta blues on his all-metal guitar then reconnects with the sound of the heavy metal bands he toured with on his solid body axe.  Roland speaks truth through poetry with his soulful arco and pizzicato work.  His daring, gritty, urban  lyrics propel the intensity of Third Ear into the streets of the inner city.  Moss, Roland and Abularach come together to create an alternate universe where music connects us all via the Third Ear
Quiles & Cloud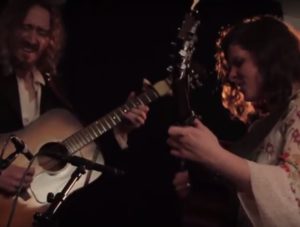 Maria Quiles and  Rory Cloud met and started Quiles & Cloud in November 2011. They both come from artistic, musical families and have been performing since they were young.
Website – http://quilesandcloud.com
Facebook – http://facebook.com/quilesandcloud
Instagram – http://instagram.com/quilesandcloud
Live videos
A testimonial from our friend Ed Summerfield – Mac Version, Windows Version
"All My Trouble Gone" – https://youtu.be/UGIfR1E5dak
"Julie, I'm Alive" – https://youtu.be/IXSoyu3nWUo
"Black Sky Lightning" – https://youtu.be/Tcrrkpu3-Ig
"Serida" – https://vimeo.com/102085442
"Cali" – https://youtu.be/rIW73-2FYxY
So far they have released two live-in-studio albums (Long Time Coming – 2012 with Grammy winning engineer Steve Horowitz, Seminole Star – 2014 with 5-time Grammy nominated producer Cookie Marenco), and are heading to Nashville in July to record our third at Compass Records Studio.
To date they have performed over 170 shows in 18 states and Ireland.
Some notable venues include:
-Great American Music Hall in San Francisco, CA
-Freight & Salvage in Berkeley, CA
-Boulder Theater in Boulder, CO (Opening for Jerry Douglas Presents The Earls of Leicester)
-Tuft Theater at Swallow Hill Music in Denver, CO
-The Palladium Theater in St Petersburg, FL
-Rockwood Music Hall in New York City, NY
In September 2014 they received an award for Best Duo at the FreshGrass Bluegrass & Roots Music Festival in North Adams, MA. As part of the prize, they are returning to the festival in 2015 to perform on the main stage (http://freshgrass.com/artist/quiles-cloud/).
Save