October 8 – 18. Grinder's Stand by Oakley Hall III
October 25. Flo Hayle – I Feel Some Songs Coming On
Grinder's Stand
Director, Set and Light Designer – John Sowle
Costume Designer – Kaitlyn Day
Stage Manager – Athena Baer
Sound Designer – Steven Patterson
Audio Consultant – Carmen Borgia
Production Assistant – Anna White
With
Frederick Bates, Territorial Secretary of Upper Louisiana – Brett Owen
William Clark, of the Lewis and Clark Expedition – Jon Lee
Meriwether Lewis, Governor of Upper Louisiana –  William Dobbins
Pernia, Slave of Lewis – Stephen Jones
Robert Smith –  Steven Patterson*
Gilbert Russell, Commander of Fort Pickering – Phillip X Levine
James Neelly, Indian Agent for the Chickasaw Nation –  Jon Lee
Mrs. Grinder –  Nancy Rothman*
Click here for reviews of the prodution.
Suicide? Murder? Assassination? In 1978, Oakley Hall III, Artistic Director of Greene County's now-legendary Lexington Conservatory Theatre, completed a play called GRINDER'S STAND about the mysterious circumstances surrounding the death of Meriwether Lewis (of the Lewis & Clark expedition) on the Natchez Trace in Tennessee. That same year, under mysterious circumstances, Hall himself fell from a bridge spanning Schoharie Creek and sustained massive head trauma from which he never fully recovered. His play premiered in Lexington the following summer to wild acclaim. And now, innovative theatre troupe Kaliyuga Arts will mount a major revival of Hall's masterpiece just a few miles from where it was first conceived and produced. GRINDER'S STAND will be presented for eight performances only at the Bridge Street Theatre "Raw Space", 44 West Bridge Street in Catskill, from October 8-18.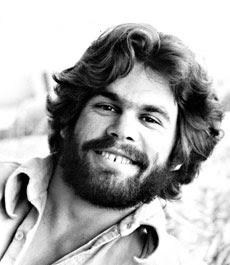 "Oakley was a creative genius and an utterly unpredictable force of nature, idolized by those with whom he worked and worshipped by anyone lucky enough to have experienced what he created," says Steven Patterson, who will be featured in the production and was a member of the original Lexington Conservatory Theatre. "And like Oakley, Meriwether Lewis was a rockstar in his day. An erratic, addicted, charismatic hero, beloved by the masses. Given the controversy still swirling over Lewis' death and the uncertainty concerning Oakley's near-fatal accident, there's enough resonance at play here to make to make this production an experience to remember."
GRINDER'S STAND features William Dobbins, Stephen Jones, Jon Lee, Phillip X Levine, Brett Owen, Steven Patterson, and Nancy Rothman in the cast. Running concurrently with the production will be an exhibit highlighting the life of playwright Oakley Hall III and the legacy of the Lexington Conservatory Theatre as part of Greene County's rich artistic and cultural heritage, featuring archival photos of the company and its productions, as well as screenings of Bill Rose's documentary about Oakley, THE LOSS OF NAMELESS THINGS.
John Sowle (Director/Designer) is Managing Director of Bridge Street Theatre, a new performing arts center in progress in Catskill, NY. He founded Kaliyuga Arts in 1986 with his partner Steven Patterson and has received multiple awards for his directing and design work on their Los Angeles, San Francisco and New York productions. In Manhattan, John directed and designed Beckett's ALL THAT FALL and Dan Carbone's KINGDOM OF NOT at the Cherry Lane Studio and the Al Carmines/Gertrude Stein musical IN CIRCLES at Judson Church. In 2012 he directed and designed THE MOUND BUILDERS and in 2013 directed and designed TRUE LOVE LIES and the U.S. premiere of KILL ME NOW, all at the Cross Street Theatre Center in Hudson. Most recently, John directed and designed Kaliyuga Arts' productions of THE EPIC OF GILGAMESH and William Inge's THE KILLING and THE LOVE DEATH in the Bridge Street Theatre "Raw Space". John has an undergraduate degree from M.I.T in mathematics and received a PhD in Dramatic Art from UC Berkeley.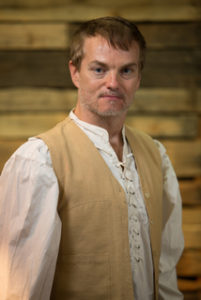 William Dobbins (Meriwether Lewis) A working actor for several years in Manhattan, Bill's leading credits include Ian in WEEKEND AT THE WILLARD (Ensemble Studio Theatre), Frank McDonald in MEISTER HEMMELIIN (Theatre for the New City), Mike in Sam Shepard's A LIE OF THE MIND (White Horse Theatre Co.), and Cary in TRIPTYCH (New Directions Theatre).  Regionally, he's acted with The Utah Shakespearean Festival, two seasons with The Orlando Shakespeare Festival, Vermont Stage Company, and multiple roles in a Shakespearean fundraiser for GableStage Theatre in FL.  Film/TV credits include the indy film, HALFWAY HOME (Best Actor – 'University of Miami Film Festival'), and DAYS THAT SHOOK THE WORLD with Sir Ian Holm, for BBC TV.  He has a BFA from Penn State University, and trained with Wynn Handman, and at Stella Adler Studios, among others. He is thrilled to be a part of this production, and by coincidence, his genealogy traces relation to Meriwether Lewis.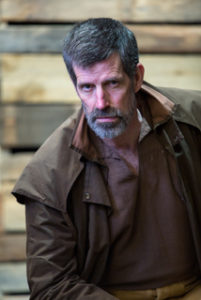 Steven Patterson * (Robert Smith) has performed regionally and in New York City with theaters such as Capital Repertory, Stageworks/Hudson, Lexington Conservatory Theatre, freeFall Theatre, South Coast Repertory, TheatreWorks, Kaliyuga Arts, and the Oregon, Orlando, Tennessee, Colorado, Pennsylvania, Utah, and Lake Tahoe Shakespeare Festivals. Favorite roles have included Lear in KING LEAR, Jean Genet in BEAUTY, Austin Wiggin in THE SHAGGS: PHILOSOPHY OF THE WORLD, David in POOR SUPER MAN, Judi Boswell in HOW TO PRAY, and Jake Sturdy in KILL ME NOW. Co-founder of Kaliyuga Arts, he also serves as Associate Director of Bridge Street Theatre, where he recently appeared in a critically-acclaimed one-man adaptation of THE EPIC OF GILGAMESH and in THE KILLING and THE LOVE DEATH by William Inge.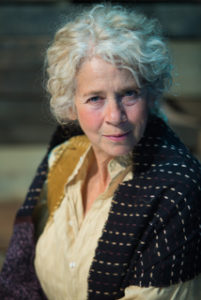 Nancy Rothman * (Mrs. Grinder) has acted on stages in NYC, regionally and abroad, as well as on film, television and radio. Trained at Emerson College, Harvard University, NYU in Paris and by many fine teachers, some of her past credits include TRIBE, ANTIGONE, THE LOVER, THE RUFFIAN ON THE STAIR, ON THE LINE, LOOK BACK IN ANGER, THE LETTERS OF EMILY DICKINSON, LYSISTRATA, THE PUPPETMASTER OF LODZ, 900 DREAMS, CHOPIN AND CANDLELIGHT, THREE VIEWINGS, OUR TOWN, EURYDICE, THE CHERRY ORCHARD, LONG AGO AND FAR AWAY AND THE LADY OF LARKSPUR LOTION. A founding member of Walking The Dog Theater's Improv Ensemble, OFF LEASH, and of Hudson Air Radio Theatre, she values laughter and improvisation as meditation practices.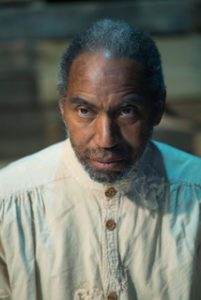 Stephen Jones (Pernia) has been in the Hudson valley area at the Woodstock Fringe Festival in BACKWARDS and THE CARDIFF GIANT, with Performing Arts of Woodstock in THE WATER ENGINE, YANKEE TAVERN, and CLYBOURNE PARK, with Passing the Torch in SAM COOKE and WHEN THE CHICKENS COME HOME TO ROOST, with Kaaterskill Actors Theatre in AMELIA and SCROOGE & SON, with Star Mountain Productions in TOOTH OF CRIME and BURIED CHILD, with STS Theatre Group in DRACULA, with Rhinebeck Performing Arts Center in HENRY VIII, and as Black Caesar in the VOICETheatre production of OUR COUNTRY'S GOOD.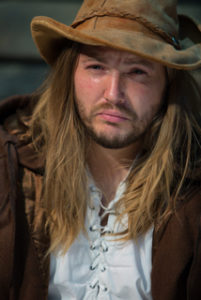 Jon Lee (Clark/Neelly) is now an actor, landscape designer, musician and singer songwriter. He has played The Drunk in Amiri Baraka's play DUTCHMAN, a site specific production in a subway car at the Kingston Trolley Museum. Rocco D'Amato in KNOCKOUT: THE CUS D'AMATO STORY, and several roles in the VOICETheatre production of OUR COUNTRY'S GOOD. Jon would like to thank his beautiful wife Mary and amazing daughter Elizabeth from whom he gets his strength, as well as Shauna, Dianna, and Bruce, without whom he is certain none of this would be possible.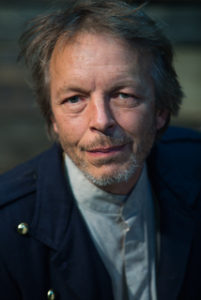 Phillip X Levine (Russell) Past favored stage roles include Midget in Carey Harrison's MIDGET IN A CATSUIT RECITING SPINOZA, (as a founding member of The Woodstock Players), JB in JB, Austin in TRUE WEST, Teach in AMERICAN BUFFALO, Man (lead) in DISTANT SURVIVORS (Mirage Theater Co.), "Bloomsday" Aeolus (#7) (Bethany Ides), Edgar in KING LEAR, Scrooge in SCROOGE & SON, Pishchik in THE CHERRY ORCHARD (Walking the Dog), and as himself in his one-person show APPROX. POET FALLS IN LOVE & CAN'T GET UP. Phillip is a member of SAG (INSIDE LLEWYN DAVIS (Coen Bros.), THE ARSONIST'S AFFAIR (Marist College best actor award), THE FRENCH REVOLUTION (History Channel), FEAR OF CLOWNS 2 (Lionsgate), THE REVOLUTION (History Channel), NIGHT OF THE LIVING JEWS, DOVID MEYER). Phillip is also a poet (poetry editor, Chronogram), stand-up comedian, talk radio host, and, most of all, dad to Piper.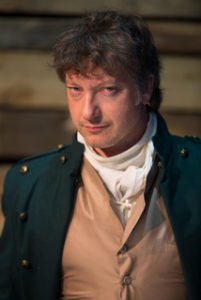 Brett Owen (Bates) Brett studied acting with Gregory Abels in New York City and Roger Hendricks Simon in Poughkeepsie, among others. He studied voice with Shauna Kanter and the Vocal Awareness Method with Arthur Samuel Joseph, as well as vocal performance with Meredith Monk and Bob Een. Notable performances include John Merrick in THE ELEPHANT MAN, Williamson in GLENGARRY GLEN ROSS, Lucky in WAITING FOR GODOT, George in OF MICE AND MEN, Captain Mike in WONDER OF THE WORLD, Orlando in AS YOU LIKE IT, Captain Queeg in THE CAINE MUTINY COURT MARTIAL, and most recently with VOICETheatre in OUR COUNTRY'S GOOD as Ralph Clark.
*  Member of Actors' Equity, the Union of Professional Actors and Stage Managers in the United States
All photos by V. James DiPerna
Kaliyuga Arts was originally founded in Los Angeles, California in 1986 by John Sowle and Steven Patterson, who continue to lead it to this day. From its inception, it has been dedicated to the presentation of off-beat, challenging work, and has established an ever-expanding reputation for artistic excellence with a wide range of material. Based in San Francisco from 1990 thru 2004, New York City from 2004 thru 2010, and currently located in Catskill, NY, where it serves as "in-house" theater company of the new Bridge Street Theatre, Kaliyuga Arts continues to present some of the most exciting, risk-taking and innovative theatre available to audiences anywhere. kaliyuga.com
Flo Hayle in I Feel Some Songs Comin' On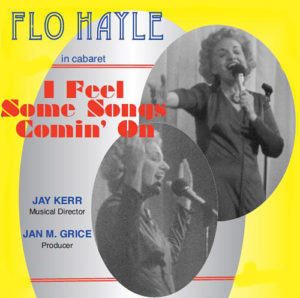 The fabulous Flo Hayle threads together songs with stories of the many famous people she has known and worked with in New York City including Liza Minnelli, Elaine Stritch, Steve Allen and Hildegarde.  Come take a musical journey with Flo about loving, losing and loving again.  Hear classics including Maybe This Time, Time Heals Everything, The Ladies Who Lunch and Why Was I Born?  This event is a fundraiser for Bridge Street Theatre in Catskill, NY.
Florence Hayle has participated in all aspects of theatre throughout her career.  An accomplished and beloved cabaret singer, she has known many of the greats including Elaine Stritch, Liza Minnelli and Hildegarde. She has appeared in dozens of plays and musicals including Sophie by Steve Allen and, more recently, Senior Moments at the Fort Salem Theatre.  She has been seen in TV commercials for Total Cereal and Volkswagen, among others.  As a director and producer, she was producing off-Broadway long before there was anything known as "off-Broadway", was casting director for Muriel Cigars, Coppertone, and Maybelline, and director of Prisoner of Second Avenue at The Ghent Playhouse.  Flo hosts a weekly radio interview show called "Arts Alive" on 98.5FM and 93.5FM.
Save