Through August 29. Big Works in the Big Room
August 14 – 23. The Killing and The Love Death
August 22. A Special Benefit Concert by Riot with Three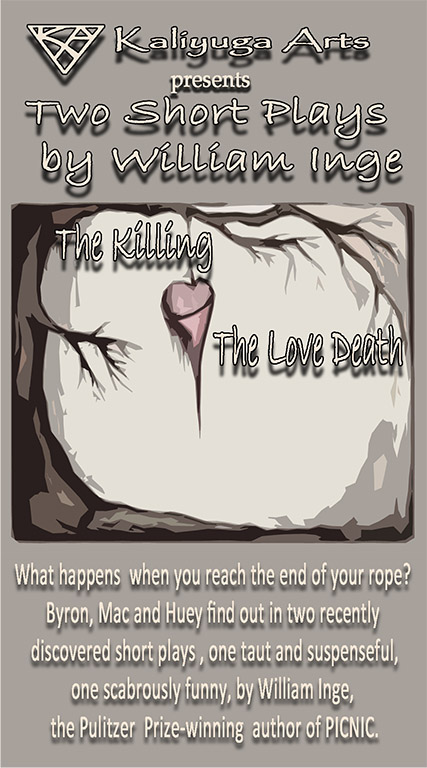 THE KILLING and THE LOVE DEATH
Whenever Catskill's Bridge Street Theatre and its resident company Kaliyuga Arts turn their attention to play production, it's an occasion to sit up and take notice. Already this year, area audiences have been alternately shocked, delighted, inspired, and moved by LARK EDEN, UP FROM THE GROUND, SIGN FELT!, HOME FIRES BURNING, and THE EPIC OF GILGAMESH alongside Bridge Street's regular menu of music, magic, and art installations. October will bring a major revival of Oakley Hall III's monumental historical drama GRINDER'S STAND. But in the meantime, audiences will have a rare opportunity to view THE KILLING and THE LOVE DEATH, two late plays by William Inge, the Pulitzer Prize-winning author of such plays as PICNIC, BUS STOP, and COME BACK, LITTLE SHEBA, that have just recently resurfaced.
Wildly successful initially – his first four plays were all huge Broadway hits – Inge, like Tennessee Williams, Arthur Miller, Edward Albee and many other great American playwrights, fell into critical disfavor for a time. He struggled with depression and alcoholism and eventually committed suicide in 1973. Housed among his papers at Independence Community College in his Kansas hometown, and previously available for viewing but not copying or borrowing, about two dozen of Inge's later works have only recently been made available for production. One of them, the full-length OFF THE MAIN ROAD, received its world premiere this summer at the Williamstown Theatre Festival in a production starring Kyra Sedgewick and Estelle Parsons. THE KILLING and THE LOVE DEATH are two gems in this collection.
Kaliyuga Arts' production of THE KILLING and THE LOVE DEATH, directed and designed by John Sowle and featuring actors Andrew Colford and Steven Patterson, will be performed six times only, on Friday and Saturday evenings at 7:30pm and Sundays at 2:00pm, from August 14 – 23. General Admission is $15, $10 for Students and Seniors, and reservations are suggested: (518) 943-3818 or online at BridgeSt.org. Bridge Street Theatre is located at 44 West Bridge Street in the Village of Catskill and ample free parking is available on the street or in the Catskill High School parking lot directly behind the theater building.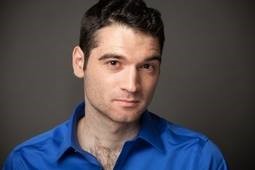 Andrew Colford (Huey/The Superintendent) Originally from the California Bay Area, Andrew went to Georgetown University in Washington, D.C. After graduation he spent a year in Houston, TX as a Jesuit Volunteer. Other stage/screen credits:  TO KILL A MOCKINGBIRD (Bristol Valley Theater), THE BETTER MAN (Unchained Festival), AFTER THE DANCE (Dirty Blondes), MY DIRTY LITTLE SECRET (Investigation Discovery), HACK MY LIFE (TruTV), MYSTERIES AT THE MUSEUM (Travel), and a commercial for American Collectors Insurance (Velocity).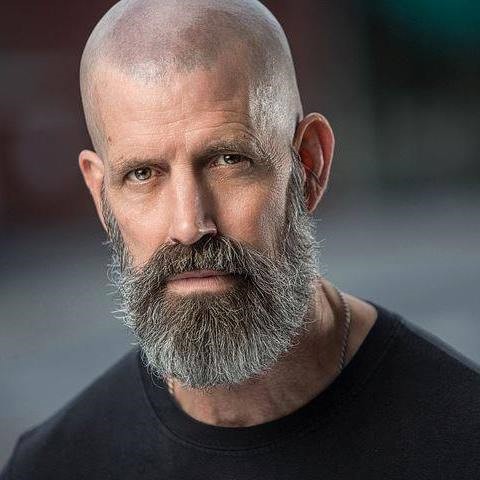 Steven Patterson (Mac/Byron Todd) has performed regionally and in New York City with theaters such as Capital Repertory, Stageworks/Hudson, Lexington Conservatory Theatre, freeFall Theatre, South Coast Repertory, TheatreWorks, Kaliyuga Arts, and the Oregon, Orlando, Tennessee, Colorado, Pennsylvania, Utah, and Lake Tahoe Shakespeare Festivals. Favorite roles have included Lear in KING LEAR, Jean Genet in BEAUTY, Austin Wiggin in THE SHAGGS: PHILOSOPHY OF THE WORLD, David in POOR SUPER MAN, Judi Boswell in HOW TO PRAY, and Jake Sturdy in KILL ME NOW. Co-founder of Kaliyuga Arts, he also serves as Associate Director of Bridge Street Theatre, where he recently appeared in a critically-acclaimed one-man adaptation of THE EPIC OF GILGAMESH.
John Sowle (Director & Designer) is Managing Director of Bridge Street Theatre, a new performing arts center in progress in Catskill, NY. He has produced, directed, designed, and performed in hundreds of productions over the years. He founded Kaliyuga Arts in 1986 with his partner Steven Patterson and has received multiple awards for his directing and design work on their Los Angeles, San Francisco and New York productions. In Manhattan, John directed and designed Beckett's ALL THAT FALL and Dan Carbone's KINGDOM OF NOT at the Cherry Lane Studio and the Al Carmines/Gertrude Stein musical IN CIRCLES at Judson Church. In 2012 he directed and designed THE MOUND BUILDERS and in 2013 directed and designed TRUE LOVE LIES and the U.S. premiere of KILL ME NOW, all at the Cross Street Theatre Center in Hudson. Most recently, John directed and designed Kaliyuga Arts' production of THE EPIC OF GILGAMESH in the Bridge Street Theatre "Raw Space". John has an undergraduate degree from M.I.T in mathematics and received a PhD in Dramatic Art from UC Berkeley.
Riot with Three
In their upcoming concert on August 22 at 2:00 p.m., Riot With Three will present a musical journey through life's highs and lows, its joys and sorrows. Ranging in style from French Impressionist to neo-Classical, spanning the latter half of the 20th-Century, this program juxtaposes the lush music of Francis Poulenc with the simple elegance of songs by American composer Ernst Bacon. The humorous touch of Lee Hoiby contrasts with the intensity of songs set to poems written by children in Germany in World War II by Lori Laitman. Other song texts draw from writings of Emily Dickinson, Dorothy Parker and Thornton Wilder.
Soprano Alison Davy, Saxophonist Javier Oviedo,and Pianist Gene Rohrer are a dynamic trio devoted to engaging audiences throughout their varied and lively programs. The ensemble's combined resumé lists some of the nation's most prestigious concert venues including Carnegie Hall, The Kennedy Center, Lincoln Center and The White House as well as venues throughout Europe and Asia. Together the trio has had great successes at New York's DiMenna Center for Classical Music, the Kingston Festival of the Arts, and NYC's Ethical Culture Society concert series.  They continue to develop and add to their musical offerings, creating a unique atmosphere for listeners with their vibrant personalities and musical textures.
***************************
Alison Davy. Praised in July, 2015 by the East Hampton Star for her "unflawed mix of power, range, tone, litheness, and articulation", soprano ALISON DAVY has appeared in opera and oratorio both nationally and internationally. She has performed with, among others, Washington National Opera, Handel Choir of Baltimore, Centro Musica Antica in Italy, Parma Symphony Orchestra and the Choral Arts Society of Washington, D.C. outreach program. Ms. Davy was also featured as a guest artist at Lincoln Center's Bruno Walter Auditorium, singing Spohr's Sechs Deutsche Lieder and was selected to perform at the White House for President and Mrs. Clinton.  This season Ms. Davy sings Schubert's soprano showpiece "Der Hirt auf dem Felsen" with the prestigious Phoenix Ensemble in Manhattan, Deirdre in the world premiere of Richard Pearson Thomas' A Wake or a Wedding with Encompass New Opera Theatre; Britten's Les Illuminations with East Bay Chamber Orchestra in San Francisco and Haydn's "Creation" with the Choral Society of the Hamptons.
Javier Oviedo. One of the brightest soloists of the classical saxophone world, Javier Oviedo is acclaimed for his lustrous tone, passionate musicianship, and formidable technique. The Classical Saxophone Project (CSP) (classicalsaxproject.org) is his non-profit group that works tirelessly to present the saxophone as a unique, versatile, exciting classical instrument. His continuing research has helped introduce the rich tradition of musical composition for the entire saxophone family. Along with these older works, he has commissioned and premiered a dozen new pieces, both in the United States and abroad. Mr. Oviedo has performed to great praise in many cities across the country and around the world, from China to Latin American to many cities in Eastern and Western Europe, including Paris, Barcelona, the Republic of Moldova, and in the Russian Federation. He has appeared with the New Jersey Symphony, the Austin Symphony, the Chattanooga Symphony, L'Orchestre Lamoureux, L'Orchestre à cordes d'Ariège in France, and both National Philharmonics of Moldova and Russia in Oryol.
Gene Rohrer. Eugene Rohrer is a graduate of The Manhattan School of Music, New York, NY, and Occidental College, Los Angeles, CA.  He was seen and heard, both in New York City and Chicago, as an actor/singer/pianist in the role of Galileo in The Top Ten People Of The Millennium Sing Their Favorite Schubert Lieder by Alec Duffy.  He sang tons of G&S with The Light Opera of Manhattan when it was NYC's main source for operetta.  He toured as pianist with baritones Saverio Barbieri ('If I Were a Rich Man' in Italian!) and James Billings of the NYCO (ask for the story about Myrtle Beach), the Festival of Song Quartet (playing all four hands of the Liebeslieder Waltzes) and the Gregg Smith Singers (you haven't lived until you've recorded a Christmas album in the dead of Summer with the Texas Handbell Choir).  He lives and teaches in NYC both privately and, publicly, at the Brooklyn Youth Chorus Academy and the Turtle Bay Music School.