Play One of our 2023 Season
April 20 – April 30
"Had me nearly falling out of my chair with laughter!" Jess Hoffmann, Berkshire On Stage
"A fantastic, original, laugh-your-head-off show!" Olga Zernitskaya Porterfield
"Near non-stop laughter!" Aaron Clause
"I laughed and laughed and laughed!" Mary Dambaugh Neumann
"Laughed 'til my face hurt!" Johanna D'Aleo
"A side-splitting night of great theater!" Bob Luke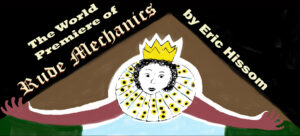 For Publicity Information and photos CLICK HERE.
Until April 30 you can purchase a Season Subscription for a discount on all 2023 Events at Bridge Street Theatre. CLICK HERE for details.
"Playwright Eric Hissom's often sly, witty "Rude Mechanics" is an artfully conceived, skillfully researched comedy about the making of theater; about sexual identity; about women trying to succeed in a male world; about real and fictional narratives and who gets to tell those narratives … What better way for a theater to begin a new season than with a new play about the value of making theater." Jeff Borak, The Berkshire Eagle
"Scoots around on the theater's intimate stage like a manic ballet, with the dialogue rat-a-tatting as if it came out of a Howard Hawks film. … The various desires and mishaps that fuel the story tumble over and around each other kaleidoscopically, with new revelations bursting forth just when you think you've heard everything … A completely enjoyable 90 minutes of theater that sets us thinking about social status and who we're allowed to be and who we're allowed to love." Byron Nilsson, Words and Music more …

"This is a comedy, a high comedy, with more laughs than anticipated. More laughs than usual these days. So much more, thank goodness … The four actors in the show play seven roles, three of them by Steven Patterson, and the work they do on stage is dynamic, dramatic, quixotic and hysteric … I would see this again without a moment of hesitation. It's that good. It is so good, the cast is so good, that it should run for months but since it won't you need to see it now … Every theater doing Shakespeare should add this play to its repertoire!" J. Peter Bergman, Berkshire Bright Focus more…
"Had me nearly falling out of my chair with laughter … From its very beginning, 'Rude Mechanics' is an exemplar of theater about theater. To use the bard's own words, it is "some satire, keen and critical" about theater and art … Much like a Shakespearean comedy, 'Rude Mechanics' is hilarious but not farcical. It is poignant and makes clever commentary about theater and art that are timely and also timeless. And it manages to do all this while still being laugh-out-loud funny … I highly recommend this production to any and all lovers of comedy and lovers of theater." Jess Hoffmann, Berkshire On Stage more...

""RUDE MECHANICS struts and frets funnily in Bridge Street Theatre season opener … A backstage, or rather onstage, panic attack of laughs! … Em Whitworth strikes an impressive figure as Rosemary Bassanio, a woman playwright who dresses as a man and presumably submits her plays under a pen name. Andrew Goehring is a self-obsessed actor recovering from a barroom brawl the night before and in hot pursuit of Rosemary and perhaps William Shakespeare (Patterson), who stumbles on drunkenly. There is also finally a spectral vision of Elizabeth I (Patterson…again). There are many, many laughs garnered over the lover's spats, fights over authorship, and the tweaking of details in a plot that will become "The Tempest," but finally, what we care about most and keep returning to is the young actor practicing his Thisbe. Jack Rento is delightful as the young actor pouring himself into his role." Patrick White, Nippertown more…
"Near non-stop laughter … Bridge Street Theatre has yet again displayed the pride of small stage talent in Catskill as the venue for the hilarious world premiere of 'Rude Mechanics', written and directed by Eric Hissom. Hissom has sought and found authentic Elizabethan comedy and truth in this merry tale of the passionate and frantic understudy Julian Crosse (Jack Rento), who has, due to the plague, gained a lead role with mere moments remaining to prepare before performing before royalty …. The knitting of this little cast into the both the shallow and deep ends of Hissom's characters offers first a much-needed comedic relaxation and a need to recover from breathtaking laughter. However, it concludes with a resounding contemplation of how fickle truth can be as we accept it through the eyes of those around us, yet how starkly relevant these layers are in how we perceive the world around us. Do yourself a favor and make 'Rude Mechanics' happen for yourself. You won't regret it." Aaron Clause
"The show was wonderful!! The acting was wonderful!! Mr. Hissom's direction was wonderful!! His play was wonderful!! Bridge Street Theatre is wonderful. You and Steven are wonderful!! In case you can't follow what we're saying, we liked the show." Macey Levin and Gloria Miller
RUDE MECHANICS by Eric Hissom (World Premiere)
Directed by Eric Hissom
Sets and Lights by John Sowle
Costumes by Michelle Rogers
Production Stage Manager – Kiara Vedovino
With Jack Rento, Em Whitworth, Andrew Goehring, and Steven Patterson as Lord Strayte, William Shakespeare and the Ghost of Queen Elizabeth I.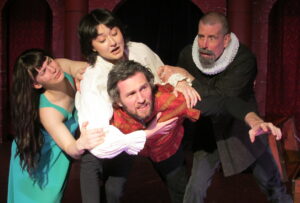 London, January 1612. A theatre in the court of King James. At the eleventh hour a spear-carrier in Shakespeare's troupe is thrust into a major role, and frantically rehearses for an imminent performance before the Court, on a night fraught with political and romantic intrigue. A fast, funny, slyly anachronistic, and scarily relevant period comedy about the craziness (and the wonder) of trying to create theatre during a time of plague.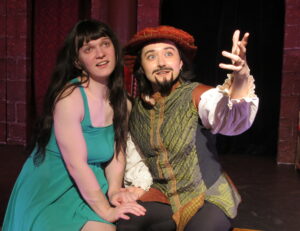 Bios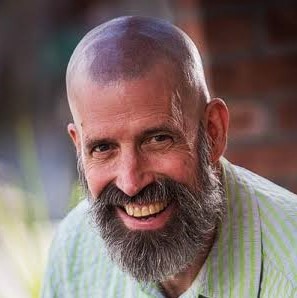 Steven Patterson (Lord Strayte, William Shakespeare, The Ghost of Elizabeth I) has performed in NYC both Off- and Off-Off-Broadway, as well as regionally with theaters such as South Coast Repertory, Capital Repertory Theatre, TheatreWorks/ Silicon Valley, freeFall Theatre, Kaliyuga Arts, Lexington Conservatory Theatre, Chenango River Theatre, Centenary Stage Company, and the Orlando, Oregon, Colorado, Pennsylvania, Utah, Tennessee, Richmond and Lake Tahoe Shakespeare Festivals. A few of his favorite roles have been Austin Wiggin in the Los Angeles world premiere of The Shaggs: Philosophy of the World, Jake Sturdy in Kill Me Now, Lear in King Lear, David in Poor Super Man, Judi Boswell in How to Pray, Zach in A Chorus Line, and Rob in King of the Crystal Palace. He also created, performed, and toured internationally for four years with Beauty, a solo show inspired by the life and works of Jean Genet. He currently resides in Catskill, NY, and serves as an Associate Artist at Bridge Street Theatre where he has appeared in Shylock, The Epic of Gilgamesh, The Killing & The Love Death, Grinder's Stand, A Life in a Day: Lucky Lindy, Frankenstein: The Modern Prometheus, Holiday Memories, How to Pray, Frankie & Johnny in the Clair de Lune, The Revenge of the Space Pandas, There Is A Happiness That Morning Is, The Shaggs, Long Day's Journey Into Night, Shelley's Shadow and The Lion in Winter, and directed George M. Cohan's The Tavern, The Effect of Gamma Rays on Man-in-the-Moon Marigolds, and The Revenge of the Space Pandas.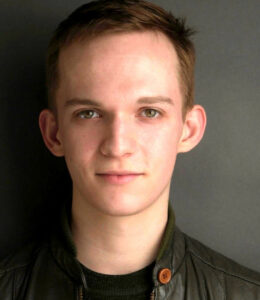 Jack Rento (Julian Crosse) is overjoyed to be returning upstate to make his Bridge Street debut! He grew up performing throughout the Capital Region, appearing in productions at Playhouse Stage, Schenectady Light Opera Company, and Debuts Theater, among others. This led him to pursue a degree in acting from Syracuse University. While there, he had the opportunity to train abroad at Shakespeare's Globe in London, the New York Tepper Semester, as well as Aaron Sorkin's Los Angeles Symposium. He is also a graduate of the New York State Summer School for the Arts. Credits include ABCDepression (New York Theater Festival), Kafka's Metamorphosis: the Musical (New York Musical Festival, DC Capital Fringe), This Is Our Youth (The Quarry Theater), Romeo and Juliet, Lippa's The Wild Party, and Our Town (Syracuse Dept. of Drama), as well as recent developmental workshops with The O'Neill Theater Center, Westport Country Playhouse, and ShowTown Productions. Jack is currently based in New York City. Many thanks to this marvelous company, Eric our fearless scribe and leader, and John and Steven for their incredible hospitality and championing of new work! www.jackrento.com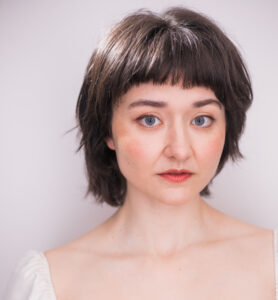 Em Whitworth (Rosemary Bassanio) is "full of joy and mirth" regarding her Bridge Street debut. NEW YORK: American Theater of Actors: The Minotaur. REGIONAL (selected): Kennedy Center: Maybe She Dies; Spooky Action Theater: Maple & Vine; Folger Theatre/Theater J: Nathan The Wise; Imagination Stage: The Very Hungry Caterpillar Show; Forum Theatre: What Every Girl Should Know, Dry Land, Love & Information; Longacre Lea: Whipping, or the Football Hamlet, Interstellar Ghost Hour; Synetic Theater: The Wizard of Oz, A Midsummer Night's Dream, Much Ado About Nothing, Hamlet… the rest is silence, The Tempest; Shakespeare Theatre Company: Julius Caesar, Sir Patient Fancy, The Imaginary Invalid; National Theatre: Magical Theater. TRAINING: Stella Adler Summer Conservatory – Enhanced Curriculum. Thank you to Eric, Steven, John and the cast & crew. Grateful for CHB, JM, CG. www.emwhitworth.com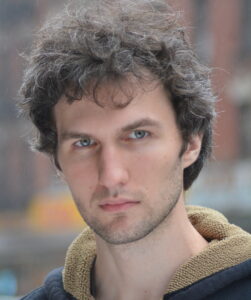 Andrew Goehring (Henry Worthy) is an actor and composer based in New York. He recently graduated from Steinhardt at NYU, where he earned his master's degree in music composition; he previously earned his BA at the Gallatin School of Individualized Study, where he studied acting, creative writing, and music. Previous theatrical credits include: The Crucible (John Proctor); Henry IV, Part 1 (Henry IV); Electra (Aegisthus); Iphigenia at Aulis (Menelaus/Achilles); The People Before the Park (Mathius Frackenhinger); Antigone (Chorus); Cabaret (Ernst); Almost, Maine (Peter). Short film credits include: "Camping With Rex" (dir. Matthew Brennan); "The Field" (dir. Jessica Raya). This is Andrew's first production at Bridge Street Theatre, and he's thrilled to be a part of the world premiere of Rude Mechanics.
Eric Hissom (Playwright and Director) is an actor, director, and playwright, and has worked in theaters all over the country, and in film and television. His theatre directing credits include: As You Like It and The Complete History of America at Orlando Shakespeare Theatre (OST), All in the Timing at Cape May Stage, The Thirty-Nine Steps at Florida Studio Theatre and Stones in His Pockets at Florida Theatre Project. Two of Hissom's adaptations, The Island of Doctor Moreau and The Strange Case of Dr. Jekyll and Mr. Hyde, have received multiple professional productions. His play Shakespeare and the Zombie Plague of 1590 (co-written with Richard Henry) was featured recently at OST's PlayFest. His plays, Daybreak and Dead Man Flying, were selected as Best of the Fringe at the Orlando International Fringe Festival, and Daybreak was produced at the Kraine Theatre in New York City. Rude Mechanics was developed, in part, in workshops at OST, the Arden Theatre, and the Folger Theatre. Hissom has an MFA from the FSU/Asolo Conservatory.