Play Two of our 2023 Season
May 25 – June 4

EAST OF BERLIN
by Hannah Moscovitch (Regional Premiere)
Directed by Margo Whitcomb
Set and Light Design by John Sowle
Costume Design by Michelle Rogers
Sound Design by Zak Kline
Stage Managed by Kiara Vedovino
Intimacy choreography by Yvonne Perry
Judaic Consultation by Tepper Saffran and Cantor Suzanne Bernstein
Dialect Consultation by Gregor Clark
Poster Art by Dina Bersztyn
With
Kara Arena*
Orlando Grant
JD Scalzo*
For Press Photos CLICK HERE.
For in interview with the director on InPlay Capital Region, CLICK HERE.
For a feature article in the Berkshire Eagle, CLICK HERE.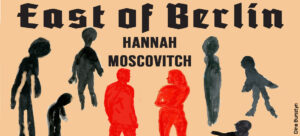 Comments So Far
"As stunning as it is unanticipated … 'In the end, truth will out,' Shakespeare wrote in 'The Merchant of Venice.' Indeed, truth does out, with a vengeance, in Canadian playwright Hannah Moscovitch's unsettling new drama, 'East of Berlin,' which is being given a compelling regional premiere at Bridge Street Theatre … A purposeful, shrewdly calibrated production of a play that, among so many other issues, reminds us of the ways in which past is present in this period of rampant moral ambiguity … An impressively measured, richly layered performance." Jeffrey Borak, Berkshire Eagle More …
Startling, unpredictable and emotionally stunning … 'East of Berlin', playing at Bridge Street Theatre in Catskill through Sunday, is a play loaded with tantalizing issues. However, at its essence this remarkable play's strength is the universal and timeless question of how do we overcome the past to forge our own identity in the present? … Playwright Hannah Moscovitch is phenomenal in creating a complex situation. She constantly shifts the moral ground of the play which makes honest the play's stunning final resolution. Her writing, along with the direction of Margo Whitcomb, has you feel like you've entered the world of Eugene O'Neill both in style of writing and the pacing of the play. Their work and Grant's portrayal of Rudi make him a literary heir to Hickey in 'The Iceman Cometh,' James Tyrone in 'A Moon for the Misbegotten' and Erie Smith in 'Hughie.' They are all flawed, tragic figures doomed to a life of solitary pain from the day they were born … A worthy work that you will long remember." Bob Goepfert, Troy Record More …
"Shattering … A work of art … Held the audience rapt for ninety minutes. Not a cough, not even a sneeze, one could feel the concentration. Bridge Street has a well-deserved reputation for producing off-beat and challenging work. EAST OF BERLIN is one of their best. See this stunning production!" Macey Levin, Berkshire On Stage More …
"Pure dynamite! … This company is fearless, taking on unusual and sometimes volatile
plays; this is definitely one of those. EAST OF BERLIN is a winner." J. Peter Bergman,
Berkshire Bright Focus More …
"A terrifically tense thriller! … The exceptional cast could not be bettered. Margo
Whitcomb does fantastic work with the three actors, the minimal set, and Moscovitch's
spare, incisive dialogue … I braced myself for the last third of the play for what was
coming – and I still didn't see it … Superlative!" Patrick White, Nippertown More …
"Thank you for bringing so much to those of us lucky enough to live here. Your
contribution and commitment to real theater is immense. Tonight, with the beautiful
staging and acting, we were all able to peek into a kind of honesty and sorrow that
informs our humanity. Enjoy the run and how it serves your audience." Elizabeth Troxell
"Go. See. This. Play. Wrenching. Timely. Necessary! Beautifully written, directed, and
delivered by a cast of fine brave actors." Michael Garfield Levine
"EAST OF BERLIN was exceptional. Everything about it was A+. Great, concise writing and
story-telling. Terrific performances. Excellent directing, a simple and very effective set …
It is a play that deserves wide attention and many more productions. Thank you for
bringing it to us. Last night was a testament to how lucky we are to have BST in Catskill.
Congratulations." Jay Lesenger
"Fabulous performances! Excellent play. Kudos to the Bridge Street team and artists!"
Catherine Rust
"It's an amazing production – beautifully acted and directed! … The performance/story
came through brilliantly. Hopefully you'll sell-out for the rest of the run." Jeffrey Hayenga
"What a nailbiter. An intrepid cast, a deeply engaged and generous audience, and a
great story … The technical aspects are so beautiful and precise. Forever indebted to
the poise and craft of Orlando Grant, Kara Arena, and JD Scalzo." Margo Anne
Whitcomb
"Powerful … I was quite blown away." Terry Sidell
"Superb!" Chris Foster
"Powerful play, a must see!" Debra Kelsey
"A genius piece in our little theater. So well written, well directed, well acted. Another
one of those moments when I'm saying to myself "I can't believe I'm seeing this in
Catskill." Don't miss it next weekend." Hudson Talbott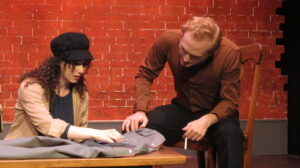 "Do not hold against us the sins of the fathers; may your mercy come quickly to meet us, for we are in desperate need." – Psalm 79: 7-9.
When the son of an escaped Nazi war criminal (still alive and living in Paraguay) and the American-born daughter of an Auschwitz survivor meet and fall in love in Berlin, what they choose to reveal to and conceal from one another brings the past crashing down on them. Love, guilt, and recriminations mix in the regional premiere of this riveting theatrical gut-punch from the author of last season's smash hit production of "Sexual Misconduct of the Middle Classes."
'East of Berlin' was a Nazi euphemism for the deportation of Jews to the death camps, where, unbeknownst to his son, Rudi's father conducted brutal "experiments" on prisoners. Estranged from his family after the true extent of his father's war crimes are revealed to him by a classmate, Rudi flees to Berlin where he falls in love with Sarah, who is Jewish, but reveals nothing to her of his family history. It is only after she becomes pregnant with his child that Rudi feels he must return to Paraguay to confront his father. The play is a genuine nail-biter, with the tension mounting higher and higher until a last-second climax as shocking as it is unexpected.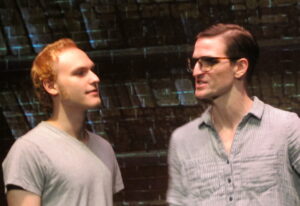 Hannah Moscovitch is an award-winning Canadian playwright who also created "Sexual Misconduct of the Middle Classes", presented by Bridge Street Theatre during the Fall of 2022. That acclaimed production was helmed by the magnificent Margo Whitcomb, who'll also be directing "East of Berlin". Featured in the cast are Orlando Grant as Rudi, JD Scalzo as Hermann, and Kara Arena in her BST debut as Sarah. The costumes are by Michelle Rogers, with sets and lighting designed by John Sowle. Kiara Vedovino is the production stage manager.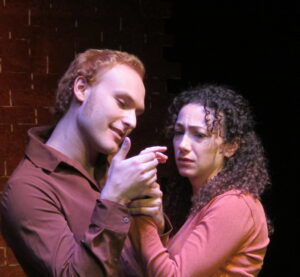 Bios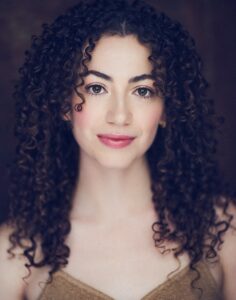 Kara Arena* (Sarah) is an NYC based actor and singer-songwriter. She was most recently seen performing in the Off-Broadway musical, Islander. Selected regional credits include: A Midsummer Night's Dream, Into The Woods (Connecticut Shakespeare Festival), Man of La Mancha (Riverside Theatre), Evita, Obama-ology (Bay Street Theater), The Winter's Tale, Twelfth Night (7 Stages Shakespeare Company), Picnic At Hanging Rock (Goodspeed Opera House New Works Fest). Gravitating towards developmental works, Kara performed as a company actor with the Mercury Store (Directing Lab) and has also collaborated and performed with Musical Theatre Factory, Manhattan Theatre Club, NY Classical, Rude Grooms NYC, and Off the Grid Theatre Co to name a few. In 2019, she received the Actors' Equity Foundation Roger Sturtevant Award for Excellence in Musical Theater. As a writer, Kara has worked as a commissioned composer with regional and NY based theater companies, interpolating her songs and melodies into classical plays and new works. Her debut singer-songwriter album, "Something Blue" is available now on all streaming platforms. She is a proud graduate of The Boston Conservatory and The William Esper Studio. karaarena.com @karaarena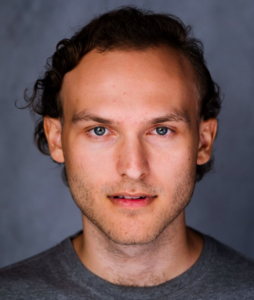 Orlando Grant (Rudi) is thrilled to return to Bridge Street after appearing in The Lion in Winter last fall. He is an NYC-based actor and recently graduated with a BA in Theatre Performance from Fordham Lincoln Center – favorite roles there included Astrov (Uncle Vanya), Pastor Greg (Hand to God), Orpheus (Eurydice) and Emcee (Cabaret). NEW YORK: Girlboss (The Tank / Lexi Spera), Stupid Fucking Bird (Studio 54 / Unsolic. & Uncred.) SELECT REGIONAL: Pass Over (Lost Nation Theater), Admissions (Middlebury Acting Company), Twelfth Night (Wyoming Shakes), The Nether (Waterbury Festival Playhouse), Much Ado About Nothing (Interlochen Shakes). Orlando has also written and mounted original works at Fordham and the Vermont Shakespeare Festival. He would like to thank his mom for always supporting and guiding him, and the entire Bridge Street and Berlin team for their commitment to this story. In the fall, he will begin studying toward an MFA in Acting at NYU Grad. Instagram: landograntww Website: orlandogrant.com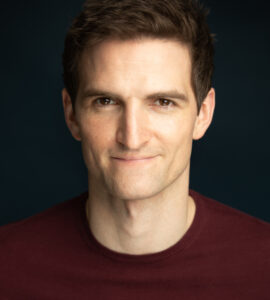 JD Scalzo* (Hermann) is thrilled to return to the Catskills, 10 years after the US premiere of Kill Me Now by Brad Fraser with Kaliyuga Arts. Since then, he has built a resume coast-to-coast and is a two-time San Francisco Bay Area Theatre Critics Circle nominee for the world premiere of JC Lee's warplay (New Conservatory Theatre Center) and Maggie's Riff (Faultline Theatre). Other credits include Peter and the Starcatcher, Sons of the Prophet, Oh Dad, Poor Dad, Follow Me Down, and History Boys to name a few. Film/TV: Devil's Path, The Broken Rose, Triads, Law & Order: Organized Crime, The Gay Husbands of San Francisco. In 2018, he created, wrote, produced and starred in his own web series jaded, still streaming on Revry. AEA, SAG-AFTRA. @jdscalzo
Margo Whitcomb returns to BST having directed the US premiere of Sexual Misconduct of the Middle Classes (also by Hannah Moscovitch) last season. Based in Vermont, Whitcomb is a director, actor, and educator (currently on faculty at UVM) who has directed and acted coast to coast as the former Associate Artistic Director of ACT in San Francisco, Founding Artistic Director of Half Moon Theatre and longtime associate of the Women Playwright's Series at CSC-NJ for which she has directed numerous world premieres, including How to Pray (with Steven Patterson) by Michelle Carter, later produced by BST. She will direct Imogen Says Nothing, a feminist hijacking of Shakespeare for the University of Vermont in the fall.
*Members of Actors Equity Association, the Union of Professional Actors and Stage Directors in the US.