ALL PERFORMANCES ARE SOLD OUT.
Saturday, November 9 at 5pm and 7pm
Sunday, November 10 at 2pm and 4pm
A musical pageant by Frank Cuthbert, based on the book by Hudson Talbott
Directed by Jay Lesenger
Musical Direction by Michelle Storrs-Ryan
Sets and Lights by John Sowle
Costumes by Michelle Rogers
Sound by Carmen Borgia
Stage Manager – Joshua Martin
River of Dreams was originally conceived and produced by Casey Biggs and the Greene Arts Foundation.
This production is supported by a generous grant from The Bay & Paul Foundations.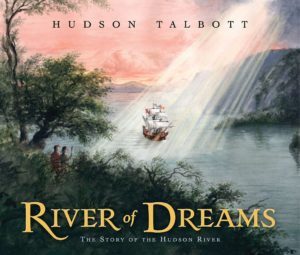 RIVER OF DREAMS is a musical by Frank Cuthbert, based on the book by Hudson Talbott, that celebrates the Hudson River as a source of inspiration and a means of livelihood to all who have lived along its shores. It pays homage to the river that shares its author's name in a gorgeously presented, fascinating account of the river's history. Using mostly local Catskill students as actors, this pageant will be an entertaining, educational experience highlighting the Hudson River's key role in the settling of the New World and the outcome of the Revolutionary War and the Hudson River as birthplace of the environmental movement. The production is directed by Jay Lesenger with musical direction by Michelle Storrs and sets and lighting by John Sowle and features a cast of Catskill school students.
This very special project is supported by a generous grant from The Bay & Paul Foundations. The production will be captured on video, and an educational package will be created that will be distributed to schools around the country to encourage them to reproduce the performance in their schools to spread the work about the vital part that the Hudson River played in the history of America.
Bios
Hudson Talbott (Author) has written and illustrated over 25 books for young readers. His book RIVER OF DREAMS – The Story of the Hudson River, was named the New York State Children's Book of the Year in 2009. It was produced as a musical in 2010 with music by Frank Cuthbert. Hudson's latest book, PICTURING AMERICA – Thomas Cole and the Birth of American Art  is a companion to RIVER OF DREAMS, and both are currently used extensively in school curricula throughout the Hudson valley.  Hudson's other works include the Newbury Honor Book SHOW WAY (written by Jacqueline Woodson) , ALA Notable Book LEONARDO'S HORSE (by Jean Fritz) and WE'RE BACK! A Dinosaur's Story, which was adapted into an animated film by Steven Spielberg. Hudson lives in Catskill, New York and has been a member of the board of trustees of the Thomas Cole National Historic Site since 2005. To learn more about his work please visit hudsontalbott.com.
Frank Cuthbert (Composer) is a composer and singer-songwriter who has performed in New York, Los Angeles and Nashville. As musical director for Shakespeare on the Hudson in Catskill, New York  Mr. Cuthbert composed music for "The Tempest" and "Midsummer Night's Dream". In 2005, Mr. Cuthbert founded BRIK gallery which in addition to showcasing art provided a venue for a jazz and a classical musical series. From 2004-2014, he served on the board of the Greene County Council on the Arts. In addition to self penned solo recording projects, Mr. Cuthbert has written five musicals. These include "Sea of Nod" based on the Rip Van Winkle legend; "River of Dreams," commissioned as part of the New York State Hudson River Quadra Centennial celebration; "O'Sullivan Stew" produced in Manhattan by Urban Stages and at Bowling Green University as a winner of their musical theater festival; and "The Last Pine Tree on Eagle Mountain" commissioned by Urban Stages for Earth Day 2012 and performed at the New York Public Library (Fifth Avenue). Mr. Cuthbert's current musical theater project "Coney Island", is set in 1946 at the dawn of the baby boom and has had a reading at the New School for Drama and at the Bridge Street Theater.
Jay Lesenger (Stage Director). During Jay Lesenger's more than 40 year career as stage director, administrator and teacher, he has become known for intelligent, honest productions which are dramatically compelling and musically knowledgeable. Mr. Lesenger has produced and directed more than two hundred opera productions for the New York City Opera, Chautauqua Opera Company, Atlanta, Hawaii, Milwaukee, New Orleans (the world premiere of Thea Musgrave's "Pontalba"), Opera Carolina, Opera Pacific, Palm Beach, Pittsburgh, San Diego,Virginia and many others.  His European debut was with Opera Nordfjord, Norway, and he has directed for Volkstheater Rostock in Germany. For 21 years, from 1994 to 2015, Jay was the General and Artistic Director of the Chautauqua Opera Company, the longest serving general director in the company's history. As a nationally recognized teacher of acting for singers, he has taught on the School of Music opera faculties at the University of Michigan and Northwestern University as well as for  the Washington National Opera's Domingo-Cafritz Young Artist Program. Jay has also staged productions for Mannes/The New School, the Manhattan School of Music, Julliard, Indiana University and the Academy of Vocal Arts. Jay is a frequent adjudicator for the Metropolitan Opera National Council Auditions and other vocal competitions.  He holds a Masters degree from Indiana University and a Bachelors of Music & Theater from Hofstra University.  Recent/Upcoming:  "The Ghosts of Versailles" for The Glimmerglass Festival/Cooperstown and The Royal Opera of Versailles; "River of Dreams" for Bridge Street Theater/Catskill and "Martha" for the Manhattan School of Music.
Michelle Storrs (Musical Director) Michelle is the musical productions director at Catskill High School. Previous productions include Grease, Anything Goes, The Little Mermaid, The Music Man, and Beauty and the Beast.  She was the musical director for the Bridge Street Theatre production of The Shaggs: Philosophy of the World. Previously she worked in the pit band of Catskill productions from "Seussical" through "Once Upon a Mattress." Michelle is an active pit band woodwind performer with schools. While at Catskill Elementary, Michelle directed and performed in three murder mystery dinner theatres that benefited the CMPSA. She directed Into the Woods, Jr. at the Brighter Choice Charter School in Albany, NY is 2014.  Michelle currently serves as the President for the Greene County Music Educators Association (GCMEA), Stage Crew Advisor at Catskill HS, and Department Chair for the Fine Arts Program at Catskill CSD.  She chaperones select students to perform at Carnegie Hall and Sydney Opera House. Outside of work, Michelle is an active member of the Boy Scouts of America with her three sons.
John Sowle (Designer) is Artistic and Managing Director of Bridge Street Theatre. He founded Kaliyuga Arts in 1986 with his partner Steven Patterson and received multiple awards for his directing and design work on their Los Angeles, San Francisco and New York productions. He has directed and designed BST's productions of the world premieres of The Letters, Casse Noisette and The Official Adventures of Kieron and Jade, as well as productions of There Is a Happiness That Morning Is, Leni, Redwood Curtain, How to Pray, Frankenstein: The Modern Prometheus, Holiday Memories, The Epic of Gilgamesh, The Killing & The Love Death (late plays of William Inge), and Grinder's Stand by Oakley Hall III. He also designed their productions of The Tavern, Souvenir, The Effect of Gamma Rays on Man-in-the-Moon Marigolds, Frankie & Johnny in the Clair de Lune, The Moors and The Subject Was Roses. John has an undergraduate degree in mathematics from M.I.T and a PhD in Dramatic Art from UC Berkeley.
Michelle Rogers (Costumes) began costuming plays while in college and continued working on high school productions throughout her teaching career. She's designed costumes for Marat/Sade, A Midsummer Night's Dream, Oliver!, and Pride and Prejudice, among others. Now retired from education, Michelle is delighted to be working with Bridge Street Theatre. She has been the costume designer for The Tavern, Frankenstein, The Effect of Gamma Rays on Man-in-the-Moon Marigolds, How to Pray, Redwood Curtain, Frankie & Johnny in the Clair de Lune, Leni, Driving Miss Daisy, The Letters, Better and The Subject Was Roses.