By Frank D. Gilroy
Directed by Flo Hayle
Designed by John Sowle
Costumes by Michelle Rogers
Sound by Carmen Borgia
Stage Manager – Joshua Martin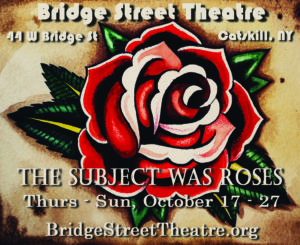 When 20-year-old Timmy Cleary returns from service in WWII, he finds himself in the middle of another war at home. Trapped in a troubled marriage, his mother and father each try to enlist him in their on-going battle against one another. Small acts of kindness and cruelty take on huge implications in this quietly devastating comedy-drama of familial conflict – and love.
Winner of the 1965 Pulitzer Prize for Drama, and the Tony and New York Drama Critics Circle Awards for Best Play.
BIOS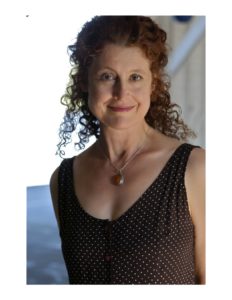 LORA LEE ECOBELLI* (Nettie Cleary) has been a professional actress, writer, director and teacher for 30 years. She has performed both On and Off-Broadway and in regional theatre's and can be seen in many independent films. She was last seen at Bridge Street Theatre in Driving Miss Daisy. As a writer, she has several published plays and screenplays and a heirloom cookbook coauthored with her brother Tom Ecobelli. She recently directed her screenplay La Transazione (The Transaction) which is currently premiering at film festivals. Lora Lee teaches theatre at The Theatre Institute at Sage College and is the Artistic Director of the Blue Horse Repertory Company.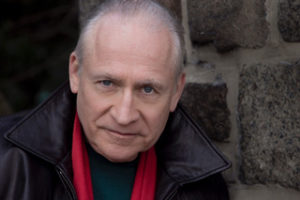 RON KOMORA* (John Cleary). Bridge Street Theatre debut. Recent theatrical credits: "Outside Mullingar" at Majestic Theatre, the world premier of "The Empaths" at Wellfleet Harbor Actors Theatre, "Southern Comforts" at the Lake George Dinner Theatre, "The Crucible" at Hubbard Hall, "Holy Laughter" at WAM, and "Unnecessary Farce" at Chenango River Theatre, in addition to fifteen seasons at the New York State Theatre Institute in roles ranging from Dickinson in "1776," to Scrooge in "A Christmas Carol." Television: "Cars That Made America" on the History Channel, and "Romance at Reindeer Lodge" on the Hallmark Channel. Film: "Tom's Dilemma," "The Thing on the Doorstep," and "Deep in the Darkness" on the Chiller Network. 2004 Audie Award for excellence in Audiobook Narration. Visit his page on the International Movie Database (IMDB). Proud member of Actors' Equity and SAG-AFTRA.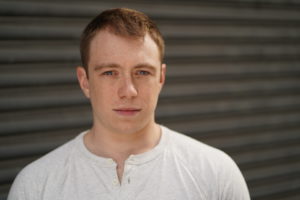 CALEB JOHN CUSHING (Timmy Cleary) is a Brooklyn-based actor and writer, as well as MFA Graduate of The Actors Studio. He has also studied acting, writing, theater, and literature at Ithaca College, Imperial College of London, and The National Theater Institute at the Eugene O'Neill Theater Center. He has interned with the New York Neo Futurists and Glass Eye Pix. His favorite credits include Konstantin in The Seagull, Eric in Columbinus, Louis in Angels in America: Perestroika, and Mozart in Amadeus. Other theater credits include Alan Strang in Equus, Howard in Moon Over Buffalo, and Bob the Weasel in the New York premiere of Uncle Rooster. His one act play Birdsong premiered at Three Legged Dog in March 2019. Thanks to friends and family for their endless love and support. www.CalebJohnCushing.com
FLORENCE HAYLE (Director). Flo went to the American Academy of Dramatic Arts a d one of her classmates was Grace Kelly. Her introduction to TV was in 1950 t WPIX in NY. She started producing and directing plays in coffee houses long before there was Off Broadway. She was in the Broadway musical "Sophie" by Steve Allen. She also appeared in the commercials for Total Cereal Volkswagen Show Boat Casino Nasal Spray. As a casting director she cast commercials for Coppertone, Maybelline and many more. Flo has appeared in night clubs in NY at The Ball Room, Freddy's, The 5's, Don't Tell MaMa, and on stage. Flo has also directed plays for the Ghent Playhouse. She has a radio show on I Hearts Radio.98.5 and 93.5. Flo also does her cabaret shows at the Bridge Theatre. She has also appeared at the Fort Salem Theater and their cabaret room This is the fourth show that she has directed here and says "I have found a great home."
* Member of Actors' Equity Association, the Union of Professional Actors and Stage Directors in the United States.