The Rape of Lucrece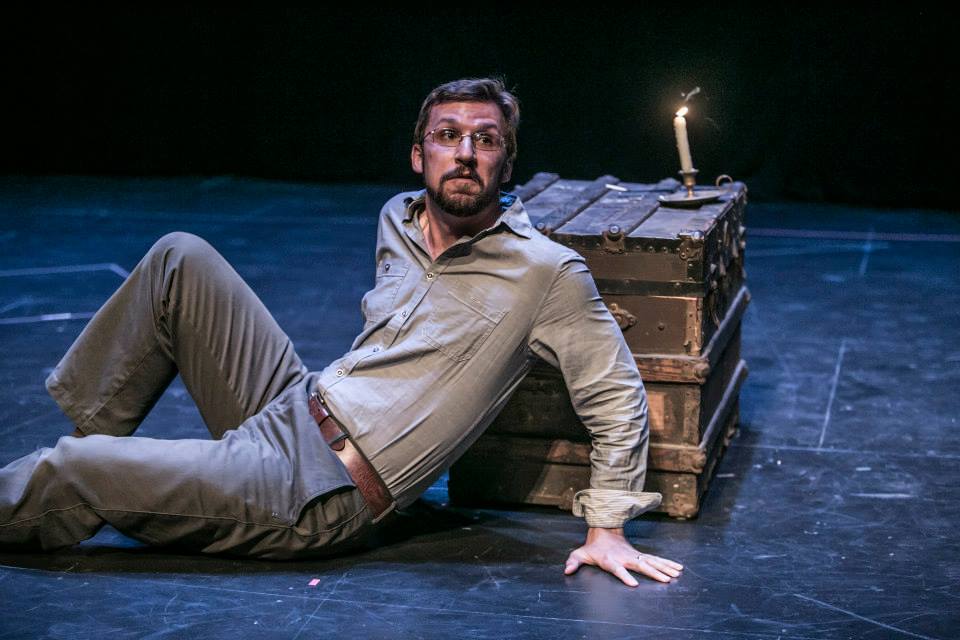 Penned originally in 1594, Shakespeare's poem The Rape of Lucrece recounts the legendary tale of the beautiful Lucretia and her brutal demise at the hands of Tarquin, who has been enflamed by reports of her incomparable chastity. This violent act sends ripples throughout the entire Roman Empire. Hodge's adaptation challenges audiences to ponder not only Tarquin's crime, but our society's own views of women.
Dan Hodge is a Philadelphia-based actor and director with a strong foundation in Shakespeare and the classics. As an actor, he has performed in over twenty full productions of Shakespeare's plays across the country at Pennsylvania, Delaware, and Michigan Shakespeare Festivals, Lantern Theatre, Two River Theatre Company, and The Old Globe (San Diego). In Philadelphia, he has directed recent acclaimed productions of Macbeth (Hedgerow theatre), The Tempest (Curio Theatre), Richard III (Commonwealth Classics), and Timon of Athens (PAC).
When asked about the content of the poem directly, Hodge explains: "The subject matter seems to be something that is, unfortunately, always timely. The events of the last few months and the wider public discussion surrounding gender roles and rape culture seem to cry out for a response. It's horrifying to consider that the mindset surrounding the justification of rape has remained unchanged since Shakespeare's time and likely long before." Hodge further notes that "Great theater is seldom about nice people doing good things for one another. Creating work that is difficult or even outright horrific for an audience will hopefully challenge them to dig deeper into their own lives to seek answers and possibly change their ways of thinking."
"It's hard to know which is the more astonishing: the revelation of a work by Shakespeare unknown to almost everybody, or the impassioned performance by Dan Hodge in delivering the epic poem, The Rape of Lucrece. Either way, this production by PAC (Philadelphia Artists' Collective) is not to be missed."
Toby Zinman, Philadelphia Inquirer
"Not only the performance of a lifetime by the incomparable Dan Hodge, but also a momentous socio-political statement and a stirring call to activism. This is a production that transcends the entertainment value of live theater and affirms its power in the sphere of human ethics … By my calculation, when you factor Hodge into Shakespeare, the sum of genius is multiplied exponentially."
Debra Miller, Phindie
"Extraordinary … It's a rare opportunity to hear a reading of Shakespeare's poetry – rarer still to be able to witness it performed as a piece of theater … A riveting performance."
Howard Shapiro, Shapiro on Theater
"Hodge deserves congratulations and acclaim for his sterling performance as well as for grasping the intrinsic drama in "The Rape of Lucrece" and having the foresight and courage to bring it to the stage. His work is nothing less than a bravura tour de force to be savored."
Neal Zoren, NealsPaper
"Dan, in roughly 90 minutes, brings to life Shakespeare's epic poem and puts on display the power of performance … If there is one show that is not to be missed, it is the PAC's production. It is as relevant today as it was 400 years ago."
Brock D. Vickers, Brock D. Vickers Blog
The Philadelphia Artists' Collective, founded in 2008 by Damon Bonetti and Dan Hodge, is committed to promoting rarely performed classical plays through workshops and readings in the greater Philadelphia area. It is comprised of a group of performance and visual artist seeking to encourage the development of a common vocabulary and to promote arts awareness within the Philadelphia community. Its past readings and workshops have featured some of the region's finest artists, and its full productions (Duchess of Malfi, Changes of Heart, Creditors, Timon of Athens, The Sea Plays, and Mary Stuart) have garnered wide audience and critical praise. Website: www.philartistscollective.org.
C.B. Smith & The Lucky Devils
C.B. SMITH & THE LUCKY DEVILS is a modern bluegrass quartet featuring singer-songwriter-guitar maven C.B Smith (a Catskill resident since 2007), fiddle phenom Megan Gugliotta, Berklee-trained bassist Bill Strohm, and mandolin prodigy Brendan Donovan. Their repertoire is a unique mix of originals, bluegrass classics (like the Bill Monroe Centennial set that was the centerpiece of their 2011 season), "grassed up" versions of American Songbook standards, and surprises like the occasional Tom Petty, Stephen Foster, Richard Thompson, Neil Young or Rolling Stones song. For this concert they'll be featuring the songs from their brand-new album BLUEBIRD.
C.B.'s 2011 release FLESH & BONE received glowing accolades:
"Flesh & Bone is authentic, alright, so much so that you can hear the picks and fingertips on the metal of guitar strings…it's like you're right there in the room, feeling the electricity flash…Something 'Bout a Train does in three minutes what most films can't accomplish in two hours in evoking the romance of rail travel." – Roll Magazine, February 2011
"Awesome work! C.B.'s songs ring true. There's no higher compliment as far as I am concerned." – singer-songwriter Mary Gauthier
"A gem…from the introspective title track…to the dark and delicious North Country Blues, Smith hits home and hits hard." – David Malachowski, Daily Freeman, Kingston, NY
"A world of talent!" – Rex Fowler of Aztec Two Step
Planet Arts presents
Boptitude Plays the Music of Kenny Dorham
Sat Nov 22 @ 8:00 pm
Boptitudd (a 4-Star DownBeat Ensemble) presented the music of one of the great trumpet pioneers of the be-bob era. The band used Kenny Dorham's classic compositions as a jumping off point for creative, swinging jazz improvisations.
Michael Benedict, drums, leader
Brian Patneaude, tenor saxophone
Chris Pasin, trumpet
Mike Lawrnnce, bass
Jon LeRoy, keyboards

Planet Arts presents
Chris Pasin's
Random Acts of Kindness
Sat Dec 6 @ 8:00 pm
New compositions by trumpeter/composer Chris Pasin inspired by artists such as Miles Davis, Wayne Shorter, Ornette Coleman and Alban Berg
Chris Pasin, trumpet
Mark Kleinhaut, guitar
Wayne Hawkins, keyboards
John Menegon, bass
Dave Berger, drums