October 1. Helluva Town: A New York Soundtrack
October 13-23. Frankenstein: The Modern Prometheus
October 30. Today's Brecht
Helluva Town: A New York Soundtrack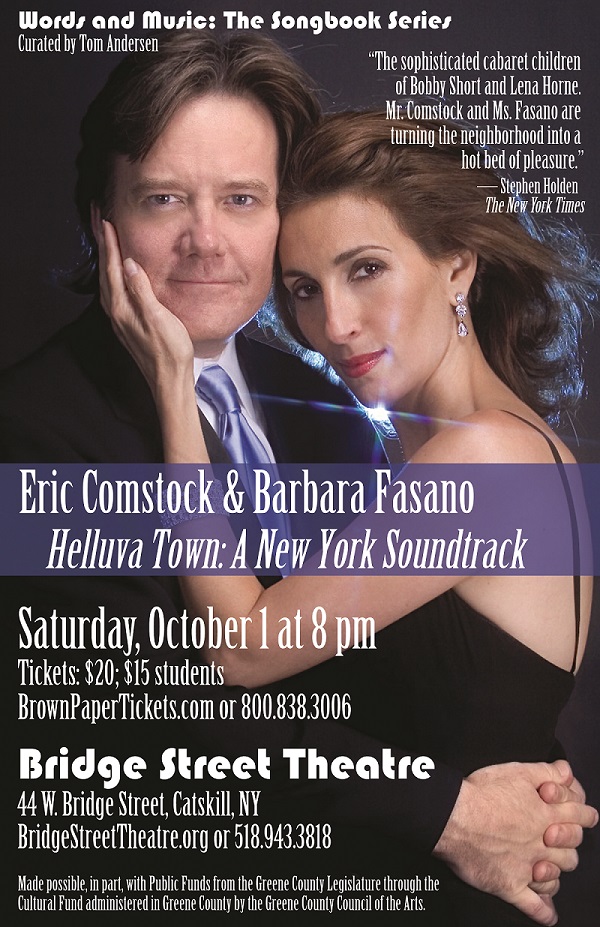 COMSTOCK & FASANO SALUTE NYC IN CATSKILL!
Catskill's Bridge Street Theatre, already renowned for its ambitious mix of theater, music, magic, and more, is thrilled to announce the fourth and final installment (for 2016) in Tom Andersen's "Words & Music: The Songbook Series": Award-winning married musical partners Eric Comstock and Barbara Fasano in a salute to the city that doesn't sleep called "HELLUVA TOWN: A New York Soundtrack."
Rather than trotting out the predictable New York anthems, this couple celebrate their love/hate relationship with New York City by presenting an eclectic mix of musical numbers from Broadway, Hollywood, and the pop/jazz songbook. The composers whose works they'll be performing run the gamut from Leonard Bernstein to Richard Rodgers, Paul Simon to Joni Mitchell and Burt Bachrach. A genuine "Manhattan" experience – without the Manhattan prices!
Comstock & Fasano sing two songs from GOLDEN BOY in a salute to Charles Strouse at the Allen Room, Jazz @ Lincoln Center, with Harry Allen (tenor saxophone), Peter Washington (bass) and Vito Lesczak (drums).
"HELLUVA TOWN" will be presented for one night only, Saturday October 1, 2016, on the Bridge Street Theatre Mainstage at 44 West Bridge Street in the Village of Catskill, NY. Advance tickets are available online at BrownPaperTickets.com or by calling them at 800-838-3006. Tickets can also be purchased at the door one half hour prior to the performance on a space available basis. BST's "Words and Music" series has been extremely popular and tickets tend to sell out fast, so pre-purchase is strongly recommended. You don't want to miss the pair Stephen Holden of the NY Times calls "The sophisticated cabaret children of Bobby Short and Lena Horne!"
FRANKENSTEIN: THE MODERN PROMETHEUS
Adapted by Jim Helsinger
from the novel by Mary Wollstonecraft Shelly<
Directed & Designed by John Sowle
Costumes by Michelle Rogers
Sound by Carmen Borgia
Stage Manager — Caedmon Holland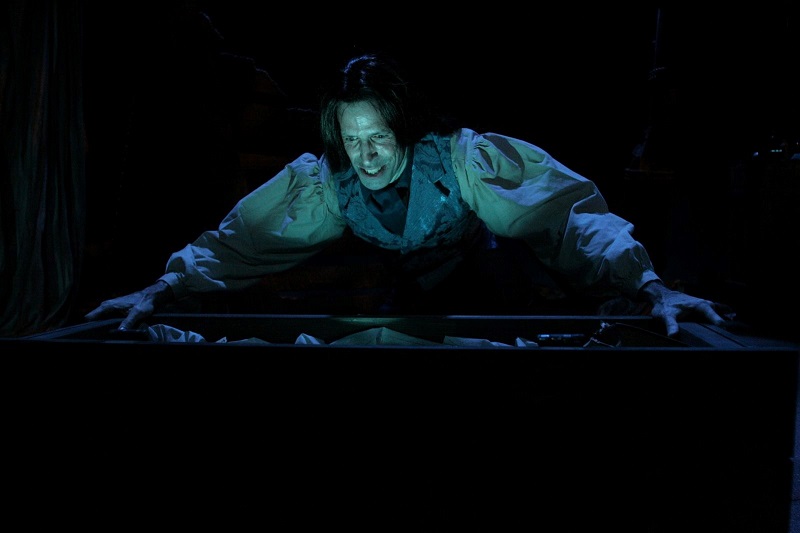 <
Steven Patterson as Victor Frankenstein
With
Steven Patterson as Captain Robert Walton
Steven Patterson as Victor Frankenstein
Steven Patterson as Doctor Krempe
Steven Patterson as Henri Clerval
Steven Patterson as The Creature
Steven Patterson as The Old Man
Reviews and Facebook Posts
"This is visceral acting produced by keen intelligence, alternating subtle nuance at one moment with throat-grabbing intensity at the next. This is also theater that deserves to be seen." –From Steve Barnes review in the Albany Times Union
"In all, this is an intriguing addition to the theater scene in the region and, perhaps, it should inspire a yearly retelling on this stage. It brings back the reality of what Shelley created and sends up the send-ups we've grown so used to seeing, even in an Abbott and Costello film. As for this edition, well, I'd see it again. Once a year." –From J. Peter Bergman's review on BerkshireBrightFocus.com
"Most of all, we're given a theatrical experience, and an unforgettable performance, that is the essence of theater. You're not going to see the likes of this anywhere else anytime soon, so you'd better get to Catskill this weekend. Otherwise you're making a monstrous mistake." –B. A. Nilsson in Words and Music
"Mesmerizing. Thank you to everyone for a great night. Everyone should go out and see this!" – Lizbette Ortiz Serrano
"Just wanted to say a few words about the performance a few nights ago. Wow! Zowiee! Aside from the words, congratulations on an outstanding performance by Steven! Very impressive and all around good work on all the elements … Sets and Lighting … Excellent!" – Ellen Honig
"EVERYBODY must go see this tour de force from our Steven Patterson." – Hudson Talbott
I am awestruck by the brilliance of this performance; thank you Steven. I've never been so enthralled by a play as I was today. – Donna Christensen
Frankenstein: The Modern Prometheus. Saw this today at Bridge Street Theater in Catskill. This is Broadway worthy. You don't need to go to Manhattan to see great theater…do this! Steven Patterson was amazing in his one person play about Frankenstein. It lasts until next weekend and highly recommend if you love theater! Thank you John Sowle and Steven Patterson! Steven Patterson, you were captivating! Amazing performance!!!!! Thank you. – Ann Ruecker
"Another brilliant production, another Steven Patterson/John Sowle tour de force. BST is one of the best things to happen to our region!" – Carl Bethge
"This is Broadway worthy … Amazing performance!!!!! Thank you." – Ann Ruecker
Whatever you do, You. Must. See. This. Show.Steven Patterson is absolutely amazing as he inhabits each and every character in the story. – Robert Ragaini
"I saw last night's performance of "Frankenstein…" I still have no words, and am still letting the entire work percolate. The lasting gift of a performance only Steven Patterson is capable of bringing to the stage, he is incomparable." — Betsy Barrett
Steven Patterson creates multiple characters in his incredible tour-de-force performance of "Frankenstein: The Modern Prometheus," and none is more startling than the monster itself. It arrives at the start of the second act like something that's just emerged from the primordial ooze. Only ONE MORE CHANCE to catch this show directed by the incomparableJohn Sowle and stage-managed by the fabulousCaedmon Avery Holland. – Tony Pallone
Reviews from Steven's performance at Orlando Shakespeare Theater:
"Jean-Louis Barrault, the great French actor, director and impresario, once said that one actor alone on a stage is enough to create theater — if necessary, total theater. Rarely has this dictum been more gratifyingly confirmed than in the Orlando Shakespeare Festival's current production of Frankenstein, the Modern Prometheus, a theatrical adaptation of Mary Shelley's supernatural novel of scientific ambition gone awry. In this impressive and literate stage version of the Gothic yarn, adapted by Festival artistic director Jim Helsinger, only one actor, Steve Patterson, appears on stage to tell the totality of the sad and distressing story of vanity and remorse. And he does so through the minds, bodies and souls of its three main characters — the ambitious seafarer and would-be discoverer Capt. Robert Walton; the proud and compulsive, but ultimately contrite and broken scientist, Victor Frankenstein; and, most magnificently, the lonely and despised monster, a childishly sympathetic and innocent being made from the rotting vestiges of charnel house corpses and graveyard remains. Moving briskly from one deft portrayal to another, Patterson weaves this tale-within-a-tale-within-a-tale with a control that is nothing short of masterful. … And while his portraits of the story's smaller roles offer comic relief, it's his commanding renditions of the play's three protagonists that fill the evening with its dazzling theatrical power. It's an acting tour de force that absolutely should not be missed … Patterson's phenomenal performance is one of total belief and total immersion in the doomed lives of its damned characters. It is a true experience of total theater. Barrault would have been proud … 'Frankenstein' a Monster Hit!"
Al Krulick, ORLANDO WEEKLY
"Oh my, the artistic performance by Patterson will keep you on the edge of your seat."
Pam Harbaugh, FLORIDA TODAY
"Frankenstein's enduring appeal is amply demonstrated by the Orlando-UCF Shakespeare Festival's decision to revive Shelley's tale in a play that even uses her original title, "Frankenstein — The Modern Prometheus." It's one of several recent examples of a director going back to the roots of Shelley's story — Kenneth Branaugh's 1994 movie version did the same thing. But whereas Branaugh's movie, which he starred in with Robert DeNiro, featured a huge cast, lavish sets and extravagant special effects, the play does something else entirely: it employs one actor, alone on the stage. And the results, frankly, are stunning, and far more impressive than the movie … Steven Patterson plays all the roles, including Walton, Victor and the creature. If it sounds dull watching one man stand on stage, speaking in a manner designed to imitate someone verbalizing the contents of a letter, you're way off. "Frankenstein — The Modern Prometheus" is a great example of what a very creative theater company can do … Patterson does a wonderfully imaginative job bringing the characters to life. He does this with unique changes in his voice, from the Yankee Capt. Waldon to the Germanic Dr. Frankenstein, to the low guttural moan of the creature as it learns to speak. His body language is just as impressive, from the dashing sea captain to the weak, dying scientist, who then becomes an energetic young student obsessed with the concept of reanimating the dead. Patterson provides a real tour de force as he commands the stage … In the spirit of Halloween, it would be hard to find better thrills than the ones provided by this very gifted actor … It's scary how good this one is."
Michael Freeman, LAKELAND LEDGER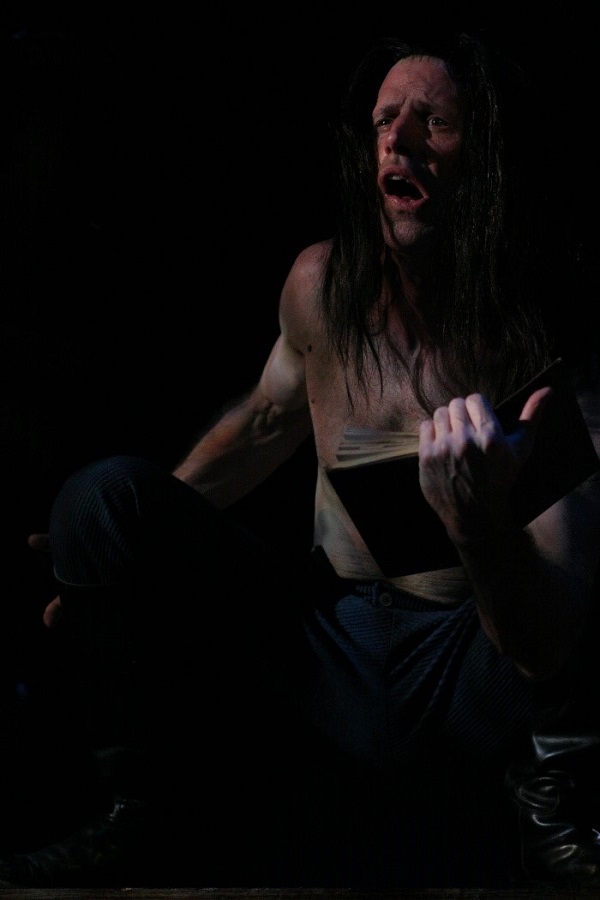 Steven Patterson as The Creature
Today's Brecht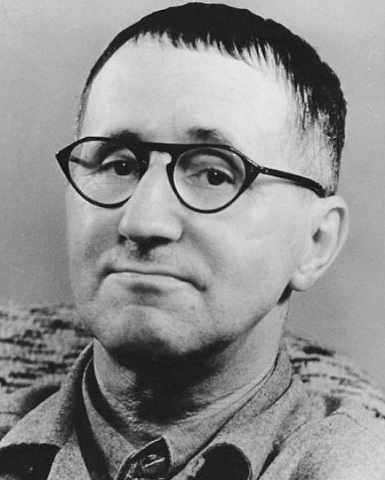 On October 30 at 2pm, The Blue Horse Repertory Company performed a benefit reading for the Bridge Street Theatre of two of Bertolt Brecht's short plays: "The Jewish Wife" and "The Informer" and some of the authors poetry and music from the period. The evening will be directed by Andrew Joffe and star: Stephen Jones, Jody Satriani, Lora Lee Ecobelli*, Caleb Brady and James Shearwood*.
The timely and provocative plays cast an eerier shadow on today's social issues.  In his exile from Germany (1933-1947) Bertolt Brecht began to tell the story of what was happening in a collection of scenes known as Fear and Miseries of the Third Reich or, as it was known when first produced in New York in 1944, The Private Life of the Master Race.
The Blue Horse Repertory Company is a professional theatre company based in the Hudson Valley. We are dedicated to providing an inclusive and collaborative environment where professional actors, writers and musicians can rediscover the classics, develop new work, and apply themselves to creating a richer cultural experience for the whole community.
www.Bluehorserepertory.com
http://Bluehorserepertory.com