November 6. The Fabulous Flo Hayle in No Biz Like Show Biz
November 11-13. Concrete Temple Theatre presents Geppetto
November 29. Ribbon Cutting for the new Mainstage
NO BIZ LIKE SHOW BIZ!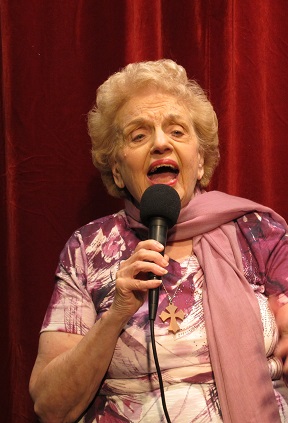 Catskill's own Flo Hayle brings the best of the Broadway Songbook to Bridge Street for a special one-time only benefit performance called NO BIZ LIKE SHOW BIZ! In this intimate afternoon soiree, the inimitable Ms. Hayle not only puts her own unique stamp on some of the greatest showtunes of all time ("People," "If He Walked Into My Life," "Adelaide's Lament"), but intersperses her musical performances with a catalogue of personal tales from her storied past. If there's a broken heart for every light on Broadway, Flo was probably on hand either to offer a shoulder or cry her eyes out herself.
NO BIZ LIKE SHOW BIZ! Is produced by Jan Grice, with Musical Direction by Jay Kerr.
FLO HAYLE (Performer). Flo Hayle has participated in all aspects of theatre throughout her career.  An accomplished and beloved cabaret singer, she has known many of the greats including Elaine Stritch, Liza Minnelli and Hildegarde. She has appeared in dozens of plays and musicals including SOPHIE by Steve Allen and, more recently, SENIOR MOMENTS at the Fort Salem Theatre.  She has been seen in TV commercials for Total Cereal and Volkswagen, among others.  As a director and producer, she was producing off-Broadway long before there was anything known as "off-Broadway", was casting director for Muriel Cigars, Coppertone, and Maybelline, and director of PRISONER OF SECOND AVENUE at The Ghent Playhouse and THE PROPERTY KNOWN AS GARLAND right here at the Bridge Street Theatre, where she is also a member of the Board of Directors.  Flo hosts a weekly radio interview show called "Arts Alive" on 98.5FM and 93.5FM.
JAY KERR (Musical Director). For most of his fifty-one years in show business, Jay Kerr operated a music studio in New York City, literally and figuratively between Broadway and Carnegie Hall, where he arranged music, worked with songwriters on new projects, instructed singers for stage, cabaret, and recording (www.jaykerr.com), and wrote songs and incidental music for cabaret and theater. As a vocal instructor and voice coach, he has shaped musical performances by, among many others, Uzo Adubo, B.J. Crosby, Sandy Dennis, Tovah Feldshuh, Sally Ann Howes, Frank Gorshin, Debbie Gravitte, Bob Gunton, Mark Jacoby, James Naughton, Charlotte Rae, Phil Silvers, Neva Small, Dee Wallace Stone, and Joanne Woodward. His students have appeared in countless Broadway musicals, including BLACK AND BLUE, A CHRISTMAS CAROL, CATS, CHICAGO, FASCINATING RHYTHM, FIDDLER ON THE ROOF, FOOTLOOSE, FORBIDDEN BROADWAY, 42ND STREET, A FUNNY THING HAPPENED ON THE WAY TO THE FORUM, HIGH FIDELITY, GOOD VIBRATIONS, JEKYLL AND HYDE, THE KING AND I, LA CAGE AUX FOLLES, LES MIZ, MISS SAIGON, MOVIN' OUT, OKLAHOMA, ROCK OF AGES, AND SUNSET BOULEVARD.
Currently Artistic Director of Fort Salem Theater in Washington County, Jay has worked with Flo Hayle for over thirty years, and brought her ought of her early retirement to sing in SENIOR MOMENTS at Fort Salem in 2011. She hasn't stopped singing since!
JAN M. GRICE (Producer) has been involved in theatre for over 60 years, appearing in more than 30 musicals in summer stock, with Agnes Moorhead, Dorothy Collins, Ann Blyth, Raul Julia, Pattie Page, Jessica Walter, Jane Morgan, Marilyn Michaels, Molly Picon, Sandy Duncan and Carol Baker. Jan worked for numerous architectural and interior design firms in New York City, and for 17 years he traveled the U.S., South America, Japan, Hawaii and Puerto Rico as the National Director of Design and Planning for what was then Price Waterhouse. He worked with HRC Showcase Theatre in Hudson for 15 years and was president of the Board of Directors for 11 years and president of the board of directors of Columbia County Council on the Arts until 2015.
GEPPETTO: EXTRAORDINARY EXTREMITIES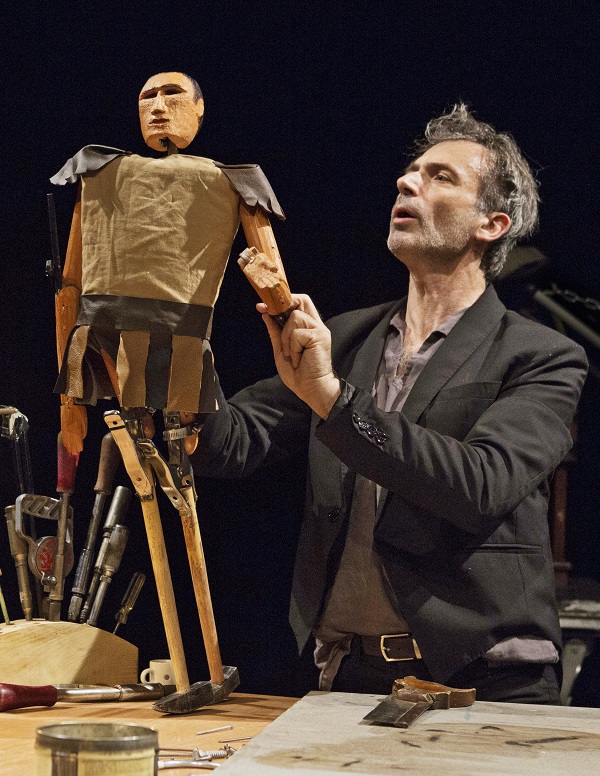 Concrete Temple Theatre presented their one-man puppet theatre extravaganza, GEPPETTO: EXTRAORDINARY EXTREMITIES, inspired by an NPR feature on Hugh Herr, who now designs technologically advanced artificial limbs after losing his own legs in a climbing accident,
Audiences of ALL ages enjoyed this tale of resilience and adaptation about a puppet-maker named Geppetto (remember Pinocchio?) whose wife and partner has recently died, and who attempts to perform the mythical love story of Perseus and Andromeda for the first time without her. As the performance goes haywire, he finds himself desperately improvising new storylines, new characters, and even new limbs for his puppet hero. Written and directed by Renee Philippi, created, designed, and performed by Carlo Adonolfi, and featuring cellist Jeanette Stenson.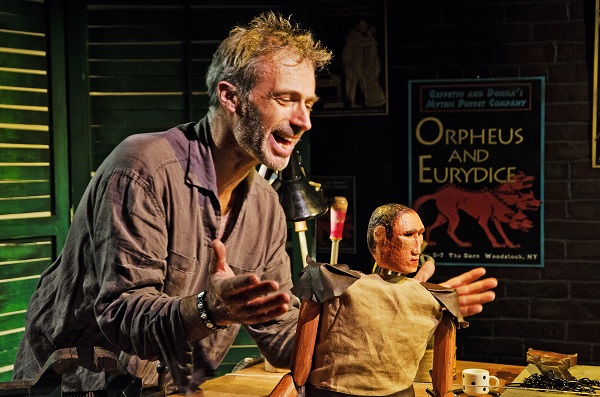 CARLO ADINOLFI (Creator, Designer, Performer) is Artistic Director of Concrete Temple Theatre with Renee Philippi. He was born in Italy and received a BSc in Mathematics, Warwick University UK. Carlo studied dance at Goldsmith College London and Dance Notation Bureau NYC. He has danced with Laura Pawel Dance Company, Sara Pearson/Patrik Widrig and Dancers, The Corner Store, and Spoke the Hub. His experience in acting and stagecraft began as master carpenter at Pace Downtown University, then as TD at Sarah Lawrence College where he also studied acting, lighting design, Alexander technique, and puppetry. He has worked as a TD for countless theatre companies in NYC and has been teaching set design at Simon's Rock and Sarah Lawrence College. Carlo's credits include: (Co-Creator/Set and Puppet Designer/Performer) BIRD MACHINE: Orlando Puppet Festival, Istanbul International Puppetry Festival, Ataturk Cultural Center, Bursa, Turkey; PIERROT, Stara Zagora and Small City Theatre, Sofia, Bulgaria; (Co-Creator/Set and Puppet Designer/ Performer) THE WHALE: toured 7 major cities of India and Sri Lanka, Assembly Rooms, Edinburgh, and Off-Broadway, Barrow Street Theatre; (Co-Creator/Set & Puppet Designer/Performer) HUDSON TO CHINA: Great Small Works 9th Toy Theater Festival, St. Ann's Warehouse; (Co-Creator/Set and Puppet Designer/Performer) GEPPETTO: performing in Italian for a 7-city tour of Northern Italy and then performing in Spanish at Teatro Jaco, Costa Rico. Carlo recently designed Concrete Temple's ALONE IN TRIPTYCH. He is Designer and Performer for Concrete Temple's THE BELLAGIO FOUNTAIN HAS BEEN KNOWN TO MAKE ME CRY, November-December 2015, HERE, NYC.
He has been a resident artist at Wildroot Arts, Nantucket Historical Association, The Yard, Workspace for Choreographers, The Flea Theater, Hudson Opera House. He's a recipient of the Independent Artists Challenge Program Award, Jim Henson Foundation Grants, EST/Alfred P. Sloan Foundation Science and Technology Project Commission and a member of Ensemble Studio Theatre. He was recently awarded the Bel Geddes Design Enhancement for his BELLAGIO design.
RENEE PHILIPPI (Director/Writer), Artistic Director of Concrete Temple Theatre with Carlo Adinolfi, holds a BA from UofM-Flint (ClassValedictorian), MA (Creative Writing/English) and MFA (Theatre/Directing) from CUNY. Her education includes assistant directing with Frank Castorf, Deutsches Theater, East Berlin as well as with Michael Rudman and Steven Berkoff, Public Theatre, NYC. For over 25 years, Renee has been writing and directing in NYC, nationally and internationally. Most recent favorites: GEPPETTO (Writer/Director) toured 7 cities in Northern Italy (shows in Italian); Jaco and Playa Hermosa, Costa Rica (shows in Spanish), HERE, NYC; Off-Broadway at SoHo Playhouse; Bard Summerscape; Pontine Theatre, NH; Rowan University, NJ; Dairy Center for the Arts, CO. ALONE IN TRIPTYCH (Writer/CoDirector), which began fall 2012 as part of Concrete Temple's Artists' Residency at Dixon Place, premiered at HERE, March 2014. THE BELLAGIO FOUNTAIN HAS BEEN KNOWN TO MAKE ME CRY (Writer/Co-Director) workshop presentation, Studio 301, Brooklyn, April 2015 and premiering at HERE, NYC, November-December 2015. BIRD MACHINE (CoCreator/Director/Writer) presented at 14th Istanbul International Puppetry Festival May 2011 and Bursa, Turkey; September 2011 at PIERROT, Stara  Zagora and Small City Theatre, Sofia, Bulgaria, and Orlando Puppet Festival 2010. THE BYSTANDER PROJECT (Adapter/Director) premiered November 2011 and has been touring NYS since. THE WHALE (Director/Adapter) made its Off-Broadway debut at Barrow Street Theatre and was seen in the seven major cities of India and Sri Lanka as well as nationally.
Renee is an alumna of the Women's Project Directors Forum, Spiderwoman Theatre, and Ice Factory Festival. She is a member of Lincoln Center's Directors Lab, New Georges, The League of Professional Theatre Woman and has been Artist-in-Residence with Mabou Mines, Playwrights Center Minneapolis, St. Ann's Warehouse, Directors Company, Nantucket Historical Association, Workspace for Choreographers, The Flea Theater, Hudson Opera House, The Yard, Dixon Place, and Directing Fellow at Williamstown Theatre Festival.
CONCRETE TEMPLE THEATRE is a multi-disciplinary company that emphasizes the creation of compelling new theatre works, incorporating drama, dance, devising, puppetry, music, and the visual arts, which focus on the individual's struggle for identity and society's struggle for cohesion. Through touring their shows and presenting workshops in New York City, nationally, and internationally, Concrete Temple strives to bring myth and ritual back to the center of dialogue, while making connections and opportunities for diverse audiences to question and examine their place in the world.http://concretetempletheatre.com/
Ribbon Cutting for the new Mainstage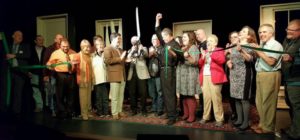 Hope you joined us for a milestone in BST's history!  A ribbon cutting for our Mainstage as well as an event to help us get a little closer to our Capital Campaign goal of $35,000. Please make a bigger commitment and buy a seat in the auditorium that will forever have your very own plaque on it!  Or you can make a secure online donation from our Help page HERE.