November 6-15 BOND: the story of a soldier and his dog
November 12. Stars and Stripes A Fundraiser for Veterans' Day
November 14. C.B. Smith and the Lucky Devils
November 20. The Magic of Steven Brundage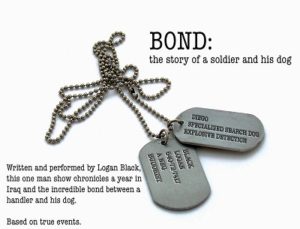 2006 was one of the bloodiest years in Operation Iraqi Freedom. Iraqi society fractured and eventually devolved into sectarian violence, Saddam Hussein was executed, and a young man with a yellow Lab at his side found himself right in the middle of it. In his award-winning one-man show ("Best of Kansas City Fringe Festival 2015" and pitch.com's "Best Original Play by a Local Playwright"), writer/performer Logan Black tells the story of his experiences as a Specialized Search Dog Handler, training and later working alongside his bomb-sniffing K-9 partner Diego in Al Anbar province. It's a true narrative of monotony, boredom, and daily searches of cars, streets, and buildings, interspersed with harrowing episodes when actual weapons caches were discovered, when approaching cars wouldn't obey commands to stop, and when their convoy was hit by an IED (improvised explosive device). The play then deals with their separation on their return to the States and Black's struggle to locate Diego after Diego has reached near-retirement age and both are suffering from PTSD.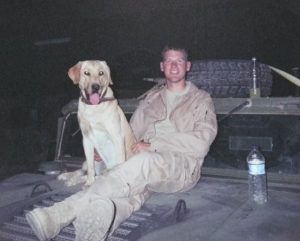 Logan Black (playwright/performer) was a member of the Utah National Guard while he attended the acting conservatory at the University of Utah. During his senior year he was called to active duty and suspended his training. Five years later, after meeting Diego and serving in Iraq, Logan returned to undergraduate studies and completed his Bachelors in Fine Arts. He spent two years acting in Chicago and regional theaters before attending the University of Missouri at Kansas City to earn his Masters in Fine Arts in Acting and Directing. He is a proud member of the Actors' Equity Association, the union of professional actors and stage managers in the United States.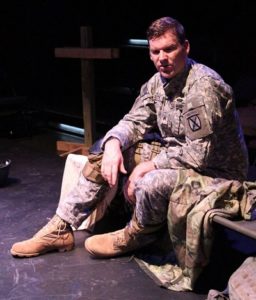 Press:
Interview with Logan on Berkshire on Stage
Interview with Logan on The Daily Mail
Stars & Stripes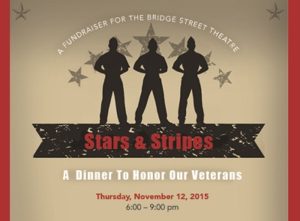 An opportunity to meet Logan and Diego personally at Bridge Street Theatre's Day-After-Veteran's-Day Stars & Stripes Italian Dinner Fundraiser. Enjoy entertainment, food (catered by Tatiana's Restaurant in Catskill), and fellowship while honoring our Veterans and supporting the work of Bridge Street Theatre and the Wounded Warrior Project. Thursday evening November 12 from 6:00 – 9:00pm.
C.B. Smith & the Lucky Devils
C.B. Smith & the Lucky Devils will bring their unique mix of literate songwriting, bluegrass fire and classical training to the Bridge Street Theatre on November 14.
Led by guitarist and songwriter C.B. Smith, the multigenerational band features fiddle phenom Megan Gugliotta, Berklee-trained bassist Bill Strohm and mandolin maven Brendan Donovan.  The quartet will perform material from their two albums of original material, including the 2015 release "Bluebird".
Renowned singer-songwriter Mary Gauthier says, "Awesome work!  C.B.'s songs ring true.  There's no higher compliment as far as I am concerned."
The concert will be preceded by a songwriting workshop led by C.B. Smith from 12:00-1:30.  Participation will be limited to six students.  To preregister please call 518-943-3818.
The Magic of Steven Brundage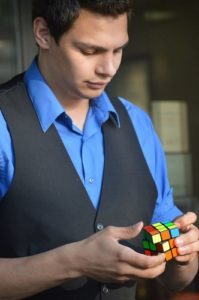 Steven Brundage is a professional magician, who, at the age of 24, has been practicing magic for over half of his life. Perhaps most famous for his nearly impossible Rubik's Cube routine, Steven has been making a name for himself all over the world. Recently coming into the global spotlight for his viral video, magician gets out of speeding ticket with magic.
Steven has now been seen on television shows in Russia, Japan, and Britain as well as on television shows in the US, such as ABC's Good Morning America (December 2014), NBC's Today Show (December 2015), Caught on Camera with Nick Cannon (July 2015), Penn and Teller's Fool Us (August, 2015) and NBC's The Steve Harvey Show (January 2015). In addition, his resume is lined with features on news outlets, including The Huffington Post, New York Daily News, Buzzfeed, The Daily Mail, and more.
Specializing in stage, walk-around, and close-up performances for high-end corporate events and private parties, Steven's adaptive show is the embodiment of modern magic — hilarious, astonishing, and consisting of new and original tricks that cannot be seen anywhere else. Watch as Steven expertly solves a Rubik's Cube in one second, blindfolded, behind the back, and more.