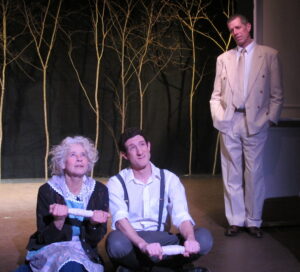 December 8-18 Holiday Memories
Bridge Street Theatre presents
HOLIDAY MEMORIES
Truman Capote's "The Thanksgiving Visitor" and "A Christmas Memory"
Adapted for the Stage by Russell Vandenbroucke
Directed & Designed by John Sowle
with Sets by Marc Swanson, Costumes by Michelle Rogers, Sound by Carmen Borgia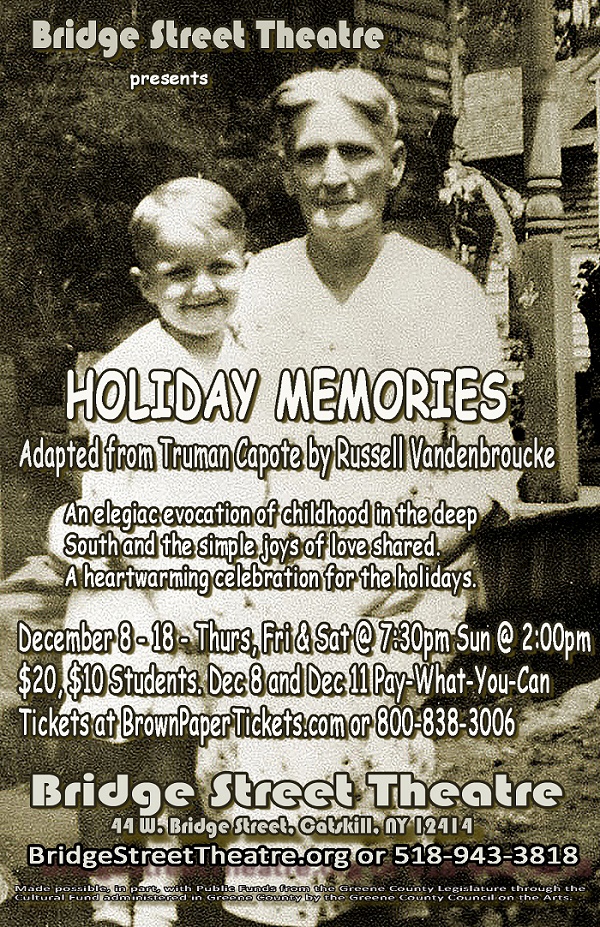 When his parents' marriage dissolved, the young Truman Capote was left in the care of distant relatives in Monroeville, Alabama (which also served as the model for Maycomb in his childhood friend Harper Lee's novel "To Kill a Mockingbird"). There, he formed an unbreakable friendship with the youngest of his elderly cousins, a shy, childlike spinster he called "Sook". The relationship between these two 'outcasts' forms the basis for the stories which make up "Holiday Memories," a chronicle of growing up 'different' in the deep South during the depths of the Great Depression and an ode to the simple joys of love shared. A holiday treat the entire family can enjoy together, the play is a terrific alternative to more traditional seasonal fare.
The cast features Christopher McIntyre as Buddy, Steven Patterson as Truman, Nancy Rothman as Miss Sook Falk, and the chameleonic Andrew Joffe and Louise Pillai as everyone else!
REVIEWS AND COMMENTS FROM OUR AUDIENCE
"On stage at Bridge Street Theatre in Catskill, New York a very talented group of artists brings the characters to genuinely sincere life … A unique style of 'story-theater' with a simplicity that never grows old …This early Christmas gift from the young company in Catskill is a lovely alternative to yet another 'Christmas Carol' or any other more traditional Holiday show. It's a short run, which is really too bad, for it is an experience not to be missed." — J. Peter Bergman, Berkshire Bright Focus.
Some Facebook posts
"Just saw "Holiday Memories," and it was wonderful! Lifted my spirits, made me laugh and cry, and was so heartwarming. I can't wait to see more productions here!" — Heather Williams
"Go see this magnificent play! Exquisitely acted and directed with a sensitive hand. I loved every moment." — Lora Lee Ecobelli
"GO. Beautifully done… It would be a privilege to be directed by John Sowle someday. It's the movement on stage… and the subtle constant presence of the actors in their movements … YOU MUST GO." — Scott Myer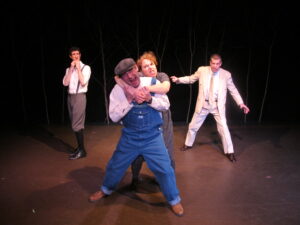 "Give your family a gift. There is something that a live experience gives, something your heart and mind carry away, something nothing else can give and never will, other than theatre. 'Holiday Memories,' a gift given by the gifted. Go see it! I'll go with you, please go! Fill up those seats, and treat yourself to an unforgettable time." — Betsy Barrett
"We saw 'Holiday Memories' on opening night. Another terrific production and a great choice of a play as well. Poignant and sweet. Engaging and a perfect moment in another time and place in America. GO!!!!" – Susan Goldman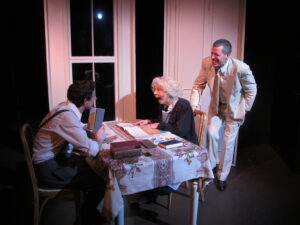 The cast featured Christopher McIntyre as Buddy, Nancy Rothman as Miss Sook Falk, Steven Patterson as Truman, and the chameleonic Andrew Joffe and Louise Pillai as everyone else! It was directed and designed by John Sowle with set pieces created by visual artist Marc Swanson, costumes by Michelle Rogers, and sound by Carmen Borgia.
The production was partially underwritten by Frank Cuthbert and Mary Ellen Gallegher.
Bios: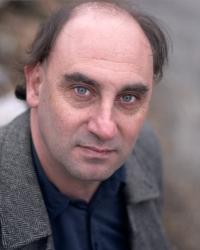 Andrew Joffe (Man)  Kaaterskill Actors Theatre: "Amelia," "On the Rocks," "A Christmas Carol"; Berkshire Historical Society:  "Melville in a Lighter Vein";  BCC Players:  "Seriously Funny"; BTF: "Made in the Berkshires," "Moonchildren"; New Stage Theatre: "Blood Sky," "Trial of FDR," "Fahrenheit 451," "The Dock Brief"; "A Thousand Clowns," "New Works at NEW Stage";  Castle Hill Theatre:  "Case of the Missing Mummy," "And Then There Were None," "family theater"; Mixed Company:  "April in Paris"; Aglet Theater: "Sin," "Sylvia," "The Waverly Gallery," "Don't Blame Me: I Voted For Helen Gahagan Douglas," "The Dining Room," "The Art of Dining," "That Championship Season," "Dance of Death," "Chapter Two," "Copenhagen," "God of Carnage," "The Velocity of Autumn"; Workshop Playhouse: "An Evening with David Ives," "Signs of Life," "Radio Paramus," "The Original Last Wish Baby";  Copake Theatre Company: "A Tuna Christmas," "Lone Star," "Where the Albatross Flies".  Also: playwright, director, award-winning opera librettist and poet.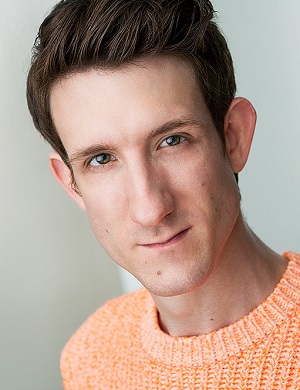 Christopher McIntyre (Buddy) is a graduate of the University of Kentucky with a BFA in Acting. As a current resident of New York City, he is an associate artist with Random Access Theatre, where he made his acting debut playing Hortensio in "Taming of the Shrew". Recent credits include: Rosencrantz in "Hamlet" (Stag & Lion Theatre), Speed in "Two Gentlemen of Verona" (Inwood Shakespeare Festival), C-3PO in "The Empire Striketh Back" (Random Access Theatre), The Royal Butler in "Yosef: A New Musical" (Master Theater), Scream King in "Gas Station Horror" (People's Improv Theater), Cupid in "The Eight: Reindeer Monologues" & Bureaucrat in "Lysistrata" (The AlphaNYC), Burgundy in "King Lear" & Simple in "The Merry Wives of Windsor" (Orlando Shakespeare Theater), Luke in "Next Fall" (Mad Cow Theatre).www.christopheramcintyre.com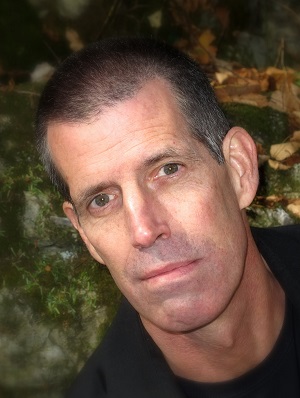 Steven Patterson* (Truman) is Associate Director of Bridge Street Theatre. He has performed both Off- and Off-Off-Broadway in NYC, and regionally with such theaters as Kaliyuga Arts (which he founded with his husband, John Sowle, in 1986), South Coast Repertory, Capital Repertory, TheatreWorks, Lexington Conservatory Theatre, Chenango River Theatre, Centenary Stage Company, Depot Theatre, Contemporary Opera Marin, and the Oregon, Orlando, Colorado, Pennsylvania, Tennessee, Utah, Lake Tahoe, and Richmond Shakespeare Festivals. A few of his favorite roles have been Lear, Prospero, Michael Williams in "Henry V," Austin Wiggin in "The Shaggs: Philosophy of the World," David in "Poor Super Man," Judi Boswell in "How to Pray," The Storyteller in "The Epic of Gilgamesh," The Creature in "Frankenstein: the Modern Prometheus," and Jean in "Beauty," a one-man show inspired by the life and works of Jean Genet which he created, performed, and toured with internationally for four years. He currently resides in Catskill, NY.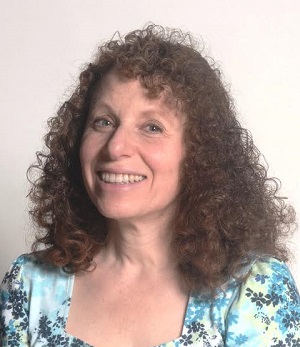 Louise Pillai (Woman) has been involved with various venues in the tri-state area for the past 17 years, including Kaliyuga Arts, Stageworks/Hudson, Tri-Arts, The Rhinebeck Center for the Performing Arts, HRC, The Ghent Playhouse, and others.  Some favorite roles: Fraulein Schneider ("Cabaret"), Mrs. Peachum ("Threepenny Opera"), Delia ("The Mound Builders"), Sister Acacius ("The Divine Sister"), and Dorine ("Tartuffe").  She has previously appeared at Bridge Street Theatre as Emily in Natalie Symon's "Lark Eden" and Violet in George M. Cohan's "The Tavern".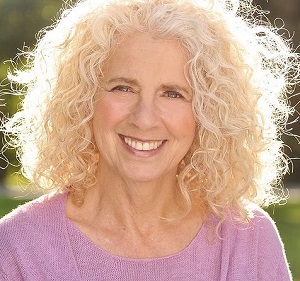 Nancy Rothman* (Miss Sook Falk) appeared at the Bridge Street Theatre as Mrs. Grinder in last season's critically-acclaimed production of Oakley Hall III's "Grinder's Stand" and is delighted to return in "Holiday Memories."  She has performed on film, television and stages in NYC, abroad and regionally, most recently with such companies as The Lake George Theatre, Blue Horse Repertory, Walking the Dog Theater, Storm Warnings Repertory, Barrington Stage Company, The Actors Ensemble, and Stageworks. A graduate of Emerson College, she has also trained at the OM Theatre Workshop, NYU in Paris, Harvard, Salem State, Northeast Missouri State, and with the Michael Chekhov School as well as with many fine teachers. Favorite roles include Eurydice in "Antigone," Mrs. Carpolatti in "Three Viewings," Lysistrata in "Lysistrata," Emily Dickinson in "The Letters of Emily Dickinson," Mrs. Wire in "The Lady of Larkspur Lotion," Mrs. Grinder in "Grinder's Stand" and Amanda Cross in "Southern Comforts." A founding member of Hudson Air Radio Theatre, Blue Horse Rep's improv ensemble Horse Play, and WtD's improv group OFF LEASH, she performs, teaches and engages in improvisation with all age groups.
John Sowle (Director/Designer) is Managing Director of Bridge Street Theatre. He has produced, directed, designed, and performed in hundreds of productions over the years. He founded Kaliyuga Arts in 1986 with his husband Steven Patterson and received multiple awards for his directing and design work on their Los Angeles, San Francisco and New York productions. In Manhattan, John directed and designed Samuel Beckett's "All That Fall" and Dan Carbone's "Kingdom of Not" at the Cherry Lane Studio and the Al Carmines/Gertrude Stein musical "In Circles" at Judson Church. In 2012 he directed and designed Lanford Wilson's "The Mound Builders" and in 2013 directed and designed Brad Fraser's "True Love Lies" and the U.S. premiere of "Kill Me Now," all at the Cross Street Theatre Center in Hudson, NY. For Bridge Street Theatre, he has directed and designed Natalie Symon's "Lark Eden," Steven Patterson's "The Epic of Gilgamesh," William Inge's "The Killing" and "The Love Death," Oakley Hall III's "Grinder's Stand," Dick D. Zigun's "A Life in a Day: Lucky Lindy," Johnna Adams's "Gidion's Knot, and Jim Helsinger's "Frankenstein: The Modern Prometheus," and he designed set and lights for the first production on their new Mainstage, George M. Cohan's "The Tavern." John has an undergraduate degree in mathematics from M.I.T and a PhD in Dramatic Art from UC Berkeley.
Marc Swanson (Sets) is a visual artist working in diverse media, including sculpture, drawing, collage, photography, video, and installation. He employs a refined range of materials, relying on a concentrated vocabulary of wood, glass, textile, naturally-shed animal antlers, and precious metals. Swanson received his MFA from the Milton Avery Graduate School at Bard College, Annandale-on-Hudson, New York, and also studied at Skowhegan School of Painting and Sculpture in Skowhegan, Maine. Swanson's work has been the subject of solo exhibitions at Basilica in Hudson, New York, the Herbert F. Johnson Museum, at Cornell University, in Ithaca, New York, and the Saint Louis Art Museum, and in 2011 he also had a solo show at the Contemporary Arts Museum Houston. He was commissioned to make the 2009 Peter Norton Family Christmas Project, and in the fall of 2010 he completed a large-scale outdoor sculptural commission for the Kemper Museum of Contemporary Art, in Kansas City. He lives and works in Catskill.
Michelle Rogers (Costumes)  Michelle began costuming plays while in college and continued working on high school productions throughout her teaching career. She's designed costumes for "Marat/Sade," "A Midsummer Night's Dream," "Oliver!," and "Pride and Prejudice," among others. Now retired from education, Michelle has been delighted to try her hand at local theatre and to work with Bridge Street Theatre on "The Property Known as Garland," "The Tavern," and "Frankenstein: The Modern Prometheus".
Carmen Borgia (Sound) is a musician and sound designer. He has designed and mixed films for PBS, HBO, IFC and many film festivals. He has also released two CD's of his own work, "North" and "The Red Circle Line". In 2009, his musical "South" premiered at Dixon Place in New York City. He operates out of studios in Catskill and The Bronx, doing sound for picture work and music recording. He can be found at Magpie Bookshop Saturday afternoons at his Ukulele Camp, where anyone can learn to uke. He is also a regular performer at the seasonal Catskill Farmers Market. For Bridge Street Theatre, Carmen serves as general audio consultant and recently designed the sound for "Frankenstein: The Modern Prometheus".
*Denotes membership in Actors' Equity Association, the union of professional actors and stage managers in the United States.