Rebecca Singer in NATURAL/NOT NATURAL
written and performed by Rebecca Singer
Two Performances Only!
Saturday April 14 @ 7:30pm & Sunday April 15 @ 2:00pm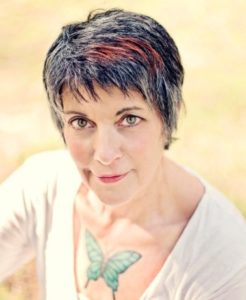 "Humankind has not woven the web of life. We are but one thread within it. Whatever we do to the web, we do to ourselves. All things are bound together. All things connect." Chief Seattle
One woman's theatrical foray into the worlds of nature and technology, NATURAL/NOT NATURAL will be presented by author/performer Rebecca Singer in Catskill's intimate Bridge Street Theatre on Saturday April 14 at 7:30pm and Sunday April 15 at 2:00pm.
In seven pieces ranging from magical realism to comic satire, NATURAL/NOT NATURAL takes us from the wild winds of the Costa Rican cloud forest to the elephants of Botswana, from the desks of medical billing offices to the intricacies of an iPhone 7, exploring Mother Earth and microchips as Ms. Singer morphs from observer to participant. Aided by "The Woman in Black" who is everything from prop mistress to midwife, and featuring a performance by acclaimed belly-dancer Donna Barrett, this show invites us to grieve over our losses and celebrate our silliness.
Rebecca Singer is a multi-media artist and healer, director and educator. She attended Bard College and The American Conservatory Theatre and was a part of the original Magic Theatre Ensemble in Berkeley and San Francisco. She has performed at Hampstead Theatre, London, The Musical Company and Storefront Children's Theatre, and presented several original pieces at SO&SO Studio in Portland, OR. She wrote and performed a bilingual one-woman show in Monteverde, Costa Rica where she lived for five years, and in the four years since she returned to the East Coast, she performed in Carnival of Dreams at Rokeby, played Mother Holly in Sinterklaas, appeared in the Erotic Art Show at the Tivoli Artists Gallery, and directed "Voices," a one-act play for The Center for Performing Arts at Rhinebeck. shamanicenergy.com
Rebecca Singer's NATURAL/NOT NATURAL will be presented twice only – Saturday April 14 at 7:30pm and Sunday April 15 at 2:00pm – on the Mainstage at Bridge Street Theatre, located at 44 West Bridge Street in the Village of Catskill, NY. Advance tickets are available for $20 for adults, $15 for Bridge Street Theatre Subscribers, and $10 for Students ages 21 and under, at BrownPaperTickets.com or by calling them at 800-838-3006. Tickets can also be purchased at the door one half hour prior to each performance on a space available basis. For more information, visit the theatre online at BridgeSt.org.
Tickets:
Click here for tickets.
General Admission $20, $15 for BST Subscribers, & $10 for Students ages 21 and under
Tickets can also be purchased at the door prior to each performance (on a space available basis)