SOUVENIR: A Fantasia on the
Life of Florence Foster Jenkins
by Stephen Temperley
From the review by B.A. Nilsson in The Alt
"Florence Foster Jenkins comes alive in Bridge Street Theatre's "Souvenir" … As McMoon, Jay Kerr brings the triple-threat talents of actor, singer, and pianist to the role: entirely convincing as a nightclub chanteur, he then inhabits his forty-years-younger self, revealing an ambitious but cautious young man who needs money but has a calling to pursue … Alison Davy plays the singer with a giddy energy that makes her so endearing that it's a shock when she launches into "Caro nome." It's not just that she sings wildly off key and with only the slightest sense of rhythm: there also are the pig-squeal timbre and mad facial tics to enhance the unpleasantness. Difficult as it is to sing well, it's even tougher for a terrific singer to sing badly on purpose, and Davy does it with truly admirable awfulness … A shared love of music brings these two together, and the relationship finds the much-younger pianist passing through shame into protective fondness, and finally into an emotionally fraught partnership. Even as Kerr is able to lob one-liners at us with sculpted precision … Davy gets a golden moment at the end of the piece when we're allowed to hear what Florence Foster Jenkins must have heard in her head, and Gounod's "Ave Maria" never sounded so good. It's another Bridge Street Theatre success, with skilled direction by Florence Hayle and a versatile set by John Sowle. Souvenir is one of a number of plays (and, of course, a movie) focusing on the career of this nonpareil, and it's the best of them." — B.A. Nilsson, The Alt
Read the complete review HERE.
From the review by J. Peter Bergman in Berkshire Bright Focus
"Alison Davy, who plays Jenkins, is a dynamo with the most wonderfully weird performance manner and sound. She is unstoppable. She is laughably brilliant. Her most solemn, human moments touch you to the depths of your humorous soul and you find yourself sympathizing with your laughter time and again … Davy wonderfully performs every song with nuanced mania and bell-toned dystopia. I loved every minute of her performance … Kerr as McMoon reminiscing about his diva twenty years later, is lovely with just the right sense of the sardonic as he tells his story, for this is his story as much as it is hers. He plays piano with a carefree touch, sings popular songs and classical arias with equal grace. He lets us enjoy McMoon's fate while showing us how a man can be roped and tied and harnassed against his will while still glorying in his unasked for fate … they both give us the exacting and exhausting experience of a lifetime. Here Flo Hayle, the director, shines through the middle. She, too, has known that center-stage existence and as she moves her two players in and out of their self-absorbed performances the three merge into a single unit of lyrical appearance." — J. Peter Bergman, Berkshire Bright Focus
Read the complete review HERE.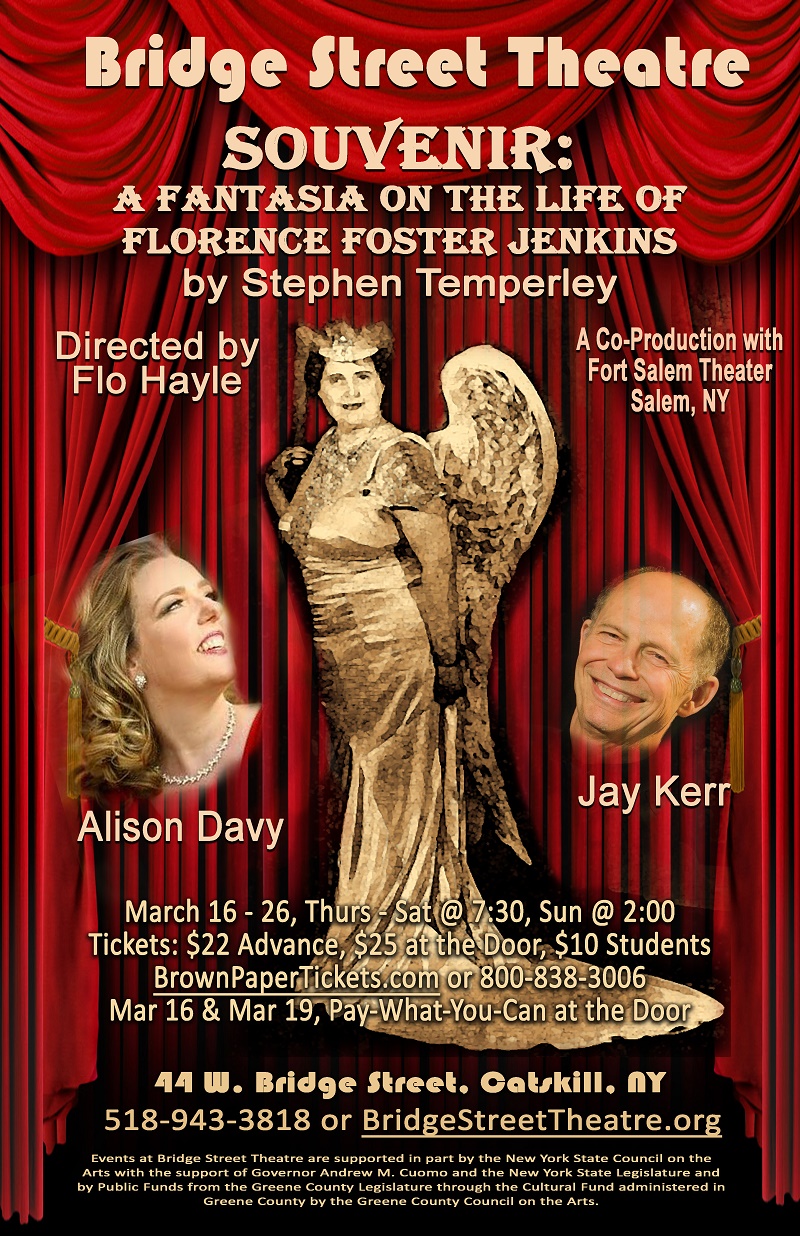 Click HERE for the Press Release and Press Photos of SOUVENIR
Bridge Street Theatre
in Association with Fort Salem Theatre, Salem, NY
SOUVENIR: A Fantasia on the
Life of Florence Foster Jenkins
A Musical (?) Comedy
with
Alison Davy as Florence Foster Jenkins
Jay Kerr as Cosme McMoon

Directed by Flo Hayle
Musical Direction by Jay Kerr
Sets and Lights by John Sowle
Costumes by Kaitlyn Day
Sound Design by Carmen Borgia
Stage Manager – Caedmon Holland
Dresser – Sue Ward
On October 25, 1944, wealthy (and tone-deaf) soprano Florence Foster Jenkins and her accompanist Cosme McMoon performed a recital at Carnegie Hall. Tickets sold out weeks in advance; an estimated 2,000 people were turned away at the door. The world of music has never quite recovered. Come share their hilarious saga in SOUVENIR, on stage at Catskill's Bridge Street Theatre. In this production, the role of Florence Foster Jenkins, for which Meryl Streep was nominated for a 2017 Oscar, will be played by BST's own Alison Davy.
Opera impresario Ira Siff, who dubbed her "the anti-Callas", has said, "Jenkins was exquisitely bad, so bad that it added up to quite a good evening of theater … There was no end to the horribleness … They say Cole Porter had to bang his cane into his foot in order not to laugh out loud when she sang. She was that bad." The historian Stephen Pile ranked her as "the world's worst opera singer". "No one, before or since," he wrote, "has succeeded in liberating themselves quite so completely from the shackles of musical notation."
STEPHEN TEMPERLEY (Playwright) Born in London, Stephen Temperley first came to the U.S. as a teenager. He trained as an actor at the American Academy of Dramatic Arts. The first of his plays to be produced was BESIDE THE SEASIDE at the Hudson Guild, directed by Vivian Matalon who has directed all of his work since. Other plays include MONEY/MERCY, which was first produced at the Chelsea Theatre center and then as part of the first HBO New Writers' Workshop, and DANCE WITH ME, which was first seen at the 18th Street Theatre and later at Centenary Theatre Company. Workshops include a musical, THAT KIND OF WOMAN, for Dodger Productions and IN THE COUNTRY OF THE FREE. THE PILGRIM PAPERS, a satirical comedy about the Plymouth Colony, was produced by the Berkshire Theatre Festival in their '06 season. SOUVENIR was first seen at the York Theatre before going on to the Berkshire Theatre Festival and Broadway. It has since become one of the most produced plays in the US. Recently, it opened to rave reviews in Berlin and is slated for productions in South America, Australia, and Scandinavia.
ALISON DAVY (Florence Foster Jenkins) Praised by Opera Orchestra of New York conductor Eve Queler for her "beautiful expression and style," Alison Davy has appeared in opera and oratorio both nationally and internationally. She has performed with, among others, Washington National Opera, Encompass New Opera Theatre, Handel Choir of Baltimore, Centro Musica Antica in Italy, Parma Symphony Orchestra, Newark-Granville Symphony Orchestra and the Choral Arts Society of Washington, DC outreach program. Ms. Davy was also featured as a guest artist at Lincoln Center's Bruno Walter Auditorium, singing Spohr's Sechs Deutsche Lieder and was selected to perform at The White House for President and Mrs. Clinton. This season Ms. Davy sings as soloist in Brahms' Ein deutsches Requiem with Newton Community Chorus; Händel's Judas Maccabaeus with Greenwich Choral Society; performs Steven Lebetkin's Six Songs on Poems by Walt Whitman in a world premiere recording with the City of Prague Philharmonic and Schubert's Der Hirt auf dem Felsen with Phoenix Ensemble in New York. Recent engagements include Haydn's The Creation with Choral Society of the Hamptons; Dierdre in the World Premiere of Richard Pearson Thomas' A Wake or a Wedding with Encompass New Opera Theatre; Britten's Les Illuminations with East Bay Chamber Orchestra in San Francisco; Violetta in scenes from La Traviata at the National Opera Center; and contemporary music recitals at the Dimenna Center in New York City and Kingston Festival of the Arts, where she also performed with renowned flautist Eugenia Zukerman. This versatile artist has sung as a soloist at the Holders International Music Festival in Barbados, at the Mann Center in Philadelphia and has participated in the Caramoor Festival with Maestro William Crutchfield. Awards include finalist in the Vera Scammon Competition, semifinalist in the Oratorio Society of New York Competition, recipient of the Todd Duncan Award from Annapolis Opera and the George Woodhead Prize from Peabody Conservatory. Alison has served as the Development Director for Bridge Street Theatre since March of 2015.
JAY KERR (Cosme McMoon and Musical Director) For most of his fifty-two years in show business, Jay Kerr operated a music studio in New York City, literally and figuratively between Broadway and Carnegie Hall, where he arranged music, worked with songwriters on new projects, instructed singers for stage, cabaret, and recording (www.jaykerr.com), and wrote songs and incidental music for cabaret and theater. Beginning his professional musical career as a church organist at the age of fourteen, Kerr held cue cards for television's Captain Kangaroo, produced military and USO shows during the Vietnam conflict, shared the bill with Bette Midler at New York's Continental Baths, coached Phil Silvers for his Tony Award winning role in FORUM, wrote children's musicals for Broadway and television, taught in a military school, parochial schools, acting schools and universities, and served as the principal of a junior high school. As a vocal instructor and voice coach, he has shaped musical performances by, among many others, Sandy Dennis, Tovah Feldshuh, Sally Ann Howes, Frank Gorshin, Bob Gunton, James Naughton, Charlotte Rae, and Joanne Woodward. Currently Artistic Director of Fort Salem Theater in Washington County, Jay has worked with Florence Hayle for over thirty years.
FLO HAYLE (Director) Flo Hayle has participated in all aspects of theatre throughout her career. And accomplished and beloved cabaret singer, she has known many of the greats including Elaine Stritch, Liza Minelli, and Hildegarde. She has appeared in dozens of plays and musicals including SOPHIE by Steve Allen and, more recently, SENIOR MOMENTS at the Fort Salem Theater. She has been seen in TV commercials for Total Cereal and Volkswagen, among others. As a director and producer, she was producing Off-Broadway long before there was anything known as "Off-Broadway", was casting director for Muriel Cigars, Coppertone, and Maybelline, and director of PRISONER OF SECOND AVENUE at the Ghent Playhouse. Flo hosts a weekly radio interview show called "Arts Alive" on 98.5FM and 93.5FM.
JOHN SOWLE (Set and Light Designer) is Managing Director of Bridge Street Theatre. He founded Kaliyuga Arts in 1986 with his partner Steven Patterson and has received multiple awards for his directing and design work on their Los Angeles, San Francisco and New York productions. Most recently he designed Bridge Street Theatre's production of "The Tavern," and directed and designed their productions of "Frankenstein," "Holiday Memories," "The Epic of Gilgamesh," "The Killing & The Love Death" (late plays of William Inge), and "Grinder's Stand" by Oakley Hall III. John has an undergraduate degree in mathematics from M.I.T and a PhD in Dramatic Art from UC Berkeley.
CARMEN BORGIA (Sound Designer) is a musician and sound designer. He has designed and mixed films for PBS, HBO, IFC and many film festivals. He has also released two CD's of his own work, "North" and "The Red Circle Line". In 2009 his musical, SOUTH, premiered at Dixon Place in New York City. He operates out of studios in Catskill and The Bronx, doing sound-for-picture work and music recording. He can be found at Magpie Bookshop Saturday afternoons at his Ukulele Camp, where anyone can learn to uke. He is also a regular performer at the Catskill Farmers Market on Sundays.
CAEDMON HOLLAND (Production Stage Manager) is a 25-year old actor from Delmar, NY. He grew up learning theater and at the age of six started attending The New York State Theater Institute's summer theatre program. He continued with this until the age of 14 when, during his high school years, he started focusing more on film. At 19, Caedmon transferred to the University of New Mexico in Albuquerque. While there, he was part of the only Western Theater school performance in the world to be invited to participate in the First International Asian Theater Festival in 2010. Caedmon graduated UNM with a BA in Theater in December of 2014. Since then, he's been back home in upstate NY, performing locally with Bridge Street Theatre in LUCKY LINDY and Kaaterskill Actors Theater in CHRISTMAS IN JULY among others, and trying to build his resume for a move to NYC or LA. He was also Stage Manager for Bridge Street Theatre's productions of "The Tavern" and "Frankenstein."