WE'RE MOVING INTO HIGH GEAR THIS MONTH
April 2: Garfield Moore Cello
April 8: Cabaret: My Favorite Sings
April 20-30: A World Premiere Comedy, The Official Adventures of Kieron & Jade
Garfield Moore, Cello
From Baroque to Flamenco
with Hiroko Sakurazawa, Piano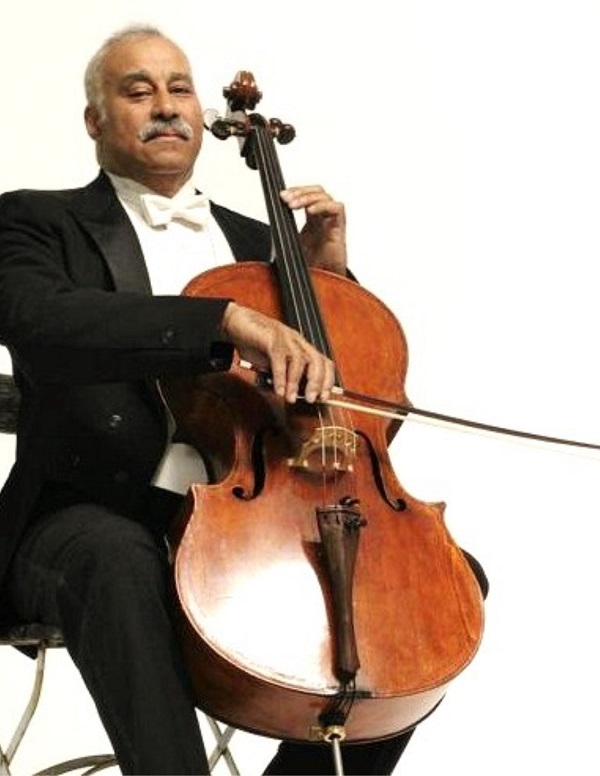 CATSKILL'S BRIDGE STREET THEATRE PRESENTS CELLIST GARFIELD MOORE IN CONCERT
Rostropovich, Piatigorsky, the great Casals himself. These are the names invoked by critics in attempting to describe the artistry of cellist Garfield Moore, appearing in an afternoon recital with pianist Hiroko Sakurazawa on Sunday April 2 at 2:00pm at the Bridge Street Theatre in Catskill.
On the program – entitled "From Baroque to Flamenco" – will be works by Joseph Louis Caix d'Hervelois, Franz Joseph Haydn, Gaspar Cassado, Ludwig von Beethoven, and Samuel Barber.
Tickets for Mr. Moore and Ms. Sakurazawa's recital are $15, $10 for Students, and go on sale at the door one half hour prior to the concert. The theatre is located at 44 West Bridge Street in the Village of Catskill, NY. Don't miss the opportunity to hear these two master musicians in concert! For more information, visit the theatre online at BridgeSt.org.
Garfield Moore, Cello
Recent critical acclaim for Cellist Garfield Moore has drawn comparison with Rostropovitch, Piatigorsky, and the great Casals himself. From Carnegie Hall to Hungary's Bartok Festival Hall, he has been acknowledged a "master artist." An "auspicious" New York Recital Debut, world premiere performances and recordings, live solo broadcasts for New York Public Radio and solo tours have all met with exceptional praise. At the age of 13, Garfield Moore performed and recorded the world premiere of the Cello Concerto of the great English Cellist and Composer, Colin Hampton. Subsequent performances of Concertos of CPE Bach, Boccherini, Ibert and Dvorak all drew enthusiastic critical responses. Mr. Moore has also distinguished himself by reviving rarely heard and unknown works, enriching the solo cello repertoire. Moore has served as Principal Cellist for the Pacific Philharmonic, the Santa Cruz Symphony, the Alvin Ailey Ballet, Opera Ebony, the Universal Chamber Orchestra, the West End Symphony and the Musical Heritage Concert Society. Exciting recent events included the world premiere performance and recording of Allen Brings' "Duo for Cello & Piano". He has also inaugurated a number of prestigious concert series, including those of the Hillwood and Heckscher Museums, the BRIK Gallery and SUNY Musica Camerata.
Hiroko Sakurazawa, Piano
Sakurazawa studied piano with Mariko Yamamoto and Henriette Puig-Roget (from the Conservatory of Paris) at Kunitachi College of Music in Tokyo. She continued her studies with Aki Takahashi, a leading Japanese pianist, and debuted in Tokyo in 1996, performing pieces by Toru Takemitsu along with classical repertoire. Since then, Sakurazawa has performed throughout Japan both as soloist and in collaboration with other musicians. In the year 2000, she performed the world premiere of Concertino for Piano and Chamber Orchestra by Richard Teitelbaum, with the Woodstock Chamber Orchestra. She premiered his Piano Tree for Piano and Computer at the Merce Cunningham Dance Company New Music Series and the San Francisco Electronic Music Festival. In 2005 she gave the world premiere performance of two unpublished piano works by Henry Cowell at the Bard Music Festival. She has collaborated extensively with composer Takashi Harada, virtuoso of the ondes martenot, at the Sibelius Academy in Helsinki, the Sendai Classic Music Festival in Japan, and the Other Minds Festival in San Francisco where her she was hailed as a "Superb Pianist," by the San Francisco Chronicle.
Tom Andersen – "My Favorite Sings"
with Spcial Guests Jumbo Bungalow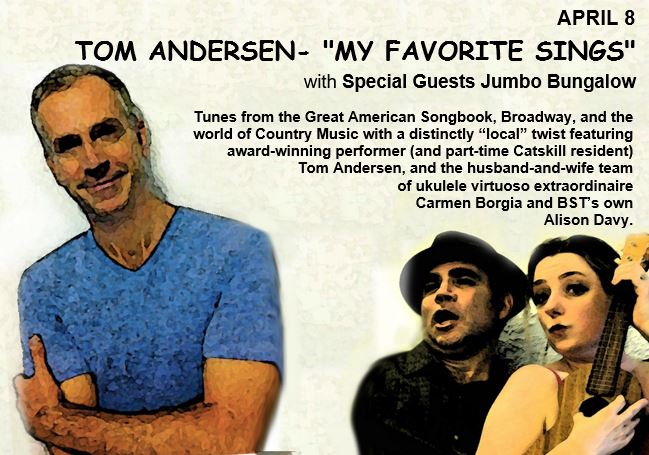 CABARET SERIES OPENS WITH "MY FAVORITE SINGS"
It's back! Bridge Street Theatre' hugely popular Cabaret Series returns to Catskill on April 8th at 8:00pm. And the first installment will feature series curator (and part time Catskill resident) Tom Andersen himself in an exhilarating evening of tunes from the Great American Songbook, Broadway, Country Music, and his own teeming and talented brain called "My Favorite Sings". And to give the evening an even more distinctive "local" twist, Mr. Andersen will be joined onstage by Jumbo Bungalow – the husband-and-wife team of Catskill ukulele virtuoso extraordinaire Carmen Borgia and BST's own resident diva (and star of their production of SOUVENIR) Alison Davy.
For advance tickets to the Cabaret Series, click HERE
Multiple MAC Award winner Tom Andersen has been critically acclaimed as one of New York's most talented young singer-songwriters. Stephen Holden of the New York Times has written, "One is reminded of Johnny Mathis. Incandescent!" Stephen Sondheim and Stephen Schwartz have sung his praises. He's played Carnegie Hall, Town Hall, and Weill Hall, and has headlined in NYC at Tavern on the Green, Maxim's, the Russian Tea Room, The Algonquin, and Eighty Eight's. As a recording artist, he has two CD releases, "Far Away Places" and The Journey". In 2016, Tom curated Bridge Street's first ever Cabaret Series, which featured the talents of New York nightlife superstars Mark Nadler, Julie Gold, Eric Comstock and Barbara Fasano, and Eric Michael Gillett. Now, he brings his own songwriting and interpretive skills (and his meltingly beautiful tenor voice) to Bridge Street's Mainstage for the first time.
Jumbo Bungalow, Mr. Andersen's special guests for the evening, are a Catskill-based band that aspires to be like a big, comfortable house that hosts really good parties. Carmen Borgia is a deft singer-songwriter bearing a ukulele, Alison Davy a classical soprano with serious chops and the ability to move from Texas swing to happening high notes with heart and humor. Their eclectic set lists include cover tunes ranging from 30's jazz to country and classical as well as songs written by Mr. Borgia himself.
The Official Adventures of Kieron and Jade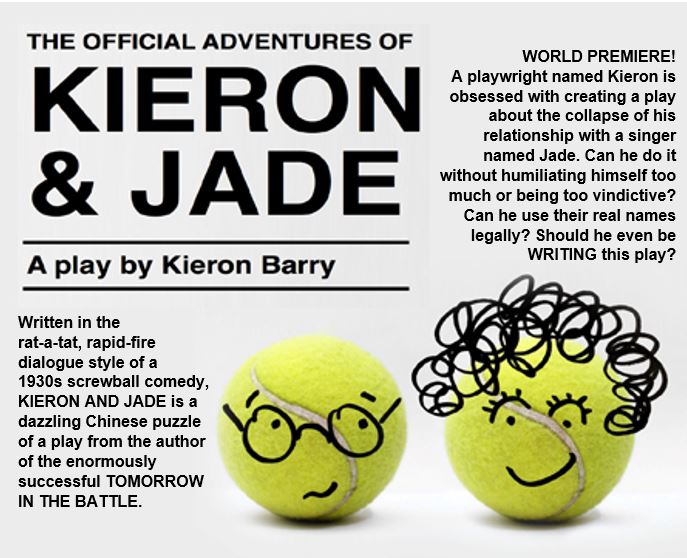 Listen to Joe Donahue's interview with Kieron and John on WAMC
Click Here for Press Releases and Hi-Res Photos
"Full of theatrical magic! … Bridge Street Theatre challenges its audiences with plays you won't see in more timid theaters in the area, yet the quirkiness of the plays they choose to produce highlight what connects us all. – James Yeara, Spotlight News
"Kieron in this play is a character worthy of the great comedy writers of the past century. If the show is indeed autobiographical then Kieron Barry is a man on the verge of greatness for his insights into all of the characters in this play, including Kieron, are deeper than anything achieved by most of the best writers of our time. John Sowle has achieved another triumphant bi-fecta, directing this world-premiere performance on a set he has also created … Bonita Jackson transforms from one human entity to another with barely a second to breathe away one persona before encompassing a different one. At the same time Jason Guy maintains the center of the play, Kieron, without ever flagging even when sheer exhaustion must be waiting to overtake the actor. The writing demands rhythm in the playing and this trio has found a tempo that would exhume even a Jerome Robbins dancer, and yet the two actors seem to have no problem keeping things at a high trot all of the time … Kieron Barry, the playwright, is clearly a madman but the sort you'd like to have to dinner, as long as his car was standing by to whisk him away once again. This new work in an undiluted triumph and Bridge Street Theatre has a hit on its hands. Hopefully people will discover the play and keep it alive for as long as possible." – J. Peter Bergman, Berkshire Bright Focus
"A tour-de-force! … The Official Adventures of Kieron and Jade features two accomplished performers: Jason Guy, a talented, energetic, fast-talking actor who portrays Kieron, and Bonita Jackson, who creates more than 15 different characters … Kudos to John Sowle for his visual imagery and for the amazingly inventive set. Carmen Borgia, the sound designer, treats us to a terrific palette of musical interludes, sounds, and songs of various styles between and during the scenes … Funny, effective and sexy!" – Barbara Waldinger, Berkshire On Stage
"A triumph! … Jason Guy is Kieron, bringing a nebbishy goodness to the character even as his more repellant aspects are revealed. Bonita Jackson has a field day as everybody else, quick-changing voice and attitude as she moves from Danielle to best-friend Emma to an Indian physician to priest to therapist and on and on – and ultimately to Jade. Part of the fun of the piece is the pace at which it moves. It's built into the script, but that doesn't always mean it'll be realized, so all the more credit is due director John Sowle, who also designed the set." – B.A. Nilsson, The Alt
THE OFFICIAL ADVENTURES OF KIERON AND JADE
Kieron Barry's new play, The Official Adventures of Kieron and Jade, is a comedy with pain and loss at its center. "I needed it to be fizzy as champagne," he said, "albeit with a shard of broken glass at the bottom. The story is something awful and grief laden that makes a room full of people laugh."
Barry is referring to his collapsed real-life relationship with a singer named Jade. But the subject of the play is more than that. It is the pros and cons of writing about his collapsed relationship. Should he or shouldn't he? Particularly, should he record the happenings – even though the female half of the equation has no input?
"Having obsessed on my failed relationship for months," Barry said, "I finally decided that my thoughts could be a play. But to write about myself and an unhappy time, the form would require two things. First, it would have to be short. And second, it had to be a comedy. What could be more awful than listening to someone complain about themselves?"
So the playwright morphed his thoughts into a stage production with dialogue delivered in the rapid fire style usually associated with 1930s screwball comedies like The Awful Truth or Front Page. "It's a heightened linguistic form," he explained. "I tried to make every sentence as beautiful as it could be with exquisitely wrought phrases. In a sense, it loses realism, but benefits from that burnished quality."
"Comedy is hard to write. If people haven't laughed in the last 30 seconds, you're in trouble," he adds. "But a benefit is that, as long as people are laughing, you can get away with almost everything else. On paper, this is a play about self-harming, mental illness, even suicide. But, as long as I can make a joke out of it, it will work."
Kieron Barry is best known for his one act comedy, NUMBERS. He has also been showcased locally in the enormously successful 2012 production of Tomorrow in the Battle at Stageworks/Hudson. It was hailed by the Albany Times Union as "one of the most remarkable pieces of theatre in recent memory."
Bios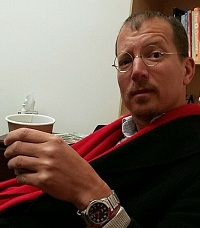 Kieron Barry (Playwright) was born in Stratford-upon-Avon and currently lives in Ventura, California. His play TOMORROW IN THE BATTLE enjoyed two sell-out runs at Stageworks Hudson in New York, was recently workshopped in London with David Morrissey and Tamsin Greig, and has just been published by Samuel French. His previous play, STOCKWELL, sold out at the Landor and Tricycle Theatres in London and prompted his nomination for a 2009 London Evening Standard Theatre Award alongside Kevin Spacey, Sam Mendes and Sir Ian McKellen. The play was described by The Times in its five-star review as 'more gripping than anything else in the London theatre' and 'one of the most important plays of the year' by the Daily Express.
Kieron's play NUMBERS, a one-act black comedy set in a girls' boarding school, was featured in Lucy Kerber's book 100 Great Plays For Women in 2013, alongside plays by Oscar Wilde, Tennessee Williams and Euripides. The play is also published by Samuel French and was featured in a discussion on women and power at the Royal National Theatre of Great Britain in 2015.
His play CUMQUATS, an account of espionage between the wars, was also developed with the Royal National Theatre.
Other prizes and awards include three Peggy Ramsay Foundation awards and being elected a Norman Mailer Fellow.
Other produced plays include BLACK SOAP, MAHLER & RACHMANINOV, EMBASSYLAND, SIGNS OF A STRUGGLE, BLOOD EVERYWHERE, HANNAH MARLOW HAMPTON, STORIES FOR BOYS, DEEPCUT: SCENES FROM AN INQUIRY and VERY DARK BLUE.
REVIEWS
'gripping' London Times
'devastating' The London Paper
'superlative' Daily Telegraph
'brilliant' Time Out
'a triumph' Metro
'important, resonant' The Observer
'shattering' The Stage
'powerful' British Theatre Guide
'gripping drama' London Lite
'profoundly eerie' Financial Times
'stark, stunning' Daily Express
'sublime' Times Union
'devastating' Berkshire Eagle
'riveting' Metroland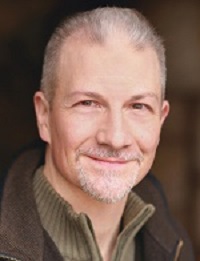 Jason Guy (Kieron) has suffered terribly in over 60 professional productions ranging from Shakespeare to tap dancing (sometimes both at once), and everything in between. He has been poisoned (as Hamlet) with the National Shakespeare Co., betrayed (Brutus) at the American Shakespeare Center's Blackfriars Playhouse, and flogged, twice, (as both Dromios) by the Hamptons Shakespeare Festival. Not content with just two roles, Jason played all the male characters in "Turn of the Screw" (in which he was, coincidentally, smothered to death). Seeking solace in plays by living authors, Mr Guy lost his faith ("Doubt"), his wife ("Time Stands Still"), and finally a finger (in Arkansas Rep's "The 39 Steps"). Immediately thereafter he was vomited on in "God of Carnage" (Cape May Stage). But it was as the Director, Lloyd in "Noises Off", that he weathered the worst abuse known to man: other Actors. So Jason performed every role in Cortland Rep's "I Am My Own Wife"; it was the loneliest thing he's ever done. In a blissfully welcome turn of events, he beat, pummeled, and tortured someone else in the Flea Theater's long-running "Back of the Throat", Directed by Jim Simpson. Turning to musicals in hopes of lighter fare, he was fired daily ("42nd Street"), punched repeatedly ("West Side Story"), and soaked nightly (Don Lockwood in "Singin' in the Rain"). Most recently Mr Guy persevered through six wretched months in Norwegian Cruise Line's "Illusionarium", a magical spectacular that sailed from the Caribbean to Rio de Janeiro for the 2016 Olympics: Hell. In total, this litany of maltreatment has traversed five continents, fifteen countries, and all 50 of the United States. Jason was born on the pinky of Michigan, grew up on the coast of Maine, and lives in New York City. Actorjasonguy.com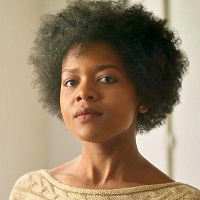 Bonita Jackson (Jade and Everyone Else) The diversely-talented Jackson has had storytelling and the stage calling her name since she was a child. She has answered the call by studying the craft in the Midwest, Washington, D.C., and New York City. After graduating from Pace University with a BFA in Acting with Honors, Jackson hit the theatre scene with arms wide open! She has soulfully graced the stage in numerous productions in New York City and Regional Theatre, such as, A History of Nasty Women, Rachel, Steal Away, Neat, Saint Lucy's Eyes, The Wiz, Sankofa Visions, HAIR'itage, Strange Fruit and Black Footnotes. She can also be seen in the comical web-series Chopping it Up. Utilizing and incorporating her love for multi-character roles, stepping, mime and spoken word, Jackson has successfully written, produced and performed two solo shows: Fleeting Dreams from a Nightmare's Reality in May 2014 and Empty Valuables in June 2016. Both were met with critical acclaim. The raw storytelling she emoted in both productions has cemented her as an honest life watcher, listener, writer, and creator. An intellectual with a strong and undeniable passion for the performing arts and its ability to transform, inform, inspire and restore humanity, she is determined to continue her artistic journey in all areas of the craft. bonitacjackson.weebly.com