Kaliyuga Arts presented a benefit for Bridge Street Theatre
Lark Eden by Natalie Symons
Directed by John Sowle
with Lora Lee Ecobelli, Molly Parker Myers and Louise Pillai
Told through a series of letters, LARK EDEN begins in the Depression Era and traces the lives of three small-town Southern women through the early years of the 21st century. Their enduring friendship provides an anchor as the winds of change and time ravage family, children, and everything else they call their own. LARK EDEN is a deeply moving and darkly comic look at the fingerprints we unknowingly leave on the hearts of those we love.
NATALIE SYMONS (Author) is a playwright, actress and novelist. She received the 2014 Creative Loafing Tampa Bay award for 'Best Local Playwright' as well as the 2012 Best of the Bay Critic's Pick for 'Most Promising Playwright'. Natalie's first play LARK EDEN was hailed by The Seattle Times as "brilliantly written." This Suzi Bass-nominated epistolary play has garnered both critical and popular acclaim in theatres around the country. In its recent World Premiere production at freeFall Theatre in St. Petersburg Florida, her new play THE BUFFALO KINGS debuted to rave reviews and sold out houses. As an actress, Natalie was last seen on stage as Candy Starr in freeFall Theatre's ONE FLEW OVER THE CUCKOO'S NEST. She was nominated for a Jeff Norton Award for her portrayal of Catherine in THE FOREIGNER at American Stage. Other recent stage credits include Mimi in AN EMPTY PLATE IN THE CAFE DU GRAND BOEUF and Becky in BECKY SHAW (freeFall Theatre). Natalie recently completed her first novel, CALL HER FRANK, a literary mystery set in a forgotten steel town in Pennsylvania. She lives in St. Petersburg, Florida, with her husband, actor Jim Sorensen and their Keeshond Andy.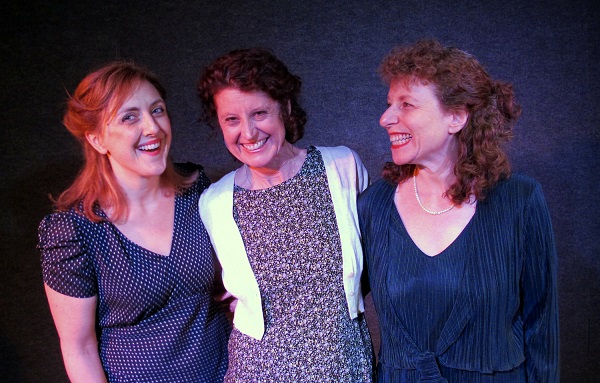 Molly Parke Myers, Lora Lee Ecobelli, and Louise Pillai in Lark Eden
LORA LEE ECOBELLI (Thelma) is an actress, writer, director, and teacher. She has performed both On and Off Broadway and is the winner of the Harold Clurman award for Best Actress for he performance in THE VISE. Her many stage credits include A CHRISTMAS CAROL, THE SEAGULL, ANTIGONE, HAMLET, THE CHERRY ORCHARD, BLITHE SPIRIT, THE THREE SISTERS, and the title role in AMELIA. Film and television: JUDY BERLIN, SPEECHLESS, THE LADY OF LARKSPUR LOTION and Sesame Street's ELMOPALOOZA. She is a member of Hudson Air Radio Theatre, Walking the Dog Theatre, Off Leash Improv Group, and is Artistic Director of The Blue Horse Repertory Company. She teaches acting for Blue Horse Repertory Company's Acting School at the Theatre Institute at Sage College.
MOLLY PARKER-MYERS (Mary) is an actor and singer based in the Hudson Valley. Molly is delighted to be working with the Kaliyuga Arts team again, after appearing in their previous productions of KILL ME NOW (Robyn) TRUE LOVE LIES (Carolyn) and THE MOUND BUILDERS (Cynthia) at Stageworks/Hudson and bringing her own COMBACK! A TRAGICOMIC CABARET to the Bridge Street Theatre Speakeasy stage. Other recent credits include INTO THE WOODS (Baker's Wife) and A LITTLE NIGHT MUSIC (Desiree) at Rhinebeck Theatre Society, THE DIVINE SISTER (Mrs. Levinson/Timothy) and FORBIDDEN BROADWAY at Stageworks/Hudson, THE LADIES MAN (Marie) at Shadowland Theatre and THE SOUND OF MUSIC (Elsa) at TriArts Sharon Playhouse. Other favorites include THE LANGUAGE ARCHIVE (Mary), HAIRSPRAY (Velma), THE DROWSY CHAPERONE (The Drowsy Chaperone), DIRTY ROTTEN SCOUNDRELS (Muriel Eubanks) and FALSETTOS (Doctor Charlotte).
LOUISE PILLAI (Emily) has been involved with various venues in the tri-state area for the past 16 years, including Kaliyuga Arts, Stageworks/Hudson, Tri-Arts, The Rhinebeck Center for the Performing Arts, HRC, The Ghent Playhouse, and others. Some favorite roles: Fraulein Schneider (CABARET), Mrs. Peachum (THREEPENNY OPERA), Delia (THE MOUND BUILDERS), Sister Acacius (THE DIVINE SISTER), and Dorine (TARTUFFE). She feels very lucky to be involved in this first production at Bridge Street Theater with three of her favorite performers/director. She is also hard at work on her first historical novel.
JOHN SOWLE (Director) is co-founder of Bridge Street Theatre, a new performing arts center in progress in Catskill, NY. He has produced, directed, designed, and performed in hundreds of productions over the years. He started Kaliyuga Arts in 1986 with his partner Steven Patterson and has received multiple awards for his directing and design work on their Los Angeles, San Francisco and New York productions. In 2012 he directed and designed THE MOUND BUILDERS and in 2013 directed and designed TRUE LOVE LIES and the U.S. premiere of KILL ME NOW, all at Stageworks/Hudson. In Manhattan, John directed and designed Beckett's ALL THAT FALL and Dan Carbone's KINGDOM OF NOT at the Cherry Lane Studio and the Al Carmines/Gertrude Stein musical IN CIRCLES at Judson Church. John has an undergraduate degree from M.I.T in mathematics and received a PhD in Dramatic Art from UC Berkeley.
ABOUT KALIYUGA ARTS
Our production company, Kaliyuga Arts, was originally founded in Los Angeles, California in 1986. From its inception, it has been dedicated to the presentation of off-beat, challenging work, and has established an ever-expanding reputation for artistic excellence with a wide range of material. Based in San Francisco from 1990 thru 2004, New York City from 2004 thru 2010, and currently located in Catskill, NY, where it serves as the resident theater company of Bridge Street Theatre (a new performing arts venue-in-progress), Kaliyuga Arts continues to present some of the most exciting, risk-taking and innovative theatre available to audiences anywhere. More at kaliyuga.com.
Save