Kaliyuga Arts presents
OUT OF THIS WORLD
A Wild Performance Double Header
UP FROM THE GROUND Written and Performed by
Dan Carbone
SIGN FELT!
(a show about nothingness) Created and Performed by
Alexandra Tatarsky
Friday April 10 @ 7:30 pm
Saturday April 11 @ 7:30 pm
Sunday April 12 @ 2:00 pm
Saturday April 18 at 7:30 pm
Kaliyuga Arts presents
OUT OF THIS WORLD
UP FROM THE GROUND
Written and Performed by Dan Carbone
(a show about nothingness)
Created and Performed by Alexandra Tatarsky
When two visionary performer/playwrights from opposite coasts converge for the first time ever, theatrical fireworks ensue! Kaliyuga Arts, resident theatre company of Catskill's new Bridge Street Theatre, having established a reputation for presenting innovative, cutting edge material in Los Angeles, San Francisco, New York City, and now in the Hudson Valley, presents what promises to be their wildest evening ever: A surreal performance art double-bill called OUT OF THIS WORLD.
The evening will open with UP FROM THE GROUND by Dan Carbone
If Flannery O'Connor had ever written an episode of "The Twilight Zone", it would probably have turned out something like Dan Carbone's UP FROM THE GROUND in which a young boy discovers a beautiful and potentially dangerous world inside an unearthly blossom that has mysteriously appeared in his parents' cornfield. When it premiered at the San Francisco Fringe Festival in 1998, Brad Rosenstein of the SF Bay Guardian called it "brilliantly demented…one of the strangest, funniest, and most oddly touching performances at this year's Fringe."
Perhaps most renowned for not actually being Andy Kaufman's daughter, performer Alexandra Tatarsky's SIGN FELT! is the first chapter in her attempt to create a full-evening adaptation of Goethe's classic novel of adolescent angst and artistic striving, "Wilhelm Meister's Apprenticeship." It premiered at a festival for female solo performance at La Mama ETC in New York City in 2014, and has played this past year in Los Angeles, San Francisco, Oakland, Berkeley, the Bronx, and Brooklyn.
Dan Carbone has been active in San Francisco Bay Area theatre since 1995 as a both a playwright and performer. His solo performance piece Up From the Ground, won Best of the SF Fringe 1998 and SF Bay Guardian Goldie and Upstage/Downstage Awards, and was nominated for a Bay Area Theatre Critics' Circle Award for "Best Solo Performance". Other plays have included Salvador Dali Talks to the Animals, The Pilgrim Project, An Impersonation of Angels or The Enigma of Desire, There Be Monsters!, Kingdom of Not, The Dark Room Series (including Dan Carbone & His Million Dollar Legs!), Father Panic, and The Wounded Stag & Other Cloven-Footed Tales of Enchantment. Dan is a graduate of the Film School of NYU's Tisch School of the Arts and has acted in, and contributed material to, numerous videos by the legendary underground filmmakers George and Mike Kuchar. Recently, Dan has been performing with Andrew Goldfarb (aka The Slow Poisoner) as "Kingdom of Not", and their first CD Journey to the Far Side of the Room was released to great acclaim in 2013. The band will be embarking on an East Coast tour almost immediately after Dan's Bridge Street Theatre engagement concludes. Dan currently lives and works in Oakland, CA.
http://www.dancarbone.net
http://kingdomofnot.bandcamp.com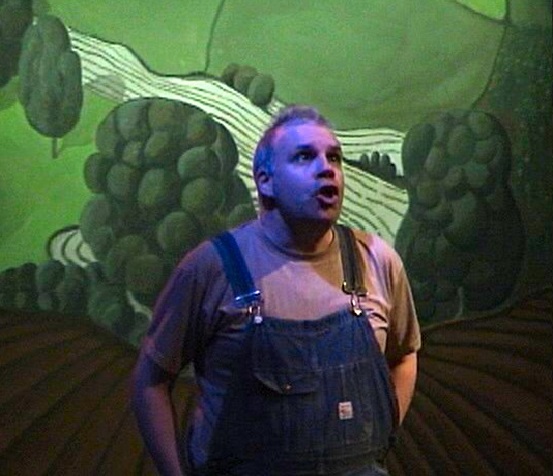 "Dan Carbone brings an astounding child-like and personal imagination to his work, augmented by the techniques of a seasoned performer with a wide array of singing, mime, and acting skills. It's a wild ride into a surreal world that mixes memory and fantasy into a magical concoction." Philip Proctor, Firesign Theatre
"Dan Carbone is a delightful oddity among local solo performers – his off-kilter perspective on reality and its illusions creates a strange, funny, and disturbing-in-a-good-way hybrid of Flannery O'Connor, The Twilight Zone, Mister Rogers, and Jonathan Winters." Kerry Reid, SF Metropolitan
"In a town where every conceivable wrinkle in solo theater seems to have been ironed out long ago, Dan Carbone crept out from under the bed and lit the mattress on fire … Jonathan Winters meets Cocteau." Brad Rosenstein, SF Bay Guardian
Alexandra Tatarsky is a writer and performer from New York City. Her original pieces have played at La Mama ETC, Vox Populi, the Emerald Tablet, and Bronx Art Space as well as living rooms, vaudeville tents, stairwells, and bars across America. Other theatrical appearances include the monster bride in Lilac Co.'s Frankenstein for the Public Theater's Under the Radar Festival, Chaos: and Other Worldly Possessions with Truant Arts, and Horror, or Her Mirror, an adaptation of Ibsen's Hedda Gabler directed by Rosalie Lowe. She has collaborated with Fakehead on the underground webseries Zhe Zhe and Powerless, a feature film shot during the 2012 blackout in NYC. Called "endlessly entertaining" by nytheatre.com, she often performs as a mound of dirt and was famous on the Internet for two days as Andy Kaufman's daughter.
http://tar-tar.biz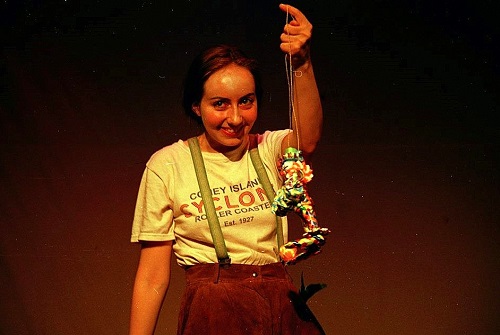 "Phenomenal. Like Andy Kaufman meets Harpo Marx." Josh Kornbluth, Solo Performer
"I was enamored, impressed…stunned even. And…moved. Tatarsky does in the theater what needs to be done, time and again, to bring us into the present moment." Matvei Yankelevich, Poet
"A stunning pleasure to watch … One of the freshest, most impressive things I have seen in a long time." Mitsu Hadeishi, Performance Curator
CARELESS RHAPSODY
The Wit & Wisdom of Lorenz Hart
Eric Michael Gillett
Broadway's Eric Michael Gillett (The Frogs, Sweet Smell of Success, and Kiss Me, Kate)uses the wit and wisdom of Lorenz Hart to remind us all that, while love can be experienced with abandon, carelessness of the heart can make for a messy sort of romance. Hart, a wildly gifted lyricist responsible for songs such as "Blue Moon,""Little Girl Blue,""I Wish I Were in Love Again,""You Took Advantage of Me,""My Funny Valentine," and "Isn't it Romantic?," inspired generations of lovers through his words. Gillett brings new life to these ballads of luck in love to craft "an intimate self-portrait of a man in the thrall of show business dreams, for whom popular standards are platforms for unguarded confessions." (The New York Times)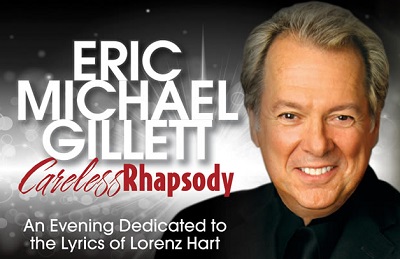 Eric Michael Gillett is the proud recipient of five Manhattan Association of Cabarets & Clubs Awards, including the 2012 MAC Award for Outstanding Major Artist (Male), two separate awards for outstanding direction, the 1995 Male Vocalist Award and in 2014, Outstanding Special Production for his revue, The Amanda McBroom Project. He has been seen on Broadway in the original casts of Kiss Me, Kate (1999 revival), Sweet Smell of Success, and The Frogs. He is honored to have made his New York City Ballet debut as 'Father' in this production of Brecht/Weill's Seven Deadly Sins starring Patti Lupone and Wendy Whelan. Eric Michael conceived and directed Dance On, the 2010/2011 edition of New York's beloved Big Apple Circus. Lincoln Center audiences have also seen him in the New York City Opera productions of Cinderella, and Candide. Off- Broadway: "Papa" Denny Doherty in Dream a Little Dream at the Village Theatre, 'Richard' in the York Theater's workshop of the new musical, The Tutor, as well as Silent Laughter (Lambs), Good Companions (York), Of Thee I Sing (Encores), Frankenstein (37 Arts), Roller Derby (Alvin Ailey), December Fools (Abingdon), Time and Again (Manhattan Theatre Club), and the Carnegie Hall staging of Show Boat. Film and television credits include Maid in Manhattan, The Judge, The Producers, Good God, multiple Law & Order episodes, and Ed.
For twelve years, Eric Michael appeared as the Ringmaster of Ringling Bros. and Barnum & Bailey Circus.
Visit Eric Michael Gillett atwww.ericmichaelgillett.com
Don Rebic<is a New York City-based musical director, conductor, composer, and pianist whose distinguished, four-decade career has spanned the worlds of Broadway, jazz, cabaret, and classical music. Whether accompanying world-renowned vocalists, conducting Broadway and symphony orchestras, or performing his own jazz compositions, Don is known for his versatility,charm, and brilliant musicianship. Don moved to New York City after graduating college with a degree in piano performance. Within a year, he was conducting the 1977 Broadway revival ofJesus Chris Superstar. Don's Broadway credits also includeDancin'andSweet Charity, directed by Bob Fosse;Teaneck Tanzistarring Deborah Harry and Andy Kaufman; andAnything Goesstarring Patti LuPone. He has conducted for the national companies ofJoseph and the Amazing Technicolor DreamcoatandKiss of the Spider Woman, starring Chita Rivera. As an in-demand accompanist and musical director, Don has worked with such luminaries as Peggy Lee, Kiri Te Kanawa, Barbara Cook, Laura Theodore, Betty Buckley, Dixie Carter, Morgana King, Lainie Kazan, Mary Cleere Haran, Margaret Whiting, Regis Philbin, Tovah Feldshuh, Christine Andreas, Christine Ebersole, Victoria Clark, Karen Gross, Julius la Rosa, Ricky Martin, and José Carreras. He conducted the Pittsburgh and Dallas Symphony Orchestras and the Buffalo Philharmonic Orchestra as Leslie Uggams' musical director for 24 years and has served as musical director for cabaret icon Karen Akers for 23 years. In 2009, he won the Backstage Bistro Award for outstanding musical director.