June 4. An Evening with Julie Gold
June 9-19. Dream Child, The Trial of Alice in Wonderland
Words and Music: The Songbook Series
An Evening with Julie Gold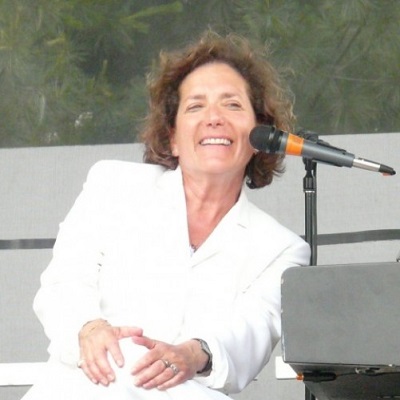 The acclaimed Grammy award winning songwriter ("From A Distance") performs her songs  in  the  intimate Speakeasy.
An Evening with Julie Gold
"AN EVENING WITH JULIE GOLD"featured the acclaimed Grammy award winning songwriter ("From A Distance") performing her self-penned songs for one night only in the intimate setting of the Bridge Street Theatre Speakeasy in Catskill, NY on Saturday, June 4 at 8 pm as part of the "Words and Music Songbook Series" curated by Tom Andersen.
Celebrated for her world-wide smash, "From A Distance" recorded by Bette Midler, Julie will also perform her other songs that have been performed by Patti Labelle, Nanci Griffith, Emmy Lou Harris, Patti Lupone and Lea Salonga among others.It's sure to be an unforgettable evening of songs and the stories behind them that's not to be missed!
Julie Gold is a New York Songwriter best known for Bette Midler's version of her songFROM A DISTANCE which won the Grammy for Song of the Year in 1991.
That song has since received close to 4 million air plays:
• It has been recited into the Congressional Record (by Senator Barbara Boxer).
• It has been recorded internationally and translated into many languages.
• It has been illustrated as a Children's Book and mass- produced in Music Boxes.
• It has been quoted in books, calendars and greeting cards.
• It was used as the wake-up call for astronauts in the Mir Space Station the very first time the Americans hooked up with the Russians in outer space.
A wide range of recording artists have covered it, singers from Jewel to Cliff Richard to The African Children's Choir to Judy Collins to The Byrds to Donna Summer–just to name a few.
Nanci Griffith, the first to record FROM A DISTANCE, has also covered Gold's songs HEAVEN, SOUTHBOUND TRAIN, GOOD NIGHT NEW YORK, MOUNTAIN OF SORROW, and LOVE IS LOVE IS LOVE. Other artists who have recorded Julie Gold songs include Patti LaBelle, Patti LuPone, Lea Salonga, Andrea Marcovicci, Carol Woods, Sinead O'Connor and Kathie Lee Gifford. Gold's Emmy Nominated lyricWE'RE 4 NEW YORK was a popular favorite that ran on the local NBC affiliate for years. Her song THANKS TO YOU was featured in the motion picture ANDRE, and her song DREAM LOUD was featured in the motion picture UNFAITHFUL, starring Richard Gere. DREAM LOUD is also a favorite song of The Girl Scouts of America. Gold delights in the fact that she was paid in Girl Scout cookies for that transaction. Gold has served on The Board of Governors for NARAS and is a guest artist for Lincoln Center's prestigious Meet the Artist Series.
She has 4 CDs documenting her work over the years: Dream Loud, Try Love, The Girl I Found and Love is Love is Love. Currently she is writing songs for the Oxford University Press for a series that teaches English to elementary school children all over the world. As the daughter of an immigrant, she sees this as her most meaningful endeavor to date. She performs and gives motivational speeches around the country.
"Julie Gold has a winner in From A Distance. . . It is one of those rare songs that has struck such a deep chord with the public that it succeeded in spite of not being trendy or formulaic." – Stephen Holden,The New York Times
"From the moment she first peered into the audience to her final encore, she held the audience in her talented little hands. You don't see this kind of star quality often – Streisand and Midler in their early days come to mind."- Susan Madrak, News of Delaware County
Dream Child
Written and Performed by Roxanne Fay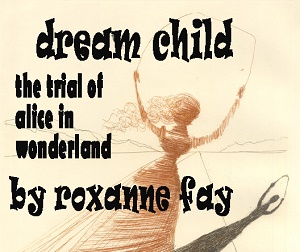 Roxanne Fay ("Home Fires Burning") returns to Catskill with a new show about the woman who inspired Lewis Carroll to write Alice in Wonderaland
Dream Child: The Trial of Alice in Wonderland
Award-winning playwright/performer Roxanne Fay, whose "Home Fires Burning" was cited at one of the highlights of the Capital Region theater season in 2015, returned to Catskill's Bridge Street Theatre for eight performances only in a brand new work called "Dream Child: The Trial of Alice in Wonderland". This New York premiere, the second production the play has ever received, opens on June 9 and plays Thursdays through Sundays through June 19 in the BST Speakeasy, 44 West Bridge Street in Catskill.
Originally commissioned by the Salvador Dali Museum in St. Petersburg, Florida, and recently premiered there (on May 24, 2016) as part of the museum's "Disney and Dali: Architects of the Imagination" exhibit, "Dream Child: The Trial of Alice in Wonderland" journeys through the surreal worlds of memory, sin and absolution within the mind of Alice Liddell, Lewis Carroll's original muse and the inspiration for his timeless stories. It's 1932 and the very grown up Alice is having a new adventure; she is coming to America. Though on the surface her trip is to attend the centennial celebrations surrounding Carroll's 100th birthday, her true purpose is much more personal, more frightening and more visceral. Is she merely entertaining old memories? Is she seeking absolution for the past? And from whom? Is there still a chance she'll be able to re-enter Wonderland one last time?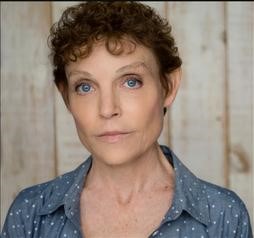 ROXANNE FAY (Playwright/Performer) is an award-winning actor and writer based in the Tampa/St. Petersburg area in Florida. She was the first recipient of the Jeff Norton Dream Grant, awarded by Theatre Tampa Bay, to fund the creation, production, and publication of her play "Upon This Rock: The Magdalene Speaks". Her collected plays, "Home Fires Burning" were chosen to be presented in the 2014 United Solo Festival in New York City and cited in year-end "Best of…" lists in the Albany Times Union and Metroland when they were presented at Bridge Street Theatre in Catskill in 2015. During 2015, Roxanne was also named a Hawthornden Writing Fellow and will be spending the fall of 2016 in residency at Hawthornden Castle in Scotland, where she will complete two plays closely tied Florida. For more information about Roxanne, please visit her websites: www.roxannefay.com and www.circleinthewater.com.