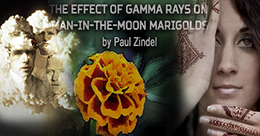 The Effect of Gamma Rays on Man-in-the-Moon Marigolds
Copenhagen
Bridge Street Belly Dance
The Effect of Gamma Rays on Man-in-the-Moon Marigolds
by Paul Zindel
July 6 – 16, 2017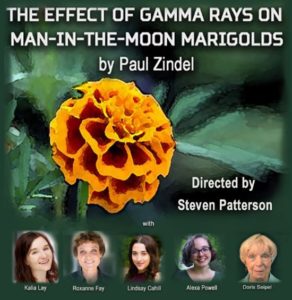 with Roxanne Fay, Kalia Lay, Lindsay Cahill, Alexa Powell, and Doris Seipel
Directed by Steven Patterson
Costumes by Michelle Rogers
Sets and Lighting by John Sowle
Sound by Carmen Borgia
Production Stage Manager: Caedmon Holland
"A triumph … Sensational, riveting and relevant. This forceful tale of an embittered and possibly dangerously ill woman and her two deeply disturbed daughters has been placed in the hands of a talented troupe of players who wring from this half-century old piece a modern morality tale that truly touches the mind and the heart … John Sowle's set and lighting are perfect for this play, as are Michelle Rogers' costumes and Carmen Borgia's sound … This play in Catskill has given me more than the sum of its individual parts. You cannot ask for more." J. Peter Bergman, Berkshire Bright Focus
"Paul Zindel's Pulitzer Prize-winning play 'The Effect of Gamma Rays on Man-in-the-Moon Marigolds' is not an easy one to watch and, similarly, can't be an easy one in which to perform. The characters hurt one another because they themselves are in in pain, and the pain they put one another through is realistic enough that we cringe empathetically at the sight of it. None of this would work in a poor production; luckily, Bridge Street Theatre's version, directed with a firm hand by Steven Patterson, is very rich … John Sowle's set was perfection; it seemed to do double duty as both a home falling apart due to lack of funds as well as a memory, perhaps Tillie's, with light coming through the cracks and things just a bit off-kilter." Amy Durant, The Alt

"Finely observed and impeccably acted … Monstrous mothers hold a powerful sway over playwrights and the women who bring them to life on the stage. There's a terrifying and sad one at the center of Paul Zindel's "The Effect of Gamma Rays on Man-in-the-Moon Marigolds," receiving an artful revival at Bridge Street Theatre." Steve Barnes, Albany Times Union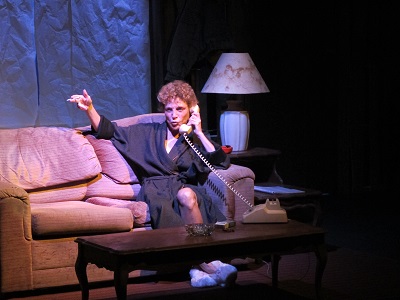 A mother's bitterness colors the lives of her two high school-aged daughters in Paul Zindel's 1971 Pulitzer Prize-winning "The Effect of Gamma Rays on Man-in-the-Moon Marigolds", coming to Catskill's Bridge Street Theatre for eight performances July 6-16. Called "the most compelling work of its kind since Tennessee Williams' 'The Glass Menagerie'", this poignant and lyrical drama will be performed by a cast of five brilliant female actors, led by Bridge Street favorite Roxanne Fay ("Home Fires Burning", "Dream Child", "Upon This Rock") in the role of Beatrice Hunsdorfer.
The original Off-Broadway production of the play opened in April of 1970 and ran for 819 performances, winning not just the Pulitzer, but also the New York Drama Critics' Circle and Obie Awards for Best Play of the Year. A film version was released in 1972, directed by Paul Newman and starring his wife Joanne Woodward, who won the award for Best Actress at the 1973 Cannes Film Festival for her performance. In the following decade, the play was widely produced internationally, regionally, and in countless college and high school productions. Then it seemed to vanish.
"It's a piece I've always loved and one which a great many people of my generation recall with enormous affection," says director Steven Patterson. "But after its heyday, it just seemed to fall off the radar. One of our missions here at Bridge Street is reviving great but unjustly neglected works and we're so excited to be bringing this one back to the stage where it belongs."
The Cast and Crew:
ROXANNE FAY (Beatrice) is a Florida "native", having returned to her home state after many years living in New York, Chicago and Hawaii. Her experiences have taken her from cruise ships to castles throughout the USA and Europe. Roxanne keeps herself busy as writer, director, and actor, most notably, creating theatrical events to highlight the artists and works exhibited at the Dali Museum, St. Petersburg. In 2016, Roxanne was awarded the Hawthornden Writers' Fellowship and spent a month as playwright in residence at Hawthornden Castle in Scotland, which was completely awesome. Her plays have been produced in Chicago, at the United Solo Festival in NYC, and her plays HOME FIRES BURNING, DREAM CHILD: THE TRIAL OF ALICE IN WONDERLAND, and UPON THIS ROCK: THE MAGDALENE SPEAKS have been presented here at Bridge Street Theatre. Other roles have included Terry in SIDE MAN (Banyan), Touchstone in AS YOU LIKE IT, Feste in TWELFTH NIGHT, and Beatrice in MUCH ADO ABOUT NOTHING (Jobsite Theater), Fraulein Schneider in CABARET, Dr. Emma Brookner in THE NORMAL HEART, Juliet's Nurse/Friar Lawrence in ROMEO AND JULIET, and Nurse Ratched in ONE FLEW OVER THE CUCKOO'S NEST (freeFall Theatre). In January, 2018 she will perform as Prospero in Jobsite Theater's production of THE TEMPEST. Roxanne has also enjoyed eight seasons performing for Walt Disney World's "Holidays Around The World", portraying LaBefana in EPCOT's Italian Pavillion. www.roxannefay.com.
KALIA LAY (Ruth), before settling on acting, dreamed of being (in chronological order) an artist, a teacher, an oceanographer, and a witch. A Long Island native and recent graduate of SUNY New Paltz, some of her favorite credits include PARADE, THE GREAT GATSBY, DOG SEES GOD, and RENT. She's grateful to have had the privilege of portraying some wonderfully complicated women over the years. When she's not singing along to Sondheim shows or practicing dialects under her breath, one can find her painting, embroidering, or loitering in coffee shops. She's forever thankful for her teachers who saw a spark in her, her parents who didn't balk at the notion of studying acting, and her nine-year-old self who decided to join the drama troupe instead of the art club. Whoda thunk it would lead her here?
LINDSAY CAHILL (Tillie) is very excited to return to Bridge Street Theater where she performed the role of Sally in George M. Cohan's THE TAVERN during the 2016 season. Lindsay performed in several musicals during her high school years including: ANNIE (ensemble), ONCE UPON A MATTRESS (ensemble), GREASE (Marty), ANYTHING GOES (Erma), and THE LITTLE MERMAID (Aquata). She recently graduated from Catskill High School and plans to study Theater and Performing Arts in college.
ALEXA POWELL (Janice Vickery) is making her "onstage" Bridge Street Theatre debut in this production. She recently appeared in the theatre's PERFORMATHON! and last season was part of the backstage crew that created the live storm effects for BST's production of George M. Cohan's THE TAVERN. At Catskill High, she has played Flounder in THE LITTLE MERMAID and Fred the Angel in ANYTHING GOES. She recently auditioned for the Carnegie Hall High School Series and performed in ALL SHOOK UP at Proctor's. Alexa is passionate about the arts and takes every opportunity to create something new. She's done everything from stage crew to chorus to filmmaking, always hoping to expand her knowledge and experience.
DORIS SEIPEL (Nanny) began her acting career in 1964 as Lizzy Curry in THE RAINMAKER, still her favorite role after 40+++ years. She has worked regionally as a widow in SENIOR MOMENTS with Fort Salem Theater, The Sage Tamenund in LAST OF THE MOHICANS with LOMOD, Dottie in GOOD PEOPLE with Performing Arts of Woodstock, Sister Mary Ignatius in LEADING LADIES with Blue Horse Repertory Acting Company, and Lady Macbeth and Juliet's Nurse with The Simon Studio and Blue Horse Repertory at "Bard on the Lake". She is currently taking acting classes with Blue Horse Repertory where she has played the classics, Shakespeare, murderesses, a drug addict, a cougar, and an assortment of nuns.
STEVEN PATTERSON (Director) has performed regionally and in New York City with theaters such as South Coast Repertory, freeFall Theatre, TheatreWorks/Silicon Valley, Capital Repertory, Kaliyuga Arts, and with the Oregon, Orlando, Tennessee, Colorado, Pennsylvania, Utah, and Lake Tahoe Shakespeare Festivals. Favorite roles have included Lear in KING LEAR, Jean Genet in BEAUTY, Austin Wiggin in THE SHAGGS: PHILOSOPHY OF THE WORLD, David in POOR SUPER MAN, Judi Boswell in HOW TO PRAY, and Jake Sturdy in KILL ME NOW. Steven also serves as Bridge Street Theatre's Associate Director. He directed THE TAVERN, the first production in the new Mainstage of Bridge Street Theatre
JOHN SOWLE (Set & Light Designer) is Artistic and Managing Director of Bridge Street Theatre. He founded Kaliyuga Arts in 1986 with his partner Steven Patterson and has received multiple awards for his directing and design work on their Los Angeles, San Francisco and New York productions. In Manhattan, John directed and designed Samuel Beckett's ALL THAT FALL and Dan Carbone's KINGDOM OF NOT at the Cherry Lane and the Al Carmines/Gertrude Stein musical IN CIRCLES at Judson Church. In 2012 he directed and designed THE MOUND BUILDERS and in 2013 directed and designed two Brad Fraser plays, TRUE LOVE LIES and the U.S. premiere of KILL ME NOW, all at the Cross Street Theatre Center (Stageworks) in Hudson, NY. Last year he directed and designed the Bridge Street Theatre productions of THE EPIC OF GILGAMESH, THE KILLING & THE LOVE DEATH (late plays of William Inge), and GRINDER'S STAND by Oakley Hall III. He directed and designed the BST productions of FRANKENSTEIN, HOLIDAY MEMORIES and THE OFFICIAL ADVENTURES OF KIERON AND JADE. John has an undergraduate degree in mathematics from M.I.T and a PhD in Dramatic Art from UC Berkeley.
CARMEN BORGIA (Sound Design) is a musician and sound designer. He has designed and mixed films for PBS, HBO, IFC and many film festivals. He has also released two CD's of his own work, "North" and "The Red Circle Line". In 2009 his musical, SOUTH, premiered at Dixon Place in New York City. He operates out of studios in Catskill and The Bronx, doing sound-for-picture work and music recording. He can be found at Magpie Bookshop Saturday afternoons at his Ukulele Camp, where anyone can learn to uke. He is also a regular performer at the Catskill Farmers Market on Sundays.
CAEDMON HOLLAND (Production Stage Manager) grew up in learning theater and at the age of six started attending The New York State Theater Institute's summer theatre program. He continued with this until the age of 14 when, during his high school years, he started focusing more on film. At 19, Caedmon transferred to the University of New Mexico in Albuquerque. While there, he was part of the only Western Theater school performance in the world to be invited to participate in the First International Asian Theater Festival in 2010. Caedmon graduated UNM with a BA in Theater in December of 2014. Since then, he's been back home in upstate NY, performing locally with Bridge Street Theatre in LUCKY LINDY and Kaaterskill Actors Theater in CHRISTMAS IN JULY among others. He is now the Production Manager for Bridge Street Theatre and acted as Stage Manager for SOUVENIR and THE OFFICIAL ADVENTURES OF KIERON AND JADE.
If you've never seen Copenhagen, it's hard to imagine that a play in which three dead people discuss atomic physics could be electrifying and intensely emotional. Yet this riveting drama, full of crackle and vitality, delivers a literary and theatrical punch that stays with you long after the curtain has fallen.
On the surface, Copenhagen turns around a mysterious 1941 meeting between the esteemed Danish physicist Niels Bohr and his former pupil, the German scientist Werner Heisenberg. Old friends who had revolutionized atomic science during the 1920s, they are now on opposite sides of a world war. But the science, it turns out, is merely a vehicle, a metaphor for a wrenching probe into deeply human quandaries and contradictions.
"Copenhagen takes us to the boundaries of human understanding, questioning what, if anything, we can ever know," said director Ellen Honig. "It delves into the totally contemporary issue of whether an individual can make a difference in a world undergoing momentous upheaval. "One of the region's most experienced directors, Honig directed the 2017 Performing Arts of Woodstock production of Patrick Shanley's Outside Mullingar and the 2016 RTS production of Stephen Sondheim's Assassins as well as RTS productions of 1776 The Musical (2015) Sondheim's A Little Night Music (2014) and Kaufman and Hart's The Man Who Came to Dinner (2012).
To enable audiences throughout the Hudson Valley to discover (or rediscover) Copenhagen, the Rhinebeck Theatre Society production will be performed at three locations. The staged reading in Catskill will be followed by full productions in Woodstock and Rhinebeck. Copenhagen features three highly accomplished local actors, with David Smilow as Heisenberg, Andrew Joffe as Bohr and Christina Reeves as Bohr's wife Margareta.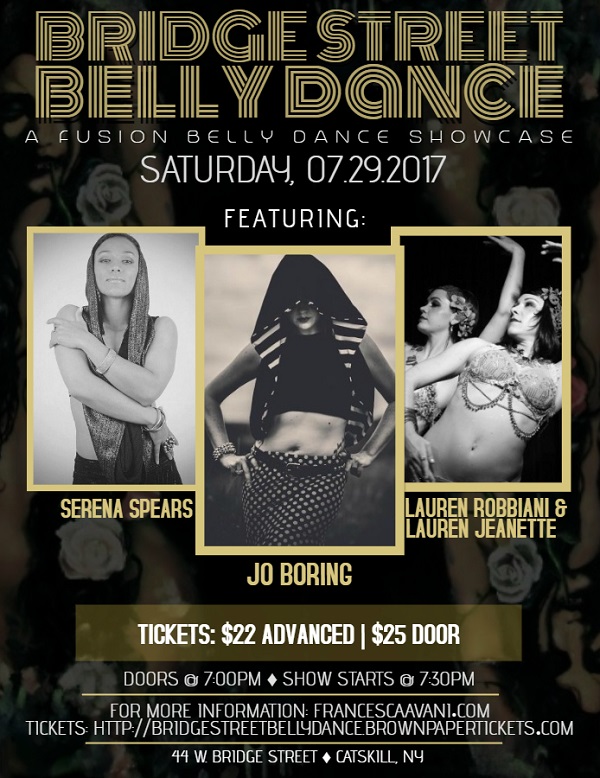 "BRIDGE STREET BELLY DANCE" COMES TO CATSKILL
A thrilling, empowering, and spiritual experience awaits audiences on Saturday evening July 29th when Francesca Avani hosts "Bridge Street Belly Dance" on the stage of Catskill's Bridge Street Theatre. The evening will feature performances by a dazzling array of artists from all over New York, New Jersey, and New Hampshire in a kaleidoscopic display of the art of Tribal Fusion Belly Dance. Based in ancient traditions, Tribal Fusion is a vital, growing, evolving art form, being presented in Catskill by some of its finest and most accomplished practitioners.
Tribal Fusion Belly Dance is a modern Western form of belly dance which was created by fusing American Tribal Style belly dance and American Cabaret belly dance. Artists frequently incorporate elements from Popping, Hip Hop, 'Egyptian' or 'Cabaret' belly dance, as well as movement principles from traditional forms such as Flamenco, Kathak, Odissi, and other folkloric and classical dance styles.
Participating in this literal Belly Dance summit will be Makeda, Gerudo Vagrants, Rose Calavera. Jaylee, Cherish, Lauren Robbiani, Beast Coast ITS, Corpus Callosum, Brenna Crowley, Francesca Avani, Danielle Hutton, Serena Spears, Lauren Jeanette, and The Lunachix.