Ustad Khan returns to Bridge Street Theatre with an another outstanding performance of Indian Classical Music.  This time (at our request) he will be performing a full concert of Indian classical music. This is a profound musical art form and Ustad Khan is incredibly talented, and is also a charming and articulate guide to understanding this age-old music. Do yourself a favor and come experience this profound, ancient, spiritual music.
Review from a recent concert: "Witnessing the blissed-out people in the beautiful park, listening to a band of musicians who use music to find connections among them in spite of their cultural differences, you could believe that peace is a possibility."  Read the complete review here.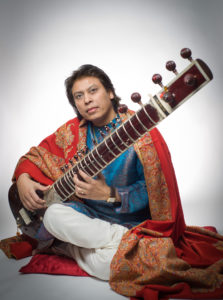 Ustad Shafaat Khan= Sitar/Vocal/Tabla
Sunder Venkatesan = Tabla 
with Rosa Lynda = Tanpura/Dance
Click here for more information and for sound clips.
Ustad Shafaat Khan, world renowned Indian Classical musician, debuted at the  age of 11 at the King's Lynn Festival, England opened by Queen Mother. He is the son of Ustad Imrat Khan and nephew of Ustad Vilayat Khan, has performed worldwide at many prestigious concert halls, music festivals and universities all over India, America, Europe, China, Russia and Japan. Recently, he performed with Stevie Wonder at one of the biggest festivals in the USA, The Bonnaroo Festival. In the past, he's shared a television concert with Ray Charles in Germany. In addition, some of his CDs have been produced by the famous Dr. Deepak Chopra. In the rich history of Indian classical music, Mr. Khan has distinguished himself by being the first known artist to have attained simultaneous excellence in performing Sitar, Surbahar and Tabla.
"Virtuoso…Classical purity astonishing… intellectual and poetic…creator as well as performer" The Washington Post
"Star in the world of classical music… the thunderous ovation never ceased throughout his performance" Chandigarh Tribune India
"Absolutely superb" The Times London, England
"Indian music at it's top level…Shafaat's sitar/tablas magic might still be going on, it was barley stoppable" The Shoestring in Pacem, USA
"Driving power entered the performance when Shafaat's marvelous showed us the rhythmic complexity of the music and enthralled the audience" Cork Examiner, Ireland