WOMAN BEFORE A GLASS by Lanie Robertson
August 10 – 12, 2018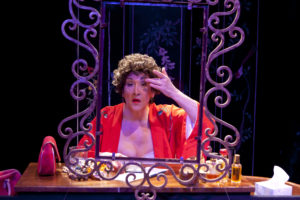 Hang onto your hats! Actress Judy Rosenblatt IS Peggy Guggenheim in "Woman Before a Glass", a play by Lanie Robertson, coming to Catskill's Bridge Street Theatre for three performances only August 10-12, 2018.
Peggy Guggenheim was someone who did exactly what she wanted to do, fairly unusual for a woman born in 1898. A wealthy New Yorker (although definitely not as rich as some of the other Guggenheims), she married twice and had children but devoted most of her adult life to her modern-art collection and to love affairs, frequently with the men who created the artworks she collected. She opened her heart (and her bed) to some of the great artistic minds of the twentieth century, claiming to have had affairs with Samuel Beckett, Yves Tanguy, and numerous others.
Bridge Street Theatre has a growing reputation for presenting biographical (and autobiographical) plays about strong, fascinating female characters – Alice Liddel in "Dream Child", Mary Magdalene in "Upon This Rock" (both written by and starring Roxanne Fay), and Heather Jones' "My Unspeakable Confessions (with Roxanne Fay as Gala Dali), Aizzah Fatima's "Dirty Paki Lingerie", Bonita Jackson's "Empty Valuables", Anna Carol's "Aunt Nona", Terry Mateer's "A Kind Shot", Billy Van Zandt's "The Property Known as Garland" (featuring Kathleen Devine as Judy Garland), Lynda Blackmon Lowery in "Turning 15 on the Road to Freedom" (with Damaras Obi), Stephen Temperley's "Souvenir" (with Alison Davy as Florence Foster Jenkins), Robert K. Benson's "Dead Shot Mary" (with Rachel McPhee as Mary Shanley), and Rebecca Singer's "Natural/Not Natural". "Woman Before a Glass" adds yet another magnificent portrait to this gallery. Hop on board for what promises to be a WILD ride!
Directed by theatrical legend Austin Pendleton, written by Lanie Robertson (whose "Lady Day at the Emerson Bar and Grill" recently appeared on Broadway starring Audra McDonald as Billie Holiday), and coming to Catskill straight from a smash hit run at London's Jermyn Street Theatre, "Woman Before a Glass" is a humorous and heartbreaking portrait of a vivid and utterly astonishing female.
Here's Austin Pendleton talking about the New York production.
Bios:

JUDY ROSENBLATT* (Peggy Guggenheim) has worked as both an educator and a professional actress. She studied acting with all the 20th. century greats, among them, Joseph Balfior of the Group Theatre, Bill Esper, Sanford Meisner, Uta Hagen and Austin Pendleton. She has worked in both the NY and the London Theatre in the plays of Harold Pinter, Arthur Miller, Neil Simon, Tennessee Williams, and others. Some of her favorite experiences have been playing Fanny in Arthur Miller's "The American Clock" under the direction of Austin Pendleton, creating the roles of Ellen and Dr. Vittal in "There or Here" under the direction of Amy Feinberg and as Peggy Guggenheim in "Peggy Guggenheim Stripped Bare By Her Bachelors" under the direction of Donald T. Sanders. Her TV commercials include Vodafone with James Gandolfini and segments of "The Sopranos." In addition, she has worked as an educator on High School, College, and adult education levels and has a Master's Degree in Education Psychology with a specialty in LD. She has also worked as an artist-in-residence for such companies as Theatreworks/USA, Arts Connection and The NYFoundation for the Arts and taught acting for kids at the 92nd. St. Y. She combined her love of children and of acting when, in 1988, she created her current company, Mystery & Mayhem. To date, she has written five mysteries in which the guests become the suspects in wild and winning "who-done-its." Many of her clients have hired her, in consecutive years, to do her full repertoire. She continues to delight in working with both children & adults and affording them the opportunity to experience living as eccentric and suspicious characters in exciting and imaginary circumstances.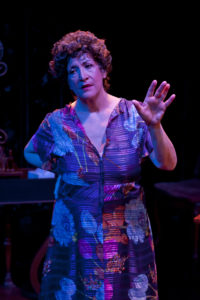 AUSTIN PENDLETON (Director) is an American film, television, and stage actor, a playwright, and a theatre director and instructor. He first received critical acclaim in 1964 for his performance as Motel in the original Broadway cast of "Fiddler on the Roof". He appeared in "The Last Sweet Days of Isaac" (for which he won the Drama Desk Award for Outstanding Performance and an Obie Award), "The Diary of Anne Frank", "Goodtime Charley", and "Up from Paradise" as well as many other plays. In August 2006, Pendleton played the Chaplain in Bertolt Brecht's "Mother Courage and Her Children" with Meryl Streep and Kevin Kline in the New York Shakespeare Festival/Public Theater production directed by George C. Wolfe at the Delacorte Theater in Central Park, New York City. In 2007, he appeared as Friar Lawrence in the Public Theater's production of Shakespeare's "Romeo and Juliet" at the Delacorte Theater. Pendleton wrote the plays "Uncle Bob", "Booth", and "Orson's Shadow", all of which were staged off-Broadway. As a director, Pendleton has worked extensively on and off Broadway. His direction of Elizabeth Taylor and Maureen Stapleton in Lillian Hellman's "The Little Foxes" garnered him a Tony Award nomination in 1981. Additional directing credits include "The Runner Stumbles" by Milan Stitt (1977), "Spoils of War" by Michael Weller (1988), and "The Size of the World" by Charles Evered (1996). Pendleton is also a member of The Mirror Theater Ltd's Mirror Repertory Company, directing the company's 1984 production of Henrik Ibsen's "Ghosts", starring Geraldine Page, Sabra Jones, and Victor Slezak. In 2009 Pendleton directed "Uncle Vanya", starring Maggie Gyllenhaal and Peter Sarsgaard, at the Classic Stage Company. The same year he directed Tennessee Williams' autobiographical play "Vieux Carré" at The Pearl Theatre Company. In January and February 2010, Pendleton directed two plays, "Bus Stop" at The Olney Theatre and "Golden Age" at the Philadelphia Theatre Company. His 2011 directing of "Three Sisters" won him an Obie Award. In 2012, he directed a production of "Detroit" at the National Theatre in London, England. Pendleton served as Artistic Director for Circle Repertory Company with associate artistic director Lynne Thigpen. The Company closed in 1996. He currently teaches acting at the HB Studio and directing at The New School, both in Greenwich Village. Pendleton has been involved with the Steppenwolf Theatre in Chicago since directing Ralph Pape's "Say Goodnight, Gracie" for the 1979-80 season, and is currently an ensemble member there. His acting credits at Steppenwolf include "Uncle Vanya", "Valparaiso", and "Educating Rita".
LANIE ROBERTSON (Playwright) writes about other iconic artists and the societal issues they faced in "Nasty Little Secrets", "Alfred Stieglitz Loves O'Keefe", and "Lady Day at the Emerson Bar and Grill". His plays are produced internationally and at the Alley Theatre, Arena Stage, Delaware Theatre, Edinburgh Festival, Festival d'Avignon, George Street Playhouse, Kennedy Center, Old Globe, Philadelphia Company, Playwrights Horizons, Primary Stages, Théâtre de la Huchette, Théâtre Petit Montparnasse, Théâtre Silvia Montfort, Vineyard Theatre, Virginia Stage, Walnut Street Theatre, Westside Arts, and Williamstown Theatre Festival. Current plays include "Nobody Lonesome for Me" and "The Gardener". Recently, he completed his first novel, "Monkey to the Solution". He is a member of The Dramatists Guild; Writer's Guild, East; and the Société des Auteurs et Compositeurs Dramatiques.
*Denotes membership in Actors' Equity Association, the union for professional actors and stage managers in the United States.