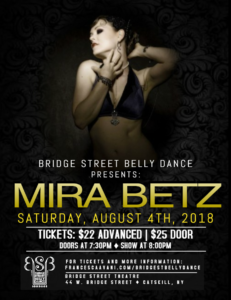 "Tribal Fusion is not about copying a look or a move. It's about figuring out who you are and interpreting that through the language of this dance that we've inherited."  Mira Betz
On August 4, the immensely popular Bridge Street Belly Dance returns to Catskill with an auxiliary program called "Why I Dance", featuring California-based multi-faceted artist, Mira Betz. Ms. Betz has been teaching and performing traditional and contemporary forms of Middle Eastern dance for over 25 years. Her work has been instrumental in the emergence of a new style known around the world as Tribal Fusion, a dance rooted in tradition while forging new bonds between world dance and individuality. Through video projections, belly dance, and performance art, Mira and her colleagues Elsa Figueroa, Tessa Myers, Jaylee, Yoni Biyé, Francesca Avani, Yvonne Michelle, Brenna Crowley, Danielle Hutton, and The Lunachix dig deep in this vulnerable and unique fusion belly dance show, sharing what it is that gives them the impetus to dance.
More info at www.francescaavani.com/bridgestbellydance/
The Program
Brenna Crowley
Afterglow
Music: "Don't Stop the Music" by Jamie Cullum
Elsa Figueroa
Dark Substance
Music: "Canção do Mar" by Dulce Pontes
The Lunachix
Meru
Music: "Meru" by Until the Ribbon Breaks
Jaylee
As I Try To Make My Way
Music: "Ordinary World" by Joy Williams
Mira Betz
Imposter
Music: "Gamil Gamal" by Bashir Abdel Aal
Rose Calavera
Nosara
Music: "Años Atrás" by Balún
INTERMISSION

Tessa Myers
Reunion
Music: "Nos Retrouvailles" by Degiheugi
Francesca Avani
Heavy
Music: "L'Origine Nascosta" by Ludovico Einaudi

Yoni Biyé
After the Show
Music: "Drashi" by Karjam Saeji and "Unknown Hand" by Pentaphobe
Danielle Hutton
Wanting
Music: "All I Need" by Niia
Mira Betz
Imposter
Music: "Anxious" by Otzeki
Yvonne Michelle
All the Comedy of Love
Music: "Padam Padam" by Edith Piaf
Photos and Bios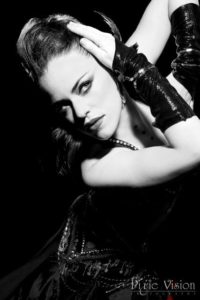 Brenna Crowley
Brooklyn, NY
Brenna Crowley is an eclectic belly dance artist, choreographer and instructor in NYC, performing and teaching locally and across the country in many theatrical dance productions, belly dance festivals and other events for over a decade. She has performed as a featured soloist as well as a member of Sera Solstice's Solstice Ensemble, Solstice Project, and Solar Tribe, Altagracia's Caribbean Rose Dance Company, Ayshe's Cult of Isis Ensemble and many others. She is the director of her troupe Zilla Dance Ensemble, which was formed in 2009. Since its inception, they have performed in numerous theatrical shows, belly dance festivals and other dance events each year. The dancers that make up this ensemble come from all walks of life and various belly dance disciplines; together they celebrate the exuberance of movement and music. www.brennadance.com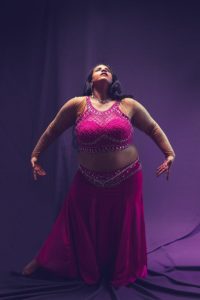 Elsa
San Juan, Puerto Rico
Elsa specializes in oriental and Egyptian style with a focus on modern stylizations. She is concerned with exploring storyline, character and connection within traditional oriental bellydance, as well as outside of the Egyptian musical tradition. She has trained with both oriental bellydance and tribal fusion teachers, including Mira Betz, Ranya Renee and Jill Parker.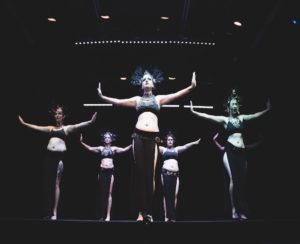 The Lunachix
Oneonta, NY
The Lunachix have been crafting their unconventional brand of modern fusion dance since 2013. Winner of the 2017 East Coast Classic troupe competition, the Lunachix count Jill Parker and Amy Sigil among their biggest inspirations. Directed by Jo Boring, the Lunachix perform both original choreographies as well as Hot Pot/ Unmata style ITS. The Lunas reside all over central New York, and are bonded by dance, friendship, and the light of the moon.
Featuring: Rose Calavera, Patsy Beebe, Ericka Condon-Ericson, Erika Miller, Jo Boring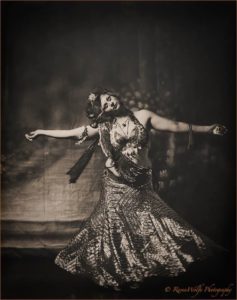 Jaylee
North Reading, MA
Lovingly nicknamed Whirly Twirly Girl by her parents, Jaylee has been whirling around in order to process her world since she could balance on two feet. Whirling has become a means of expressive therapy for Jaylee, fusing her love of performing with her impulse to create, communicate, and find catharsis. Jaylee is a Boston-based performer, event producer, and graphic designer raising her two little ones at home with her husband.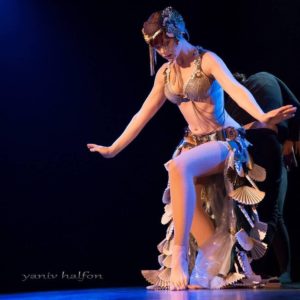 Mira Betz
Oakland, California
Mira Betz has been teaching and performing Traditional and Contemporary forms of Middle Eastern dance for over 25 years. Her work has been instrumental in the emergence of a new style known all around the world as Tribal Fusion, a dance rooted in tradition while forging new bonds between world dance and individuality. Mira, known as a "teacher's teacher", empowers students to cultivate curiosity, find their own unique voice, and brings the notions of artistry and integrity to every class. She travels internationally continuing to spread her experience, knowledge and love for dance through her captivating performance and engaging teaching style.
 The multi-faceted career of Mira is a testament to her passionate artistry and desire to for continual growth. Mira began her training in Middle Eastern dance as a young teen studying primarily with Katarina Burda for over 10 years, where she developed a solid foundation of contemporary, traditional, as well as ritualistic dance forms. In 1996 she studied with Jamila Salimpour and Suhaila Salimpour. In 1998 Mira went abroad to live and study traditional dances in Morocco. Active in theater, dance and the performing arts for over 25 years, Mira Betz has become a sought after dancer, choreographer, costumer, and teacher, training and inspiring many of today's top Tribal Fusion stars. Mira Betz received her B.F.A. from the California College of Arts and Crafts. Her dance background includes training in Salsa, Modern, Jazz, and Flamenco.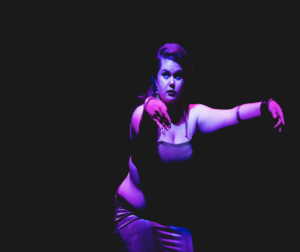 Rose Calavera
Schoharie, NY
Rose Calavera is a modern fusion bellydancer residing in the wilds of upstate NY. She discovered bellydance at age 21 after training and performing as a traditional Irish step dancer for over 15 years. She has since immersed herself in the fusion community, studying with such teachers as Jill Parker, Rachel Brice, and Zoe Jakes. As well as being a soloist, Rose is a student of Hot Pot ITS, a proud member of the Lunachix, and 1/2 of the Moonshine Two.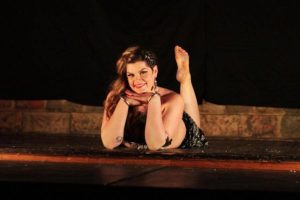 Tessa Myers
Aurora, NY
Tessa graduated with a B.A in Arts Education and a Minor in Dance from William Smith College. With nothing to lose after graduating Tessa uplifted and moved across the country to land in San Francisco, CA. An immense love for this art form and her adventurous and determined spirit quickly took her through the ranks, first performing with Damage Control Dance Directed by Cera Byer and then teaming up with Jill Parker "the mama of Tribal Fusion Belly Dance" working as the assistant to her company the Foxglove Sweethearts.  Tessa strives for technical proficiency, artistic integrity and emotional strength. She is known for her intoxicating and mysteriously feminine, languid stlye. Experience Belly Dance from the Heart.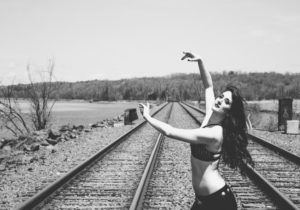 Francesca Avani
Catskill, NY
Francesca uses movement and dance to connect, to share her story with audiences, and to celebrate what it means to be human to her.
Francesca found belly dance in 2005, and took Cabaret and Turkish style classes for two years. In 2012, she graduated with her Masters of Education. Shortly after graduating, she came across Tribal Fusion Belly Dance. That was when her life changed.
While Francesca travels around the US to perform, collaborate, and to train with renowned dancers, she resides and teaches in Catskill, New York. Francesca is also the producer of Bridge Street Belly Dance. She studied with Rachel Brice from 2013 until 2016 and is an 8 Elements™ Certified Practitioner. Francesca is currently studying and working closely with the captivating, multi-faceted Mira Betz.
 Francesca is dedicated to growing and evolving through this art form that is fusion belly dance.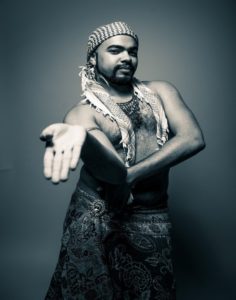 Yoni Biyé
Harrisonburg, VA
​​Yoni Biyé received his BA in American Vernacular Dance from Davis & Elkins College in Elkins, WV in May of 2018 and specializes in Transnational Fusion Bellydance, with training in Dunham Technique, ballet, modern dance release technique, and various urban American dance styles. His performance style focuses on improvisation and a theatrical, storytelling element.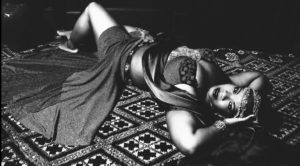 Danielle Hutton
Brooklyn, NY
For over 14 years, Danielle has been a fixture within the New York City belly dance community. She was principal dancer in Solstice Dance Ensemble from 2008-2010. During her tenure with the collective, she performed at such distinguished events as Tribal Fest, The Massive Spectacular, Rakkasah East, and Spring Caravan. In addition to these collaborations, she's had the honor of performing with Zilla Dance Ensemble, Bellyqueen, and Sera Solstice's "Solstice Tribe." As a smoldering solo performer, Danielle has entranced audiences through her appearances at American History of Belly Dancers of Color. Danielle's stirring choreography is defined by an articulate narrative sense and vulnerability.
Danielle combines her technique and experience as a dancer with refreshing attention to the artist's journey in her work as an educator. Previously, she has been an instructor at the Bellyqueen School of Dance. Currently, Danielle offers private lessons, specializing in drills, and she's also a highly capable choreography creator and consultant.
Thinking back on her journey and the core philosophy that's been constant in her 14-year career, she says: "My method of storytelling is dance. I hope my work touches people and help others harness the power of expression in dance."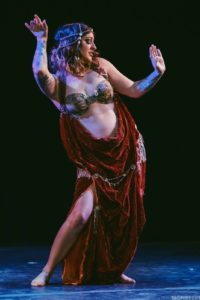 Yvonne Michelle
Holyoke, MA
Introducing Yvonne Michelle from San Francisco! Ten years of middle jiggling, shape making, rounded silhouettes and noodling to music leads us to tonight's adventure: a blending of flamenco and bellydance! Join her tonight in exploring how one art form seamlessly stitches into another.