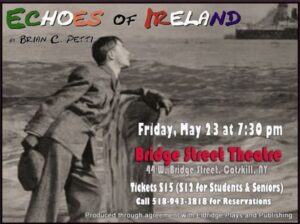 To help launch the East Durham Irish Festival Bridge Street Theatre invited Brian C. Petti to present his Echoes of Ireland in the new SPEAKEASY. It was for one performance only, May 23, at 7:30 pm.
A Family Saga Resonates Through Generations
in Brian C. Petti's
Echoes of Ireland
Directed by Brian Petti
with Ron Morehead, Cat Barney, Elizabeth Henry-Macari and Brian Petti.
The sweep of the Irish experience from County Cork to New York City is on display in Echoes of Ireland, a drama about family ties, the immigrant life and the Irish-American experience.
"Brian Petti the Irish American playwright is a find. At forty-five he already has an art reaching back to Synge's 'Riders to the Sea' and forward to the lilt and searing drama of the later John B. Keane … verbal chiaroscuro pulsing with imagination and unselfconscious poetry tied to real emotion and stunning character. … The play ends with joy as teh cast sign together a marvelous Irish song. The sold out house roared their delight in this marvelous theatrical event." – John Paul Keeler, On The Scene in Columbia Greene Media
Echoes of Ireland was recently produced in County Cork by the Skibbereen Theatre Society where it garnered rave reviews such as:
"Powerful …every emotion came to the fore during this story of pride and determination in the face of adversity." Cllr Karen Coakley, Mayor of Skibbereen, County Cork, Ireland.
Echoes of Ireland is a series of inter-related monologues that follows the saga of a single Irish family from County Cork in 1860 to 2001 New York City. Beginning five years after the end of the potato famine in Ireland, Echoes follows the Cunyngham clan through their journey across the ocean to the ports of Manhattan, through the lowly existence of immigrant life in the States, to the assimilation and rebirth of their family as American citizens who never forget from whence they came. The journey is part tragedy, part comedy, part history lesson and all undeniably human.
Brian C. Petti has had his plays produced Off-Off Broadway (Masquerade, The Love Song of Sidney J. Stein, Banshee) and regionally (Next Year in Jerusalem, The Measure of a Man, On the Expectation of White Christmases) by such companies as Ten Grand Productions, The American Theater of Actors, Inc. and The Fresh Fruit Festival. Masquerade was staged at Cherry Lane Theater in NYC and Next Year in Jerusalem was the winner of the Humboldt State University National Play Contest in California, where it received a student production. Published plays include The Measure of a Man by JAC Publishing and Promotions, Banshee by Next Stage Press and Echoes of Ireland by Eldridge Plays & Musicals.